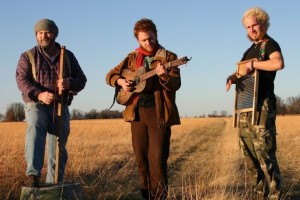 For The Ben Miller Band 2011 was filled with both heartache and hope. In May, a devastating tornado hit their hometown of Joplin, MO.  It tore right through the center of town and completely destroyed 7,000 homes, as well as the main business district. The Ben Miller Band was on the road at the time but returned quickly to find Joplin obliterated. Listen Up Denver! got to catch up with the band's namesake, and although he recounted some of the devastation, what we mostly talked about was all the good that happened last year.
"We attended the SXSW festival in Austin, TX and performed two showcases, but the coolest thing happened at a show we weren't even scheduled to play. We were hanging out watching our friend's band, The Wreckards, play at the 1to1 Club. The owner wanted Joel, the lead singer and guitar player, to host an open jam after his set. He didn't really want to do that, so he asked us if we would like to play the last 15 min. We loaded our stuff through the window right on to the stage and rocked it out to a full bar. They flipped out. It just so happens that a gentleman named Bucky Baxter was walking down the street and heard us through the window. He loved it and stuck around after the show to introduce himself. As it turns out, Bucky is a multi-instrumentalist who played with Bob Dylan through the 90's. He asked us if we wanted to play a house party the next day at his buddies' place. We, of course, agreed to play. He invited a bunch of friends to the party including a lot of people in the music business out of Nashville. We ended up meeting a music lawyer who loved us and immediately started shopping us around to everyone he knew." This is the moment that most musicians dream of! After hitting the road hard for six years, a random event gave them 15 minutes of stage time that may have changed everything.
"Since then we've met with a few management companies and decided to sign with Sanctuary Management group. Through the help of our new lawyer and our new management, we were flown out to L.A. to play for Warner music. It was a great experience and we met and learned from a lot from the A&R people. They loved our sound and sent us a contract. We decided as a band that the contract offered didn't suit our needs and we politely declined but we are still keeping in contact with them as we grow. We then decided it was time to self-finance a trip to the studio. We tried out many different studios, engineers, and recording philosophies and learned a lot. We eventually found a perfect fit with a Joplin native Vance Powell, who made a name for himself as an engineer working on Jack White projects."
SXSW did wonders in terms of exposure for this band, and the momentum has quickly grown since then. All the progress the band has had did not distract them from the realities at home, and they were able to find their own way to help. Instead of immediately working on their next album, The Ben Miller Band decided to do something else first.
"We met Vance shortly after the Joplin tornado, and we were thinking about making a benefit album to help in the massive rebuilding effort. We pitched the idea for the album and he immediately jumped on board. Through his Nashville connections he got us studio time in Blackbird Studio. He also got the 2″ tape donated, and got the cutting of the vinyl donated. That's right, this one isn't touching digital!"  The benefit album is finished and due out at the end of February. It will be released on limited edition vinyl pressings as well as a digital download.  "Vance enjoyed what we were doing musically and was excited to have us back to Nashville and begin working on an album for us. We are about half way done with that album and are looking forward to getting back in the studio to finish it up."
Catch The Ben Miller Band Live:
Quioxtes True Blue – Monday January 30th
Brian Turk grew up in the shadow of the Catskill Mountains, near Woodstock, NY. He comes from a family of music lovers, audiopliles, Dead Heads and avid concert goers.The musical magic that can only be created in the Catsklills, both past and present, is what Brian cosiders the epicenter of his music addiction. The music of The Band, and most recently The Levon Helm Band, is the soundtrack of home for him. Brian's mother took him to his first concert at 5years old...it was Johnny Cash and Roseanne Cash at Jones Beach Amphitheatre. For Brian, music is a family affair. He feels the same way about live music...we all convene to celebrate together. Brian's writing life started when he wrote his favorite author, southern fiction writer Clyde Edgerton, a fan letter at age 13. When most kids were idolizing baseball players and television, he was worshipping writers and musicians. The two became friends and Clyde shared his craft with Brian. The next year Brian attended Duke University's Young Writers Camp. This is the extent, of what Brian considers, his "formal" training in writing. From then on his goal was to capture snapshots of life through words. Brian has been involved with live music in various facets over the years, and combined with his enthusiasm and love for Denver's music scene, he creates a vivid description of what he sees and hears. If you see him out at a show, dancing with a notebook in hand, say hello.