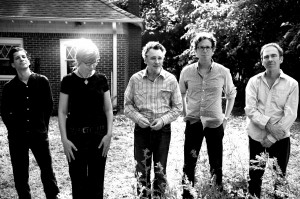 The music industry has never been real keen on longevity. Sure there are the legends, the hallowed artists whose names will always be synonymous with lengthy and acclaimed careers. But most musicians realize that if they are lucky enough to get noticed, they better enjoy it, 'cause tomorrow there'll be a new darling on the block, and they'll be all but forgotten.
The Jayhawks are one of those bands, or at least it seemed they were destined to be, until a strange twist of fate brought them around full-circle again.
The band that played Americana music 10 years before anyone had come up with that term, emerged from Minneapolis in the mid-1980s. From a city that was launching The Replacements, Soul Asylum, Hüsker Dü and Prince, out came a band that wasn't really rock and wasn't really country — sort of like the Byrds or Gram Parsons, but with the acquired knowledge that came from watching a punk scene explode and just start to fade.
"We felt like we were mining this music that was just under the radar in a  funny way, by being such traditionalists — not purists, but traditionalists. In a way, we were kind of being rebels in our own way," said founding member, guitarist, vocalist and songwriter Gary Louris, in a recent interview with The Marquee.
The Jayhawks had named themselves after The Hawks — as in Levon and the Hawks, the group that once served as Bob Dylan's backing band, before changing their name to The Band. They quickly amassed a staggering amount of material and after only a few years had put out a couple albums, including Blue Earth on Twin Tone Records. Legend has it that famed A&R representative  and producer George Drakoulias from Def American, was on the phone with Twin Tone Records president Dave Ayers in 1991, when Drakoulias heard Blue Earth playing in the background (or as 'on-hold' music, depending on which story you believe) and within a short time had signed The Jayhawks to Def American.
They released two damn near perfect records, Hollywood Town Hall (1992) and Tomorrow The Green Grass(1995), and as they sat perched on the edge of impending stardom, it all started to crumble away.
Finish This Article Over At The Marquee Magazine Site . . .

Catch The Jayhawks Live:
The Ogden Theatre :: January 27th
The Marquee is an independent, Colorado-based, PRINT & ONLINE Free Music Magazine. The Marquee strives to be the Farmer's Almanac of the regional music scene — providing readers with facts, tid-bits, in-depth feature stories and a Calendar section that is unparalleled on Colorado's Front Range, covering every live music venue from large venues such as Red Rocks Amphitheatre to small clubs and coffee shops.