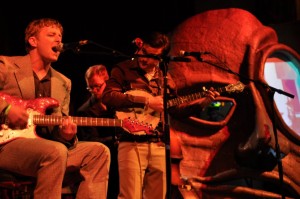 Photo by Tim Dwenger
Why You Should Go: FaceMan's Waltz is a celebration of both the Denver music scene and the band's second full-length album titled FeedingTime.  Since the band's beginning in 2008, FaceMan has developed a reputation of delivering entertaining live shows that combine original music and videos with an emotional performance.  FaceMan is a band that seeks out every opportunity to collaborate with other musicians and, in the tradition of The Band's Last Waltz, they have invited some of Denver's finest to share the stage at the second annual Waltz.  Last year the massive production featured performances from members of Bonnie & The Beard, The Knew, Bop Skizzum, and Boulder Acoustic Society and this year is likely to feature a similar cast of characters.  Don't miss this opportunity to catch many of Denver's best musicians sharing the same stage.
Venue:
The Bluebird Theatre, 3317 E. Colfax Ave, Denver, CO 80206 – 303/377-1666

Doors:
8:00 PM
*Price:
$15.00 Adv & $18.00 Door – Buy Tix

*All times and prices are gathered from other sources and we am not responsible for mistakes or inconsistencies. They are intended only as guidelines. Please, always call the venue if you desire the most accurate information possible.