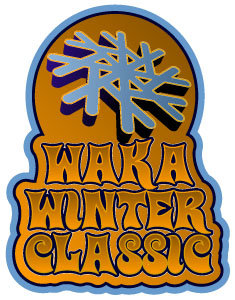 Listen Up Denver! Has A Pair Of Tickets To Giveaway For The Cervantes' Edition Of
The Waka Winter Classic on Thursday February 2nd.
Post "I Wanna Go To The Waka Winter Classic" On Our Facebook Page
To Be Entered For Your Chance To Win!
The anticipation for the summer music festival season couldn't be any higher than during these long winter months. Thankfully we don't have to wait for summer to experience a bit of the Festival life as the Waka Winter Classic brings the festival experience to Colorado this week.   At two different stops, Cervantes' Other Side and  Hodi's Half Note, bands who submitted through ReverbNation will compete in regional talent showcases for the chance to perform at Wakarusa 2012.  Recently Listen Up Denver! caught up with Aaron Stehman of Pipeline Productions to talk about Wakarusa and the idea behind the Waka Winter Classic.
Listen Up Denver!:Congratulations on being nominated for Music Festival of the Year by the 23rd Annual Pollstar Concert Industry Awards.  What do you think it is about The Wakarusa Music festival that helped garner you the nomination?
Aaron Stehman: I'd say there are numerous factors for our nomination as one of the top Music Festivals of the year. At the forefront would be that the people who work so hard year round to put on the festival truly are music lovers and fans who are creating an environment for folks with the same passion. There is a huge passion for music within the core of Wakrusa and we believe it really shows.  There is always a consistently diverse and growing lineup that continues to be a step ahead with so many mid level artists gaining ground before they break through on a national level.  Third, and arguably as important as any of the above, is the beautiful site we have, Mulberry Mountain. It's a magical little spot nestled in the Ozark Mountains where people can come and disconnect from their regular lives for a weekend.
LUD!: Can you share with us the idea behind the Waka Winter Classic?
AS:  The Waka Winter Classic is an opportunity for Wakarusa to travel around searching out the best local talent in music markets all over the country. It's a way for us to interact with our fans on a personal level. It has created a great environment for up and coming bands who are able to receive exposure on a national level that may not otherwise.
LUD!:  How do you determine which markets participate?
AS:  We generally hit the larger college and music markets around the midwest, stretching as far west as Colorado. As interest in the festival and Waka Winter Classic tour have grown, so has our reach with the tour. For the first time ever, we'll be traveling to New York City this year for a Waka Winter Classic.
LUD!:  By my count there are already eleven bands/artists from Colorado playing at Wakarusa in 2012, including Pretty Lights, EOTO, and The Motet.  With the Waka Winter Classic you will be adding two more, bringing the total to thirteen.  What is it about the Colorado music scene that has you choosing so many bands from our state?
AS:  I think it speaks volumes of the Colorado music scene. There is always an abundance of talent in Colorado both on a national level but also locally with bands competing in the Colorado Winter Classic's. It just goes to show that Colorado has been, and continues to be, a breeding ground for great music on all levels and all genres.
LUD!:  What question about the 2012 Wakarusa Music Festival did we not ask today that you would want our readers to know about?
AS:  I think it would be what makes Waka unique compared to other music festivals. One of the big things is the remoteness of it. The closest major city is over an hour away and people are able to unplug from their daily reality and routines. You're not hopping on your laptop or smart phone every few minutes. You truly are at a place where music and Mother Nature meet. It gives people an opportunity to rejuvenate their spirit and soul as people cut off from civilization for a weekend.
Come on out to Cervantes' Other Side on February 2nd as Atomga Groove Alliance, Sunsquabi, James and The Devil, Whiskey Tango, and The Big Motif compete for the chance to perform at Wakarusa 2012.  Then join us at Hodi's Half Note on February 4th as Good Gravy, Oak Creek, Twine!, Mosey West, and Post Paradise compete for the same honor.  These are all ages shows and cost $5.00.  The winner will be chosen by fan vote.  So come on down support your favorite local act.  Cast your vote and give them the chance to share a stage with their musical heroes, or the possibility of being the next big thing.

Wherever the music is, you'll find me with my camera, shooting on street corners, from barstools at clubs, from the side of the stage at theaters, and from photo pits in places like Red Rocks. Clicking away, trying to capture the emotive essence of music, and all those moments that we forget because of one too many Pabst Blue Ribbons.