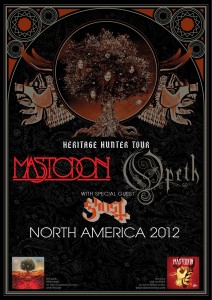 MASTODON & OPETH
w/ Ghost 
The Fillmore Auditorium
Monday, April 23rd
Tickets: $29.50
Pre-Sale: February 1st @ 3pm
Public On-Sale: 2/3 @ 10am
PURCHASE HERE
Grammy nominees Mastodon have announced that they will hit the road for a spring North American tour in support of their current album The Hunter, which was released by Reprise Records in September of last year. The tour kicks off on April 4th in Portland, ME, and stops in Denver at The Fillmore on April 23rd, before wrapping up with a hometown show at Atlanta's Masquerade Music Park on May 12th. These shows will feature an amazing night of powerful music featuring a dream bill with Swedish metal band Opeth as co-headliners, with special guest Ghost providing support on all dates. Collectively Mastodon has stated: "We're excited to co-headline this tour with Opeth for whom we have great respect and admiration. Having Ghost along as well will make this tour a special event." Tickets go on sale February 3rd and 4th. Click here for details. There will be a Fan Presale scheduled to begin at 3pm local venue time on Wednesday, February 1st available here.
Mastodon have recently posted a very special video for their new single "Dry Bone Valley,"created by noted fine artist Tim Biskup, a long-time friend who has amassed a cadre of loyal fans and collectors of his painting and sculpture. Watch the new video here.
"Dry Bone Valley" is the second single from Mastodon's critically acclaimed album The Hunter, which found its way onto several Year End/Best Of critics' lists, including those compiled by Rolling Stone, Spin, Revolver, Decibel and many more.
Released on September 27th, The Hunter entered the Billboard Top 200 Album chart in the Top 10. The first single, "Curl of the Burl," has been nominated for a 2012 Grammy Award for "Best Hard Rock/Metal Performance." Radio play for the track brought even Mastodon to the attention of the mainstream masses by rocketing into the Top 15 of the Billboard charts resulting in their greatest radio presence to date. By comparison, "Dry Bone Valley" is already accelerating with more immediate impact on radio waves. The press also continues to pledge their commitment:
"Mastodon exists as one of the most crucial and challenging acts working today." – The Los Angeles Times
"Zeus be praised! Mastodon streamlined their molten thrash into a taut thwump that doesn't pull back one bit on their natural complexity of innate weirdness." – Rolling Stone's Best of 2011
Mastodon / Opeth Tour Dates
(M) Indicates Mastodon closes the show
(O) Indicates Opeth closes the show
| | | | | |
| --- | --- | --- | --- | --- |
| | | | | |
| 04/04 | | Portland, ME | | State Theater (M) |
| 04/05 | | Boston, MA | | Orpheum Theater (O) |
| 04/06 | | Montreal, QC | | Metropolis (O) |
| 04/07 | | Toronto, ON | | Sony Centre (O) |
| 04/09 | | Philadelphia, PA | | Electric Factory (M) |
| 04/10 | | Wallingford, CT | | The Dome (M) |
| 04/11 | | New York, NY | | Roseland Ballroom (M) |
| 04/13 | | Chicago, IL | | Riviera Theatre (M) |
| 04/14 | | Grand Rapids, MI | | The Intersection (M) |
| 04/15 | | Pittsburgh, PA | | Stage AE (M) |
| 04/16 | | Knoxville, TN | | TN Theater (O) |
| 04/18 | | Oklahoma City, OK | | Diamond Ballroom (M) |
| 04/19 | | Dallas, TX | | Palladium Ballroom (O) |
| 04/20 | | San Antonio, TX | | Back Stage Live (O) |
| 04/21 | | Corpus Christi, TX | | Concrete Street (O) |
| 04/23 | | Denver, CO | | Fillmore Auditorium (O) |
| 04/25 | | Las Vegas, NV | | House of Blues (M) |
| 04/26 | | Los Angeles, CA | | Gibson Amphitheatre (O) |
| 04/27 | | Oakland, CA | | Fox Theatre (O) |
| 04/28 | | Reno, NV | | Grand Sierra Resort (M) |
| 04/30 | | Seattle, WA | | The Paramount (O) |
| 05/01 | | Vancouver, BC | | Orpheum Theatre (O) |
| 05/03 | | Edmonton, AB | | Edmonton Events Center (O) |
| 05/04 | | Calgary, AB | | MacEwan Hall (M) |
| 05/05 | | Saskatoon, SK | | The Odeon (O) |
| 05/06 | | Winnipeg, MB | | Burton Cummings Theatre (O) |
| 05/09 | | Washington, DC | | The Fillmore (O) |
| 05/10 | | Charlotte, NC | | The Fillmore (M) |
| 05/11 | | Myrtle Beach, SC | | House of Blues (M) |
| 05/12 | | Atlanta, GA | | Masquerade Music Park (M) |