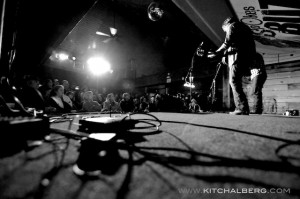 Photos by Kit Chalberg
(Taken at Hayes Carll's Show At The Mish On Friday Night 1/27)
The Scene: The L2 Arts and Culture Center on Colfax is not the type of place you would expect to see Hayes Carll play, and that's why the night was so great! He usually is backed by a full country band, but tonight he was acoustic and almost on his own. I had seen a couple shows at L2 last year, and I immediately fell in love with the intimacy, warmth, and historical architecture of the venue. As I sat in the back of the theatre and watched people come in, I noticed surprise on most faces. I don't think folks were expecting a proper theatre with wooden seats. The last time Hayes played in Denver was at The Bluebird, which is all open and more party friendly. As 20 and 30 somethings started arriving in groups of 5-10, the scanning for seats game began. The seats are not assigned, and finding a group of seats together is like a game of Tetris if you don't get there before the opener starts.  A large group of about 12 simply gave up and lined the wall to the right of the stage. This younger crowd, assembled in small groups, was one faction represented in what I am dubbing "The Battle of Shushes and Shouts."
The other faction was comprised of Swallow Hill Music Association members and those who are used to seeing shows at Swallow Hill's complex on South Broadway. Swallow Hill is a non-profit organization that "promotes the joy of learning and listening to roots music" by organizing concerts and operating a music school.  It would be safe to say it's reputation and image is what you could call "wholesome." Hayes Carll was the perfect man to bring these two groups together. Sure, the battle had some tension, but in the end the music was the true victor!
Opener: Robert Ellis. After a brief and motivating speech rallying support for Swallow Hill, Robert Ellis took the stage. He looked as country as he did folk, and sounded the same. Ellis has a straight country voice, but his guitar playing is detailed and more folk driven. Not nearly as rough and tumble as Carll, his set was a great way to warm up and unite the audience. While the audience was well behaved for his set, a lot of the young guns were still out drinking and hadn't made it in to the venue yet. After a half-hour set Ellis Walked off the stage, and to everyone's surprise, Hayes Carll immediately walked on. Instead of having a break now, the venue announced Carll would play two sets.
Hayes Carll: If I could only choose one word to describe Carll's set, it would have to be "provocative." His lyrics provoke thought and incite debauchery as they confront you with truth. As you listen to the descriptive and scene setting songs, you vicariously live the road weary life of a Texas singer songwriter with the propensity to indulge.
Carll started off with "Chances Are," one of his slower and more romantically crooning tunes. Like many of my favorite songwriters, Carll doesn't have a traditionally "nice" voice and his words don't need pretty packaging to draw people in. His guitar playing isn't anything amazing either; both his voice and instrument are merely used to carry the message, and that message is so honest that it stands on its own. Carll is obviously accepting of this fact, and he brought along Scott Davis to soften the edges and accompany him on a folk style guitar.
"Bottle in My Hand" was the second song and the first sign of trouble. Hayes Carll's fan base is partly made up of people who like to drink and sing-along to songs that reference drinking, but this wasn't that kind of place. Sure, you could buy a bottle of beer in the lobby, but there were no shots and back slapping here
"I Got A Gig" painted a clear picture of life on the road as a musician, and when he sang about 100 pounds of weed, guns, "pills in the tip jar and blood on the strings"… I believed him. This man has obviously seen a lot, and he sings about what he sees without hiding a thing. The highlight of the first set was "KMAG YOYO" a song about the government using soldiers in LSD experiments. Fast paced and reminiscent of Bob Dylan's "Subterranean Homesick Blues," there was no way his die-hard fans were holding back on this one! People started throwing in a few hoots and hollers to let Carll know how well he was doing his job.
After a 20 minute set break, the crowd reconvened ready for action. The set started off slow with "Beaumont," but it was Ray Wylie Hubbard's "Drunken Poets Dream" that was the call to battle…Damn the Man! This building may be a church on Sunday, but when Hayes Carll is in town you can't help but dance with the devil! That group of 12 against the wall now had a couple more beers in them, and they let loose and sang along during the song. Others throughout the row joined in and they all got stares and the annoyed and overly-dramatic "SHHH!"  The shushes and shouts would be in constant rotation throughout the rest of the night. The shouters mocked the shushers by shushing them back, but the shushers just wouldn't shut up. The fact of the matter is, shushing rarely works and often only instigates. In light of the performer on stage, none of the shouting and singing along was disruptive or over the top; it was what the kids like to call "getting in to it."
As bottles began to clink on the floor, "Bad Liver and a Broken Heart" seemed to be an anthem for Carll and the crowd, but the song that summed up the whole night and ended the set was "Stomp and Holler." It was like a finger in the face of the shushers as we all shouted along and sang "I'm out here in the filth and squalor and all I wanna' do is stomp and holler!"
Carll came back out for a three song encore which ended with "Hard Out Here." We know it's hard out there Hayes, but it is your songs about late night mistakes, broken bottles, and the road that keep us going and give us permission to make the same bad choices. Hearing his commentary and stories between the songs added to the experience even more; and his humor and pleasant disposition leads me to believe it might not be as hard as he might make it sound!
Energy: A
Sound: A+
Musicianship: B+
Stage Presence: A
Set/Light show: B
Overall: A-
Brian Turk grew up in the shadow of the Catskill Mountains, near Woodstock, NY. He comes from a family of music lovers, audiopliles, Dead Heads and avid concert goers.The musical magic that can only be created in the Catsklills, both past and present, is what Brian cosiders the epicenter of his music addiction. The music of The Band, and most recently The Levon Helm Band, is the soundtrack of home for him. Brian's mother took him to his first concert at 5years old...it was Johnny Cash and Roseanne Cash at Jones Beach Amphitheatre. For Brian, music is a family affair. He feels the same way about live music...we all convene to celebrate together. Brian's writing life started when he wrote his favorite author, southern fiction writer Clyde Edgerton, a fan letter at age 13. When most kids were idolizing baseball players and television, he was worshipping writers and musicians. The two became friends and Clyde shared his craft with Brian. The next year Brian attended Duke University's Young Writers Camp. This is the extent, of what Brian considers, his "formal" training in writing. From then on his goal was to capture snapshots of life through words. Brian has been involved with live music in various facets over the years, and combined with his enthusiasm and love for Denver's music scene, he creates a vivid description of what he sees and hears. If you see him out at a show, dancing with a notebook in hand, say hello.