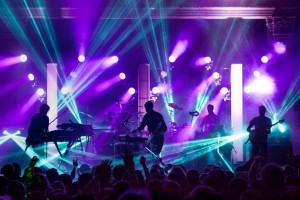 Photo by Brian Hockensmith
 Lotus has crafted a unique musical style outside of simple genre limitations. On a given weekend the band could be the only group with guitars at an all electronic music festival and then the next night crash a traditional rock festival with their dance heavy beats, synths, and samples. Equal parts instrumental post-rock and electronic dance, the band's distinguishing feature is the ability to maintain a decidedly unique musical voice and remain current while bucking passing trends.  They kick-off a long tour on Saturday night at The Fillmore with Octopus Nebula and bass player Jesse Miller took some time to chat with Listen Up Denver! to talk about some of the highlights of last year and give us some insight into what's in-store for next year.
Listen Up Denver!: It's been quite the year for you guys between touring, a new album and a crazy New Year's celebration. What would you say what was the defining moment of 2011 and what are you most looking forward to in 2012?
Jesse Miller: I think the big NYE show really capped the year off and defined it.  It was the only Philly show all year, and it was such a big, unique event that it became a celebration of all the things we had accomplished in 2011.  We released an album we had been working on for about 2 years, headlined Red Rocks, played a lot of great festivals, but there was something about putting on a show in a big tent on the pier only a few miles from where I live that made the event extra special.
LUD!: Your upcoming tour takes you through the Netherlands and Japan. How does it feel to know you can step foot on the international stage and still attract a ton of fans?  Denver is definitely a great place to get things started!
JM: I think Lotus is still fairly unknown internationally.  I cherish the chances we have to take our music outside of the US, but I think there is a huge international crowd that we haven't figured out how to effectively reach with our music yet.
LUD!: Will we be hearing more from your solo project, Beard O Bees, in the next year? It seems like that project really took off in 2011.
JM: Definitely.  I have been steadily releasing original tracks and remixes on Soundcloud and am planning on putting out an EP or full-length album at some point in 2012.
LUD!: Speaking of new album, is it safe say you put together your most cohesive record to date this past year? Can we expect another album in the near future?
JM: Yes, I thought the self-titled album came out great.  Cohesion was one thing we were aiming for, but also I think we were able to take our vision of the production into a whole new realm and achieve a sound that hit hard but was also evocative.
Looking forward, we have a ton of new material written…already much more than could fit on one album.  We will start putting some of these tracks to tape this spring.
LUD!: It was great to see you at Red Rocks this past summer and I know that's a special place to play a show. How do you feel about another Lotus date there in summer 2012?
JM: I would love to play Red Rocks again.
LUD!: There's been quite an explosion of electronic music in the past year, especially in Colorado. How do you feel about the increasing popularity of the genre? Do you ever feel pressured to play a more electronic style with such a young and bass frenzied crowd?
JM: I think it is great that electronic music is more accepted in the mainstream now. But, unfortunately with that has come an inundation of some truly terrible music. I don't feel pressure to cater to the crowd, but I do want to put on a high energy show.  Part of our responsibility as musicians is to try to raise the level and quality of music.  If we can create music that has a strong emotional impact and the cathartic release associated with dance music, than I think we've accomplished our goal.
In my mind there is a big difference between staying relevant and chasing trends. In other words, I'd rather create something outside of genre than trying to follow a formula.
LUD!: I can't wait till you guys invade the Fillmore Auditorium once again on February 4th. Is it different playing to such a large crowd? Can we expect any surprises?
JM: It is certainly different than playing a small club, but I think Lotus's music and stage production works well in venues the size of the Fillmore.  We strive to surprise not only the crowd but ourselves on a nightly basis…hopefully only good surprises though and not something like a surprise blizzard.
LUD!: I always dance wildly at Lotus shows. It must be good to know you can look into the crowd at any moment and see someone going crazy?
JM: Yes it is.  There is no better sensation than when we are really locked in with each other and the crowd.  The most subtle musical variation is reflected back at us from the crowd.  Those are the moments that make live music so powerful.
LUD!: Favorite song you wish you could cover live?
JM: Steve Reich – Music for a Large Ensemble.
Catch Lotus Live:
I've worked various positions in the music industry with Madison House, Rock The Earth and Bohemian Nights. My dream is to travel the world and seek out all the good tunes, beer and food that make life so special. I have a healthy obsession with live music and I'm thrilled to share the epic moments with you.