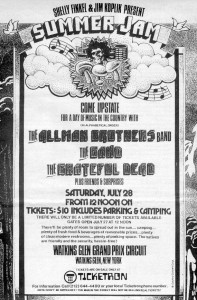 POLYTOXIC, MOUNTAIN JAM, & SHAKEDOWN STREET
Recreating Summer Jam 1973, Watkins Glen, NY
Quixote's True Blue
Saturday, March 10th
Tickets: $15
PURCHASE HERE
In their tradition of going big, Polytoxic has announced plans to recreate the historic Summer Jam of 1973 that took place at Watkins Glen Speedway in Watkins Glen, NY.  Yes, that's the same place that Phish had their Super Ball festival last summer.  While Polytoxic will fill the role of The Band, Mountain Jam will play The Allman Brothers part, and Shakedown Street will fills the Dead's shoes.  The show is scheduled to take place on March 10th at Quixote's True Blue.  It's sure to be one hell of a night, and while 600,000 people probably won't show up, there's bound to be quite a crowd.
Tickets are only $15 ($5 more than the original show) and are available here.
For more information on the original event, visit the Wikipedia page.