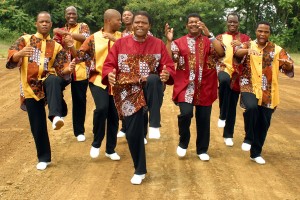 The Scene: To simply be a widely recognized band of musicians, or a musical collective, is an achievement in and of itself, but to be a 50 year old Grammy winning musical institution is a feat accomplished by very few. For Ladysmith Black Mambazo this is a reality. The all male a cappella group was founded in South Africa in 1960 by Joseph Shabalala, who is still lead member of the ensemble. They may have risen to fame internationally due to their role on Paul Simon's Graceland album, but they had been spreading the culture of South Africa for decades before that timeless collaboration.
In all honesty, I didn't have a single clue what to expect when I was told I would be covering a Ladysmith concert. The "scene," if you could even call it that, was far more distinguished than the ones that I am used to. Chairs covered the floor of The Boulder Theater and everyone showed up early, giddy with anticipation. Only 9 microphones stood on the stage as the lights dimmed and the men of Ladysmith Black Mambazo took their positions.
Ladysmith Black Mambazo: Before the music began Shabalala explained the origins of Ladysmith and went on to say that now they travel the world sharing the stories of their ancestors with the hope of spreading "Peace, Love, and Harmony." From the first note I had to scrape my jaw up off the floor. The group created harmonies like I've never heard before and backed them up with one of a kind dance moves. Not fancy and highly choreographed steps, just kicks into the air and certain subtle moves that made it clear if you were watching that these men not only were singing the songs, but feeling the music.
After the first number got both the crowd and the performers warmed up, Shabalala explained that they would be performing songs several songs from their recent Grammy nominated release. His experience was obvious as he deftly pulled the audience into the palm of his hand with simple stories and perfectly timed jokes.
They went from light hearted songs about farm animals effortlessly into emotional ballads aimed at curing hopelessness. Each song was more complex than the last, blowing my mind every step of the way. As I said, I spent the entire night trying to pick my jaw off of the balcony floor that vibrated as if there was an army of men in boots marching rhythmically behind me all night. I kept thinking to myself, why in the world would you need a beat machine and computer when you can reach these heights with only the human voice. The pure soul in each member was beyond anything I've ever experienced.
After a while Shabalala spoke of how Ladysmith is a family affair, then introduced his sons and left the stage for a bit. The younger one took over the front of the stage and sang a song about how a woman can turn a man so upside down. As the group worked their way through their set, they took turns dancing and moving around with massive smiles on their faces. Later, as they danced, each one slowly disappeared and left Shabalala alone once again. Throughout the show he taught us words in their native language that I will not even begin to butcher right now, and ended the first set with the word for "intermission."
During most set breaks I find myself needing a cigarette, or a glass of water, to gather my thoughts and prepare for what is to come next. All I needed to do on this night was sit calmly, reflect on what just happened before me, and try to understand how they were going to do it again in only a few minutes. They did, they came back and blew my mind wide open once again.
Now, while I often find myself face-melted and mind-blown by all of the music I get to experience, Ladysmith Black Mambazo doesn't even fit into that category. I kept trying to rack my brain for all of the describing words I could think of. Beautiful, tranquil, serene, uplifting, joyful, are all words I could use to do their performance justice but, at the end of the night, there really wasn't one, or even 15 words I could string together, to explain what I had just witnessed.
My unsuspecting friend, whom I dragged along with me, had asked before we got to the Boulder Theater: "Is this going to be some sort of religious type thing." To be honest, I really didn't know how to answer that question before the show, but after it was all said and done we agreed that it was absolutely religious, but not in the traditional sense. It was religious in the sense that it made me feel connected to something deeper than funky bass lines and snare claps ever could, not in the sense of a connection to some sort of supernatural being. The performance left me feeling a connection to my fellow human. It was a feeling that only song and dance can provide. They certainly did their job and I fully understand why Ladysmith Black Mambazo is more than a band of musicians or a musical collective. It is an institution with deep roots and one simple goal in mind: To spread "Peace, Love and Harmony." I walked out of there last Thursday night with nothing but peace, love, and harmony echoing inside of me.
Energy: A
Sound: A
Musicianship: A+
Stage Presence: A
Set/Light show: N/A
Total: A

I rode my skateboard from school in 7th grade to my buddy Vince's house where he put on the song "Perfect Government" by NOFX and I was hooked. The next day I bought the album Duh by Lagwagon. The next year I saw Against Me! at the Starlight Theater in Fort Collins, my mom dropped me off. I've since devoted every waking hour to anything done with passion. My speakerbox bumps everything from Lil' Wayne to Pablo Casals. I was never very good at making music, but I am damn good at listening to it. I've been filling up yellow notepads with random thoughts and misspelled words for as long as I can remember. I enjoy whiskey of all sorts, Newport cigarettes and the company of my family. I've got an addiction to run-on sentences that I'll probably never cure. A solid handshake with a stranger who has become a friend over a few beers means the world to me. You'll often find me wide eyed and wandering with an ear to ear grin. I live for funky break beats and spreading the love.