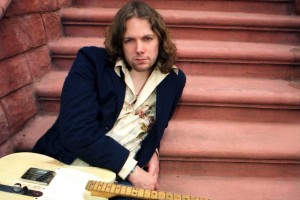 Rich Robinson is in the midst of a European Tour and though he has no Colorado dates currently on his schedule, we thought we would share this conversation that our own Brian Turk had with the guitarist back in November on the heels of an incredible show at The Soiled Dove.  Robinson discusses his guitar collection, playing with some of his idols, recording his most recent record, and he even shares some of his political views.  With a presumably lengthy career still in front of him, it's pretty amazing to see what he already accomplished.
LUD!: You have stayed busy over the past twenty something years. No matter what, Crowes or no Crowes, you have your hand in something. What keeps you moving?
Rich Robinson: Music is what I do and it's what I love, and I love to paint. I just always feel the urge to create, to write, to paint. I have never been the type of person to just sit around, I can't do it.
LUD!: You have worked with a lot of different musicians recently, any highlights?
RR: I have had a lot of fun playing with The Allman Brothers. Larry Campbell…shit, any time that man appears, he played on the Black Crowes record, he played on my new record, he just is phenomenal musician! Really! It was really cool playing with Patti Smith. I played on her record and did some shows with her. John Medeski came and played on the record. That is just recent. But obviously touring with Bob Dylan and playing with Neil Young, The Stones, Jimmy Page… all of it is beyond comprehension! I feel really fortunate to have played with all those phenomenal players, and the guys I am with now are great!  Steve and Joe and I have been friends for a long time.
LUD!: Your new album has such diverse sounds on it, how do you achieve such different moods?
RR: I do think that stylistically it's different, but sonically it meshes really well, and it has continuity…and that's what you kind of wanna go for. Stylistically the difference comes from, well, listening to a lot of music! I have a lot of influences and just kind of filter them through my brain and through my own experiences. That's the one thing that makes me so proud about this record; it covers a lot of ground, but still has that strong continuity.
LUD!: I couldn't agree more. "Station Man," "Fire Around," and "Standing On the Surface of the Sun" couldn't be more different.
RR: Absolutely. "Station Man" is like an old Fleetwood Mac song from the 70's. "Fire Around" is like, I don't know, I mean I used to LOVE The Clash and I used to love X, and all these punk rock bands, and I kind of feel there is a little of that in "Fire Around."  Some Iggy Pop maybe? Then "Standing on the Surface of the Sun" is more along the lines of Pink Floyd or songs I wrote for the Crowes like "Bewildered." It is so cool to go there and cover all this ground.
LUD!: Does it take a lot of guitars to make these songs?
RR: As I have gotten older, I just don't need as many. I have really honed it in to about 12 guitars. I still travel with a lot when I am on the road with the Crowes, but on this tour I have been touring with 12 guitars and it has been great. I have only wound up using about six of them.
LUD!: What are the six? We have a lot of musicians who read Listen Up Denver!.
RR: My 335, my White Falcon, this 60's Gretsch Country Gentleman, a late 50's Gretsch Streamliner, my gold top that I have had forever, my Tele which I have had forever, and a newish Keith White Custom Shop SG that I think is amazing! And my Strat. I used all of those on the record.
LUD!: I love watching guitarists use an arsenal of guitars; it shows me they are working hard for a certain sound.
RR: Well it's not just the sound, but the tunings. I use about ten or fifteen different tunings. I always have to have something ready for each song. (In an earlier part of the conversation Rich mentioned bringing Brendan McDonough, the Stage Manager from Levon Helm Studios, on the road with him to keep things running smooth.)
LUD!: Being such a music lover yourself, what has been your greatest musical experience?
RR: Well, first off, to be a kid like I was when the Black Crowes started and go from dreaming of being in a huge band to selling seven million records and having a thing all over the world…that was a huge thing for me as you can imagine!
As a fan, one of the biggest things for both my brother and I was to open for the Stones. I remember when we were really fighting and not getting along we did a tour with the Stones in Europe. It started with three nights at Wembley Stadium. After those three nights we had two off…and we got to go play with Page and Plant! It was so fucking cool to play three nights at Wembley with the Stones, and then drive to play two with Jimmy and Robert…I mean…that is something you just cannot imagine. The cool thing is that the Stones couldn't have been nicer. They would let Chris and I stand behind Keith's amps every night, and we would just sit up there and watch our heroes standing 10 feet away from us and playing these songs that moved us more than anything in the world! Then having Jimmy in our band for a couple of years, I mean, who gets to go out on tour and play Led Zeppelin songs with Jimmy Page! Nothing was cooler than that in my opinion.
LUD!: I've got to say man, you have had a hell of a run so far, and there is so much ahead of you…
RR: Absolutely!
LUD!:…what haven't you done yet that you have been dying to do?
RR: Well until now…this. I am so happy to be doing what I am doing at this moment! The album has only been out for a month and all the people seeing us on tour really seem to enjoy it. I am really loving playing with my band and just living where I am right now is really, really cool. I mean, we feel like a band that has been playing together for years. We get up there and these songs gel with this bunch of people, it's really kind of crazy. It feels really good man!
LUD!: It really shows on the album Rich! I have listened to it five times this week, and each time it was all the way through. That's what I look for. I still use a CD player and Turntable, so I love albums I can let ride.
RR: Awesome! That's how I love to make records. I agree, there are certain albums you can just let play. Physical Graffiti or Exile on Main Street or Rubber Soul or Abbey Road. You can listen to those records as a whole and see it as a piece and get a different perspective than the song. That's the goal, that's my goal, to be able to write a whole album you can listen to. I mean, it's a gift to come up with this record.
LUD!: There was a project you did that really got my attention involving Howard Zinn's book A Peoples History of the United States. Can you tell me a bit about it?
RR: Howard Zinn's book was kind of converted, with the help of Anthony Arnove, into Voices of a Peoples History of the United States. It talked about all these people through history that have affected change on a really big scale. That book was then turned into a play that actors and musicians got involved with in New York, and they would read these quotations from over the years that were pertinent to the struggles that normal people had to go through. It eventually got turned in to a film, which Matt Damon and Josh Brolin produced. I had met Anthony a few years back, and he asked me to be a part of it. It is something I am very proud to be a part of.
LUD!: So, speaking of large scale changes and the struggles of normal people, what are your thoughts on the Occupy Movement and the 99%.
RR: I think it is absolutely necessary! They are finding their way. Shit, they are fighting for people who don't even know they are being fought for yet.
LUD!: Well said!
RR: You know what I'm saying! These people are incredibly brave people, and they are out matched. People are realizing this just isn't working. As long as everyone has enough, everyone has been cool with it, no one watched the wealthy. In the last ten years, well since Reagan it has been ramping up to this, we have been headed down a road that is not sustainable. It is not good for the people, but for just a few people. And man, you push people hard enough, history shows we will push back! This criticism that the Occupy movement isn't focused enough is silly. This is not a war we are protesting, this is an entire system that isn't working. It is one thing to have more money than everyone else, but once you start controlling the political systems to further financial interests over the interest of the people, that's when it becomes personal! They pushed us too far, I think what people are doing is great, and it is truly democracy in action. It is non-violent, all the violence comes from other interests that don't want this to succeed…why can't we talk about it? There are a lot of American citizens suffering horribly, families and children; this is a very important time in our history. This could be the tipping point for us as a country, whether we turn it around, or keep living in a society rigged for the wealthy where the rest of us get screwed! I have witnessed this movement in various cities while I have been on the road, and I have gone to check it out.  Marching in Boston was such a great break from being on tour. I really applaud everything this movement is doing! It is so needed.
LUD!: Well I am glad I asked that question Rich, you definitely had something to say! Thanks again for your time and we look forward to seeing here in Denver again soon!
RR: Right on man.
Brian Turk grew up in the shadow of the Catskill Mountains, near Woodstock, NY. He comes from a family of music lovers, audiopliles, Dead Heads and avid concert goers.The musical magic that can only be created in the Catsklills, both past and present, is what Brian cosiders the epicenter of his music addiction. The music of The Band, and most recently The Levon Helm Band, is the soundtrack of home for him. Brian's mother took him to his first concert at 5years old...it was Johnny Cash and Roseanne Cash at Jones Beach Amphitheatre. For Brian, music is a family affair. He feels the same way about live music...we all convene to celebrate together. Brian's writing life started when he wrote his favorite author, southern fiction writer Clyde Edgerton, a fan letter at age 13. When most kids were idolizing baseball players and television, he was worshipping writers and musicians. The two became friends and Clyde shared his craft with Brian. The next year Brian attended Duke University's Young Writers Camp. This is the extent, of what Brian considers, his "formal" training in writing. From then on his goal was to capture snapshots of life through words. Brian has been involved with live music in various facets over the years, and combined with his enthusiasm and love for Denver's music scene, he creates a vivid description of what he sees and hears. If you see him out at a show, dancing with a notebook in hand, say hello.