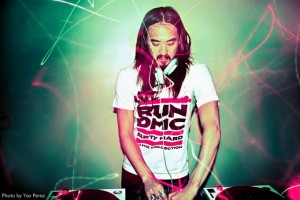 Photo by Ysa Perez
The Scene: A modest, and rather young, crowd gathered at The Fillmore on Thursday evening for the return of several powerhouse electronic artists; Steve Aoki, Datsik and up and comer Alvin Risk.  Steve Aoki has been traversing the globe, throwing legendary parties for the last decade. Dating back to his wild days with The Bloody Beetroots, he's been known to do awesome yet absurd things on stage. As the creator of Dim Mak Records Aoki has risen to the top of the electronic universe with a unique blend of high-energy Trance and House that electrifies his typically huge crowds.
Datsik is a star in the national dub-step scene and always attracts a loyal crowd to his energetic sets. Although this was an early stop on their nation wide Deadmeat Tour, I expected a slighter larger crowd for a venue the size of the Fillmore. Nonetheless, we arrived to a bubbling audience ready to spend a wicked Thursday night on the dance floor.
Opener: Alvin Risk. Arriving near the end of a set from Alvin Risk, we quickly made our way through the sparsely packed Fillmore. Risk displayed deft mixing abilities and had the crowd swaying to his crunked out electro.  Steve Aoki even stepped in several times to shout words of encouragement to the young artist. It was nice to see that comrodory had already developed between the artists, especially on a tour of this magnitude.
Datsik: Datsik took the stage soon after and instantly turned up the volume. I've always enjoyed Dubstep but it takes a skillful producer to make it flow and sound original. Datsik is exactly that, an extremely skilled artist, and it showed in this set.  Warping the sounds of Dubstep, Drum and Bass, and dance he took the crowd on a mind-melting journey into the future of Electronic music. Hailing from British Columbia, Troy Beetles is no stranger to success having collaborated with performers such as The Crystal Method, Wu Tang Clan, and Diplo.  His sets are a high energetic mix of grimy originals and popular club tracks.  Tonight was no different as he skillfully maneuvered from Knife Party to Snoop Dogg back to his own signature Dubstep wobbles. With my head full of bass, Datsik slowly concluded his set, setting the stage for Steve Aoki.  Say what you want about Dubstep, there is no other music in the world that fills your body with such a frenzied energy.
Steve Aoki: After a lengthy delay, the curtains finally came off of the epic light display that was lurking at the back of the stage. The lights cleverly spelled out A-O-K-I, curving elegantly across the stage. After a couple more tests, Steve finally took to his platform to a gorgeous soundscape and an eager crowd.  As he launched into a heavenly version of "Come With Me," the crowd put their hands in the air, feeling the rush of bass as it erupted from the speakers.  It wasn't long before confetti filled the sky and champagne began to douse the crowd.  As he launched into a frenetic version of the Bloody Beetroots "Warp 9.9," Aoki had the crowd wrapped up in a silly dance party where there was no excuse to be standing still.  Looking around, smiling faces attempted to catch a glimpse of Steve's on-stage antics, which included spraying the front row with chocolate milk, cranberry juice, and champagne, dousing a lucky partier with a giant cake, and diving headlong onto a giant inflatable raft with even more champagne to disperse.
This was the kind of atmosphere that breathes beauty into electronic music. For once, a DJ didn't simply play his tracks, he partied with his crowd.  Although it's disappointing to see Steve Aoki move away from his Bloody Beetroots style when 2009's, "Romborama" might be the greatest hardcore electro album ever recorded, his new music hasn't lost the magic Aoki touch.
As the confetti and champagne continued to fly, Steve made his way into newer territory with "Cudi the Kid" and "Earthquakey People."  Perhaps the most startling thing about this set was the light setup. The A-O-K-I was spelled out so vividly on stage that it was difficult to spot Steve on his DJ platform. On the other hand, it made for entertaining moments as he popped in and out of the giant letters often shedding his shirt in the process.
I finally caught my breath just as Steve Aoki left the stage.
Although 2012 is still young, this was by far the most fun I've had at a show all year.  Denver is quickly becoming a premier destination for electronic music and with the headquarters of the massively successful Beatport located just downtown we can expect the electronic revolution to continue. Even if the repetitive nature of the genre makes you cringe, there's no denying the power of a huge dance party.
Energy: A+
Sound: A
Muscianship: B+
Stage Presence: A
Set/Light Show: A
Overall: A

I've worked various positions in the music industry with Madison House, Rock The Earth and Bohemian Nights. My dream is to travel the world and seek out all the good tunes, beer and food that make life so special. I have a healthy obsession with live music and I'm thrilled to share the epic moments with you.