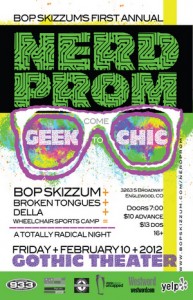 Why You Should Go:  Colorado faves Bop Skizzum, Broken Tongues, Della, & Wheelchair Sports Camp will be rockin' the stage & entertaining the squares at Bop Skizzum's 1st Annual Nerd Prom. If you want to get your geeky groove on with four of Colorado's best bands, The Gothic is where you want to be! Being comfortable in your own skin is a beautiful thing and they want to celebrate everything from Geek to Chic!
A Nerd Prom King & Queen will be crowned on the night of the show. To enter for consideration, fans will go to Bop Skizzum's Facebook fan page & upload their best 'Nerd Prom-esque' photo.
Were you rockin' a frizzy perm back in high school, or did your Mom sew homemade clothes for you? Were you that All-American sports star? Or mimicking the cover of Vogue? Whatever picture personifies you – share it! Once photos are uploaded, friends can go online, share and vote. The six people (three girls and three guys) with the highest number of votes will be the band's guests the night of the show. The band(s) and audience will then choose the winners, crowning the first ever Nerd Prom King & Queen.
Of course, we can't ignore the proximity of the date of the show to Valentine's Day, just a mere 72+ hours later… Everyone who buys a ticket will be eligible to "Win A Date With Bop Skizzum." Four lucky winners will enjoy a lovely evening of dinner at Illegal Pete's and bowling at Moe's with the entire band the week after the show!
So recycle that prom dress or tux… Dress to the nines… Sport the outfit you're gonna wear to Comic-Con this year. Whatever your fashion sense, strive for NERD PROM GLORY!
Venue: Gothic Theatre – 3263 South Broadway, Englewood, CO, 80110
Doors: 7:00 PM
*Price:
Adv – $10.00
DoS – $13.00
PURCHASE TICKETS
*All times and prices are gathered from other sources and I am not responsible for mistakes or inconsistencies. They are intended only as guidelines. Please, always call the venue if you desire the most accurate information possible.