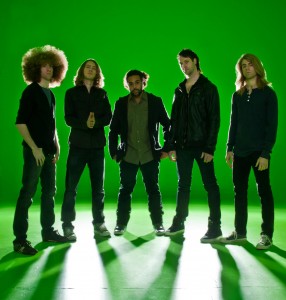 Photo by Darin Back
Musical ADHD has been plaguing the Front Range for some time now. The endless choices of music to see, talk about, and keep up with continually baffles minds.
This ailment can pull apart groups of friends, and even families, as the sick writhe through the streets, looking for a band that can somehow blend together all those different sounds that bounce around in their headphone-wearing heads.
Roster McCabe just might be one of the remedies for this rampantly spreading, and serious, affliction. This five piece band out of Minneapolis plays what they have defined as "Funky Reggae Dance Rock," which I will translate into, "An irie and soulful blend of pop, rock and jam that puts the funk in disco and electrifies R&B."
The Marquee recently caught up with Roster McCabe's main songwriter and lead guitarist Michael Daum while the band was taking some time off of the road. "What we are doing now is trying to get new material ready for tour. We tour constantly, so it is very rare that we have some time off to make it up here (a practice house in northern Minnesota). It sounds relaxing, but a week up here can be very stressful. We only have a week to get a few more songs ready for tour. Since we play so many shows our fans quickly ask for new material," said Daum.
According to Daum, Roster McCabe spent 270 days together on the road last year and played 180 shows. No wonder they needed to get away from it all. "The vibe up here is really positive. We are away from all the distractions. It isn't remote, but it is in the very northern part of Minnesota," said Daum. "We are in a big house, and are able to set up all of our equipment downstairs. Our drummer is also an amazing recording engineer. We have everything mic'd up and we record it all and talk about it."
Finish This Article Over At The Marquee Magazine Site . . .

Catch Roster McCabe Live:
Hodi's Half Note :: February 8
Shug's :: February 9
Cervantes' Other Side :: February 11
The Marquee is an independent, Colorado-based, PRINT & ONLINE Free Music Magazine. The Marquee strives to be the Farmer's Almanac of the regional music scene — providing readers with facts, tid-bits, in-depth feature stories and a Calendar section that is unparalleled on Colorado's Front Range, covering every live music venue from large venues such as Red Rocks Amphitheatre to small clubs and coffee shops.