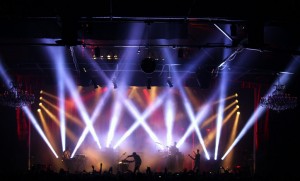 Photos by Jon Prins
The Scene: Over the last decade, Lotus has revolutionized the Livetronica sound while defying stereotypes and energizing venues large and small with their incredible live performances. This past Saturday was no different as a sellout Fillmore crowd braved a massive snowfall and frigid temperatures to see another epic performance from one of Colorado's most beloved bands.
Although I've seen Jesse, Mike, Luke, Chuck and Mike perform many epic sets over the years, this show, and the second set in particular, will go down in the record books as one of the most wild and joyous experiences Denver has witnessed in a long time.  With new music in hand following the September release of their self titled ninth album, Lotus gave the Mile High City a warm welcome on one of the coldest nights of the year.
Due to unforeseen circumstances we arrived later than anticipated and missed Octopus Nebula arriving to see the crowd of young and old souls bubbling with high-energy excitement two songs into Lotus's first set.
Lotus: Experience does a lot to the character of a band and over the years Lotus has a perfected a sound that explodes out of the speakers, casting a web of happy vibes in the process.  Their genre defying music can go anywhere at any moment and if there's anything I've learned about Lotus over the years it's that while they bring it the whole show, the second set is usually where they like to really let loose.  We arrived midway through a rousing rendition of "Tip of the Tongue" that had the crowd swaying effortlessly to the smooth groove. As they progressed into a lengthy and vibrant jam I caught the other important aspect of a Lotus set, the impressive lightshow. Once again, blue, green, and orange beams swirled effortlessly through the Fillmore crowd, pulsating, and gaining steam with every note. As they closed the first set with an electrifying rendition of "What Did I Do Wrong," a loud roar erupted from the crowd confirming yet another fantastic set from the band.
After a short break we pushed forward to the front of the crowd in anticipation of the second set. "Suitcases," a song sounding eerily similar to "Spiritualize" but with more pizzazz, roared out of the speakers and the dance party picked up where it had left off.  From there the band seamlessly segued into an organic sounding, and arguably more artistic, version of the popular dance track "Ghosts N Stuff" by Canadian producer Deadmau5.  I've never known Lotus to play many of covers, so this was a nice change of pace from which they transitioned beautifully back into "Suitcases."
To be honest, I'm not sure I stopped dancing during this entire set.  Eliminating their rock undertones, it seems Lotus is embracing a more electronic sound while still sounding completely natural and true to their roots.  Through the breezy pop of "The Surf" to the repetitive bounce of "Flower Sermon," my dancing legs maintained a steady beat while observing the rise and fall of dancing circles around me.  While it was not an overly young crowd, there was certainly a youthful exuberance in the Fillmore which seemed very natural given the intense clip the band wailed at for the entire second set.
Closing with a short, yet heavenly, version of "Sunrain," Lotus left the crowd thoroughly amped. With one final bow they exited the stage only to return a couple minutes later for a one song encore in the form of the rousing electronic groove of "Bush Pilot."
I've been fortunate enough to catch Lotus a lot while growing up on the Front Range, and this might have been their most impressive set yet.  One can only hope, as they embark on various solo projects and musical endeavors, that the band will continue to tour and produce fantastic music.  It's incredible that even given the horrible weather conditions, fans flocked from across the Front Range to help the band sell out the legendary Fillmore Auditorium for the first time.  It's another significant milestone for Lotus whose upcoming tour takes them up and down the East coast where adoring fans surely await their arrival.  I'm sure most Colorado folk would agree 8 months is a little too long to wait for another Lotus show so here's hoping a headlining spot at Red Rocks is in store for this summer. They certainly deserve it.
Energy: A +
Sound: A
Musicianship: A
Stage Presence: A
Set/Light Show: A
Overall: A
I've worked various positions in the music industry with Madison House, Rock The Earth and Bohemian Nights. My dream is to travel the world and seek out all the good tunes, beer and food that make life so special. I have a healthy obsession with live music and I'm thrilled to share the epic moments with you.