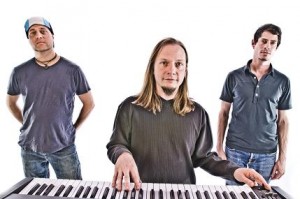 Eletro Funkateers, Juno What?! kicked off their winter tour in St. Louis last night and will soon be arriving home in Colorado for four shows around the state.  Lucky for you, Listen Up Denver! has your chance to win a pair to the Cervantes' show on February 18th that will also feature local Afro-Beat masters Atomga.  
All you have to do to enter is post "Juno What?! Are The Kings of Electro-Funk" on our Facebook Wall.
For those of you not on Facebook, shoot us an email at listenupdenver@gmail.com telling us "Juno What?! Are The Kings of Electro-Funk"  
PLEASE NOTE: Entry deadline is Noon MST  Thursday February 16th and the winner will be notified by email or Facebook no later than 5pm MST the same day.  Please be prepared to respond within quickly to confirm you can attend or we'll pick another winner.
Formed in 2008, the band has quickly become the leading practitioner of high-energy disco booty jams, and live electro-funk.
Juno What?! is bringing their illuminated madness to stages across the country. Catalyzing dance floors into sonic landscapes, the band has ignited a devoted following of fans by providing raw, electrifying shows which are devoid of the aimless wanderings of the lesser jam community. Their sound is ahead of its time yet still rooted in the foundation of early-80's dance grooves with a devout appreciation for sternum-bumping progressive themes.  This is a force to be reckoned with.
The band consists of Joey Porter (keyboards, talk box) and Dave Watts (drums, samples) from The Motet, and Steve Watkins (keyboards, talk box, bass). This core group is often augmented by special guests taken from the best of the gigging groups on the scene (including founding member Dominic Lalli of Big Gigantic). These musicians have gathered their collective talents to focus on this mission of making the world a better place…….to dance!
Juno What?! Winter Tour
02/09/12 2720 Cherokee St. Louis, MO
02/10/12 Martyr's Chicago, IL
02/11/12 Cabooze Minneapolis, MN
02/15/12 Old Town Pub Steamboat Springs, CO
02/16/12 Third Street at PAC 3 Carbondale, CO
02/17/12 Hodi's Half Note Fort Collins, CO
02/18/12 Cervantes' Masterpiece Ballroom Denver, CO
02/24/12 Boom Boom Room San Francisco, CA
02/25/12 Boom Boom Room San Francisco, CA
02/26/12 Moe's Alley Santa Cruz, CA
03/09/12 Mississippi Studios Portland, OR
03/10/12 The Wild Buffalo Bellingham, WA
03/11/12 Nectar Lounge Seattle, WA