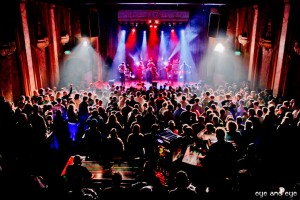 Photos by Ben Wilson's eye and eye photography
The Scene: When I took my place in line at The Bluebird's box office, there were six people ahead of me. Two clean cut men in their late twenties were directly in front of me, and they seemed annoyed. The one wearing a fitted baseball cap with the name of a nearby dispensary on it seemed to be eyeing the group of disheveled, disassociated, and disrespectful "Dead Heads," in front of him. I use that term loosely here, as the only distinguishable "Dead Head" characteristics they displayed were in the form of iconic images. Three more people came up wearing clothing and hats displaying Grateful Dead lightning bolts and pilot wings, and said "we were going to stand in the back of the line, but I saw there was 'Family' up here."  As three more joined the group, I saw why the man in the cap was so annoyed. "Hey, it started with you letting one person in line, now it's ten! No way!" said the man in the cap. He and a few others decided to just jump in front of this obnoxious group of self-proclaimed "hippies," and the leader of the Grateful Dead "loving" "family" expressed his disbelief by saying "it's Greensky man…if you are in such a hurry, then go right ahead. I don't know why you're so uptight!"  Really? No idea?
After the game of leap frog, this "family" was now right in front of me. As more patchworked and feathered friends joined the group, I just sat back and observed. One of them even acted as a lookout as more snuck into the line. The group grew, and they blatantly disregard the complaints of those behind me. These lot kids could barely figure out how to take out there ID's and procure payment for a ticket, and all the costuming could not hide the fact that there is nothing about these people that represented "Dead Heads," "family," "loving," or "hippies." The wearing of Grateful Dead logos to identify their gang like affiliation with each other saddened me. Even though it was a small group of people, that kind of shady vibe seems to be casting a larger shadow on the Jamband scene, as certain element tries jump on a train that is no longer driven by Jerry Garcia.
When the group finally put their heads together and figured out how to obtain a ticket at a box office window, I grabbed mine, and headed inside for greener skies. The crowd was surprisingly diverse and no one was acting like it was a Wednesday night. The beer flowed, the brains fried, and the Banjo rang-out like there was no tomorrow as Greensky Bluegrass raged for a packed house here in the Jamgrass capital of the world…sunny Colorado!
Greensky Bluegrass: I came out to this show hoping that something about Greensky Bluegrass would stand-out to me. I have dipped my toes in the waters of Yonder Mountain String Band, String Cheese Incident, and Railroad Earth, but I never got the urge to jump in. The first song rose up "Into the Rafters," and I knew this night was going to be a hell of a ride! I immediately found something that stood out to me, and it was the voice of Paul Hoffman. The fact that I never really liked any of the vocals was one thing that has always kept me from getting into Jamgrass. As a matter of fact, the singing often seems to stand out as particularly bad in this genre. What usually draws people out to shows like is the fun, not the singing, and the bubbly nature of "Just to Lie" brought the crowd to a rolling boil as I started hearing murmurs that the show was sold-out.
Greensky uses traditional instruments in a modern way, and they use pedals and effects to give bluegrass a psychedelic flavor. Songs like "King Of The Hill" had well-structured and inventive jams that kept eyes on the stage and jaws on the floor, but sadly the roar of the talking in the crowd almost overpowered "Grow Bananas" and "Cold Feet."  Anders Beck and his Dobro added a rusty element to the sound, and when combined with the sweetness in Hoffman's voice, Mike Devol's thumping upright bass, and the clean and fast picking of Michael Arlen Bont on Banjo and Dave Bruzza on guitar, they created a Jamgrass sound that pleased me more than any other in the genre.
Their version of New Grass Revival's "Can't Stop Now" made the audience shimmy, shake, and shudder as Bont's banjo exploded and Hoffman's mandolin almost caught on fire. These guys were killing it! Good thing set-break was coming up, because those strings needed to cool down! Light flashed, feet stomped, and people screamed like there was a shooting…but thankfully it was just a Jamgrass explosion.
The second set started with a song I recognized in a few notes, The Stanley Brothers' "Pig in a Pen." Old and In the Way introduced me to the song, but Greensky put a totally different spin on it. It's a fast song, and the lyrics are hard to fully decipher regardless of whom sings it, but Greensky made the words completely indistinguishable. I think they were just making sounds over the music. Even though the traditionalist in me was fuming, I just couldn't help but join in on the fun.
Other choice covers were thrown into the second set. They did a great version of Bruce Springsteen's "Atlantic City," which is also a late era The Band and Levon Helm staple, and really tore into Townes Van Zandt's "White Freightliner Blues," before closing out the set with the Paul Simon classic "Gumboots." There is an outlaw element to Greensky's sound, and it isn't frivolous or silly like some other bands in the scene. They blend roots and jam nicely, and don't sacrifice musicianship for speed.
Their jammed out and spacey encore of Bob Marley's "Small Axe" gave us our last opportunity to close our eyes, tilt our heads back, and just grin before heading back out into the cold darkness of Colfax. I went into the night not expecting much and figured Greensky would just be another Jamgrass band that didn't do it for this traditional bluegrass loving Dead Head, but they got me! I guess I was waiting for was the right voice…and maybe a Dobro.
Setlist:
Set 1: Into the Rafters, Groundhog >Wheelhoss, Just To Lie, King of the Hill, Grow Bananas, Cold Feet, Can't Stop Now, Demons, All Four
Set 2: Pig In A Pen, Kerosene, Atlantic City, Little Maggie>Life During Wartime>Little Maggie, No Idea, Dustbowl Overture, What's Left Of The Night, White Freightliner Blues, Jaywalking >Gumboots 
Encore: Small Axe
Energy: A
Sound: A-
Musicianship: A-
Stage Presence: B+
Set/Light Show: A-
Overall: A-
Brian Turk grew up in the shadow of the Catskill Mountains, near Woodstock, NY. He comes from a family of music lovers, audiopliles, Dead Heads and avid concert goers.The musical magic that can only be created in the Catsklills, both past and present, is what Brian cosiders the epicenter of his music addiction. The music of The Band, and most recently The Levon Helm Band, is the soundtrack of home for him. Brian's mother took him to his first concert at 5years old...it was Johnny Cash and Roseanne Cash at Jones Beach Amphitheatre. For Brian, music is a family affair. He feels the same way about live music...we all convene to celebrate together. Brian's writing life started when he wrote his favorite author, southern fiction writer Clyde Edgerton, a fan letter at age 13. When most kids were idolizing baseball players and television, he was worshipping writers and musicians. The two became friends and Clyde shared his craft with Brian. The next year Brian attended Duke University's Young Writers Camp. This is the extent, of what Brian considers, his "formal" training in writing. From then on his goal was to capture snapshots of life through words. Brian has been involved with live music in various facets over the years, and combined with his enthusiasm and love for Denver's music scene, he creates a vivid description of what he sees and hears. If you see him out at a show, dancing with a notebook in hand, say hello.