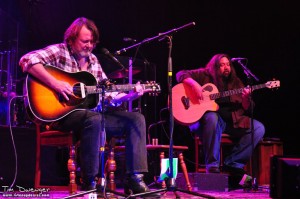 Photos by Tim Dwenger
The Scene: Last friday night was the night that many Colorado Widespread Panic fans had been waiting four months for.  The band announced an "indefinite hiatus" back in September and then surprised a lot of folks by announcing an acoustic mini-tour billed as "The Wood Tour."  With six shows right here in Colorado (3 in Denver and 3 in Aspen), our state was blessed with an inordinately large share of the dates which shows yet again how much the Panic boys love the Rocky Mountains.
As we walked by The Fillmore around 5:30 on our way to meet up with some friends for some pre-show food and beers, there were a couple hundred people toughing it out in the cold and waiting for the doors to open to have their chance at grabbing some coveted rail riding space up front.  Once inside a few minutes after 7pm, we got situated by the soundboard where I figured the best sound would be and settled in for the night among the hordes of hardcore fans (some of whom must have taken the day off and started drinking early.)
Now, musically this show was great, however, it was all I could do to hear it over the incessant din of drunken chattering for most of the night.  Don't get me wrong, I like to have a good time and even chat a little during a show, but this was ridiculous.  Most of the people in the room had paid almost $90 dollars to see the show and they didn't seem to care at all that one of their favorite bands was up there on the stage.  Sure, the sound could have been a little bit louder to compensate for the stripped down set-up, but you would have thought that people who had paid good money to see the acoustic show would respect the music a little more.
Enough with the ranting, as I said I enjoyed the show but I can't help but wonder what it would have been like in a room more suited to actually listening to this sort of music.
Widespread Panic: The band took the stage very nonchalantly and after a quick "how ya'll doin'" from frontman John Bell they dove right into "From The Cradle" from their 2006 album Earth To America.  Right from the get-go it was clear that this wasn't going to be your typical Panic show as the mellow nature of the acoustic instruments added a warmth to the sound that is often lacking from the bands hard charging electric shows.  "Can't Get High," got a huge reaction from the sold-out room and clearly that wasn't a problem many people were having as plumes of smoke shot up toward the ceiling from all corners of the vast auditorium.
The first real highlight of the night came as the percussive intro to "Worry" built up into a stunning version of the song that really allowed guitarist Jimmy Herring to stretch out a bit and show off his chops on the acoustic while JB almost growled out the lyrics at times.  Judging by the smiles that were being flashed between the Herring, JB, and Schools across the front of the stage, everyone looked to be having a grand ol' time as they showed off reinterpreted versions of crowd favorites like "Wondering" and "This Part Of Town" before closing out the relatively short 45 minute set with a great "Bluegrass" version of "Imitation Leather Shoes."  The group really showed their depth, and probably one of the reasons they staged this tour, as they took the typically dark and aggressive song, put a little bounce into it, and transformed it into a dust raising barn burner that would fit right in at any pickin' party!
After a 30 minute break, the band returned without any fanfare and picked right up where the first set left off with the classic "Holden Oversoul."  While the chatter persisted, we were able to hear most of the Bloodkin tune "Who Do You Belong To" and "Travellin' Man" before the crowd all but drowned out the delicate first several minutes of "Party at Your Mama's House." Sadly, it wasn't really until "Good Morning Little Schoolgirl" that the PA sound seemed to finally beat some of the talkers into submission.
JoJo Herman tickled the ivories beautifully on a solid take on "Pickin' Up The Pieces" that gave way to "Nobody's Loss" before the set climaxed with the one-two punch of "Space Wrangler" and an absolutely blistering "Climb To Safety" that saved the night in my eyes.  When the boys waved goodbye it was just past 11 and everyone was hoping that we were in for an encore of a least a couple of songs.  After a few brief minutes JB took his seat and said "we've only just begun" before cranking into his upper register for Neil Young's "Don't Be Denied."  As the chime like chords rang out, the lyric "Pretty soon I met a friend, who played guitar" drew a massive cheer from the crowd as images of the late Michael Houser flashed through minds throughout the room.
The band rounded out the first night of the three night stand with "Up All Night" and the rowdy twang of Billy Joe Shaver's "Chunk of Coal" before telling us all they'd see us on Saturday.  All in all I'd say the show, and the whole acoustic concept, was a success despite the barroom like din that threatened to ruin the night for me on more than one occasion.  I can only hope that those who caught the Saturday and Sunday shows demonstrated a bit more respect for what Panic was doing up on stage.
Setlist
Set 1: From The Cradle, Can't Get High, Worry, Clinic Cynic, St. Louis > Wondering, Gradle, This Part Of Town, Don't Wanna Lose You, Imitation Leather Shoes
Set 2: Holden Oversoul, Who Do You Belong To?, Travelin' Man > Party At Your Mama's House > Stop Breakin' Down Blues, Christmas Katie > Good Morning Little Schoolgirl, Pickin' Up The Pieces, Nobody's Loss, Space Wrangler, Climb To Safety
Encore: Don't Be Denied, Up All Night, Chunk Of Coal
Energy: B+
Sound: B-
Musicianship: A
Stage Presence: B+
Set/Light Show: A
Overall: B+
Music has always been a part of my life. It probably all started listening to old Grateful Dead, Peter Paul & Mary, and Simon & Garfunkel records that my parents had, but it wasn't long before they were taking me to concerts like Starship, Crosby, Stills & Nash, and Huey Lewis & The News. I got the bug to write about music after reviewing an Eric Clapton concert for a creative writing project in high school but didn't really take it up seriously until 2002. Since then I have published countless articles in The Marquee Magazine and done some work for Jambase.com, SPIN Magazine, and various other outlets. I started Listen Up Denver! as a way to share the music information that is constantly spilling out of my head with people who care. Please enjoy!