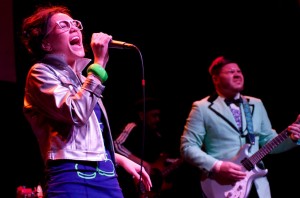 Photos by Ty Hyten
The Scene: Englewood's Gothic Theatre started to fill up early for the inaugural Nerd Prom put on by Bop Skizzum last Friday night as the band had lined up some stellar support for the event in the form of opening acts Broken Tongues, Della, and Wheelchair Sports Camp.
The event's Twitter hashtag (#NerdProm) made it into the top Denver trends for the evening and the crowd took the theme to heart and came in their nerdy best (though their slide rulers tended to be apps on their smartphone.) Bop Skizzum threw a huge party that included crowning a King and Queen (with awesome Lego crowns made specially for Nerd Prom), lightsaber fighting, and videogame and cartoon show theme songs.
Alf, host of 93.3's Sunday evening "Locals Only" show, emcee'd the whole night and even got involved with the occasionally distracting yet innovative and engaging Twitter feed being projected behind the stage. The members of Bop Skizzum were even somehow tweeting about #nerdprom while performing!
Local social-media start-up Giese Media did great work getting the Twitterati in high gear (while on break from the dance floor). Out front the Nerd Prom banners, balloons, and photo booth were a lot of fun as well.  Backstage it was a high-energy whirl of musicians, Star Wars paraphernalia, and hairspray. All of the musicians I talked with are pumped to be part of Denver's influential music scene.
Opener: Wheelchair Sports Camp is a widely accomplished hip-hop vehicle for Kalyn Heffernan and has already generated lots of buzz. Kalyn's rhyme's are wickedly funny and clever. As a disabled gay woman she is in a position to see society in a different light than a lot of other people and she is happy to share what she sees with the rest of us. Friday saw WSC world premiere several tracks in an energetic set. Check out video of one of those premiere performances here.
Opener: Della are a full-on rock band with some musical touches from the early 2000′s but generally contemporary through and through. Fronted by Amanda, who does great work leading an otherwise all-male ensemble. Way more than good looks and style, Della plays hard and features lyrics that are defiant enough to match while having enough relational and emotional content to create a great balance. Video from their set here.
Opener: Broken Tongues Fronted by rappers Greensleeves (Michael Warkentin), Loose Change and vocalist CC (Christie Chambers), Broken Tongues have a very enthusiastic following and their alternative hip-hop got the audience hopping and primed for Bop Skizzum. Their new album has some hot tracks they played at Nerd Prom, get it here for $8 in MP3. Greensleeves and his brother Zach told me they played in a "very similar band in North Carolina" and that they moved back to Colorado because the scene in Denver is "sick" and much more diverse in comparison.
I've been enjoying the Broken Tongues track "Does Hip Hop Remember the Jazz," since it first dropped and you can check out a video of their performance of that song here. Unfortunately the sound crew at the Gothic couldn't get guest artist Serafin (of Bop Skizzum) turned up loud enough to hear until about halfway through his solo. That incident and the difficulty I had finding a place where I could consistently hear any of the groups lyrics well are the main factors poor sound grade you'll see below.
Setlist: Crooked Skyline, Daydreams, Dimes, The Way, DHH, Mama's Funk, Psycho Killer, Bad Finger Boogie, Freestyle, Does Hip Hop Remember the Jazz, Sunrises
Bop Skizzum began their set with Andy Rok (yep, Flobots Andy Rok) and Julie Almeria engaging in a Light-Saber duel while a disco version of the Star Wars theme blasted throughout the Gothic. The horn section was dressed like clone troopers while someone else danced in a complete Chewbacca costume (video here).  Bop Skizzum take putting on a show seriously! The choreographed back and forth between Julie and Andy is great to watch and the entire band are serious musicians with mad skills but they don't let that stop them from having fun. The Gothic thumped like a Colfax bedspring all night to Bop Skizzum's polished and powerful Denver Rock.
While Bop Skizzum mostly performed fun originals like "Hit It On the One" and "I'm So Much Cooler," some of the tweeters in the audience got a little rambunctious about the group's funky cover of Nirvana's "In Bloom" but I feel the group was justified in doing more than Nirvana's soft-LOUD-soft and distorted guitars with Kurt Cobain's song.
Singer Julie Almeria is new to the group, so new she's not on any recorded output available for purchase from the band. Listening to the Bop Skizzum's EP "Beaty Queen" ($10 on vinyl at the Merch Table) for comparison gives me the impression that while former Bopper Erin Jo Harris left big shoes to fill, Julie fills them up and with confidence and her own classy style.
Bop Skizzum fully embraced the nerd theme, playing the Huey Lewis & The News song "Hip to Be Square" just before Julie and Andy crowned King, Chi Chi (in his Princess Leia gown) and Queen, Dominique from Nebraska (in her silvery finest).  After the coronation came the sole and obligatory slow song in their set, "Earth Angel" (Again with the video). Especially nerdy touches from the Skizzumites included performing the Mario Brothers and Teenage Mutant Ninja Turtles theme songs in addition to projecting the concert footage from "Revenge of the Nerds" before they started.
Given the high quality of the performances, the great ambience at the show, and the high level of attractiveness amongst Denver's concert-going public, the only thing stopping me from going to Nerd Prom 2013 is the fact that its still 2012. Don't miss it next year!
Setlist: PUSH, Hit It On the One, Little Black Book, I'm So Much Cooler, Nirvana's "In Bloom,"Heavy Petting, Hip to Be,Crowning of the King and Queen, Earth Angel, Promise Land, Mario Bros, Brass in Pocket, Teenage Mutant Ninja Turtles, Beauty Queen, Do You Want It
Energy: A-
Sound: B-
Musicianship: A-
Stage Presence: A
Set/Lights: B+
Overall: A-
Tim is a an avid lover of music and pursues this passion as a creator and audience member. Tim will give any organized noise made in some way by a human a fair listen. He likes to experience authenticity in a musician's work and share what he finds with his readers. Denver's diverse musical scene is a great playground for these pursuits. Tim's Denver University honed musical understanding and coal-mining mamma give him a unique and informed perspective on all music, from classical to hip hop. He performs with Stoned Wallabies, a horn section equipped rock band, and Orquesta La Brava, a popular salsa band.