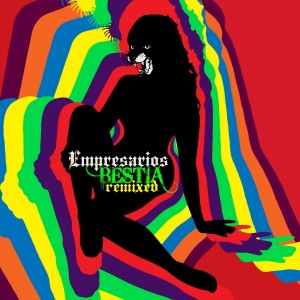 With the release of Empresarios Bestia Remixed EP, Fort Knox Recordings lives up to their mission statement to explore the funkier side of global music. It is damned fortuitous that this new Empresarios EP dropped on Valentine's Day, because we at the Listen Up Denver! office love this collection of red-hot remixes.
The Empresarios called on four different producers to bring their signature sounds and styles to these already dance friendly numbers.  Bass booming , J. Boogie offers up a digital Dub stylee version of "Cumbia Salvaje." Next up is the man of the moment, Denver's own  Bobby C Sound TV.  He has created a ghetto funk remix of "Bailando" with swirling horns, funky driving beats, and a guttural glitchiness that is sure to please.  New to this writer, Dutch producer Solo Moderna has turned "Sentimiento" into a track that sounds like something that Parliment might play after the mothership crashed on a tropical beach somewhere. Closing out the EP is Stereo 77′s bass-heavy Latin House reworking of the projects title track, "Bestia."
Busy in the studio working on new material and hitting the stage on a regular basis, the Empresarios keep churning out one great release after another; this is their fifth in just over a year, and already we can't wait for the next one.
Check out two tracks from the EP below.
Wherever the music is, you'll find me with my camera, shooting on street corners, from barstools at clubs, from the side of the stage at theaters, and from photo pits in places like Red Rocks. Clicking away, trying to capture the emotive essence of music, and all those moments that we forget because of one too many Pabst Blue Ribbons.