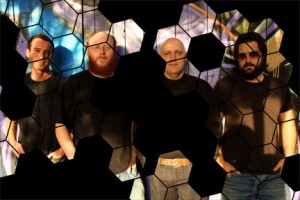 The Scene:  Perpetual Groove wears a lot of hats when it comes to the musical styles they blend, and fans of all those styles were represented in the crowd that filled The Bluebird on Friday. People who love Electronica and synthesized sounds, Indie Rock, jammy improvisation, Funk and Southern Roots Rock all came out to see them blended together. PGroove has been around for over a decade, but to be brutally honest, I had completely forgotten about them until I recently saw they were coming to town. Up until a few years ago I must have had over 100 CD's of PGrooves live material, and they were the sound track to some great times. No one else in the venue seemed to have ever left the side of this band, and the room was filled with an overwhelming vibe of happiness and just plain cool. Longtime fans came out to see this "definitive" PGroove lineup reunite, and I got to see if these guys were going to be as good as I used to think they were.
Opener: The Werks. I walked into the Bluebird as opener The Werks was full-on raging a version of "Also Sprach Zarathustra," otherwise known as "2001," by Richard Strauss. The place was dark except for the simple yet fully effective light show that had the more than one hundred people already in the venue focused on the stage. This four-piece from Ohio put a ton of energy into their hour long set, and they proved why they are building such steam on the Jamband and festival circuit. They were a great choice to warm the crowd up for Perpetual Groove, and their funky jam sound got people moving and fit well into the night as a whole.
Perpetual Groove: Perpetual Groove got on stage around 10:30, and the place had really started to fill in. There was a brief, and almost self-deprecating, "hello" from front man/co-founder/guitarist and singer Brock Butler, and they jumped right into "All This Everything pt.l" and "All This Everything pt.2." Butler's voice brought me right back to the fond memories I had associated with PGroove's music. I can never explain to people what it is I like about the human voice in a musical sense; someone's voice either captures me or it doesn't. I guess what I listen for is honesty…and the ability to carry a tune. Butler's voice oozes with vulnerability and raw emotion as he sings simple lyrics that do the same. Two thirds of the night had no vocals, so it's not like he is James Taylor on a stool up there just crooning away, but for a genre blending Jamband, the lyrics really seem to pack a punch and evoke emotion in me.
"The Man With All the Answers" brought out a side of PGroove I had never really heard before. I knew that they could rock, but this was an all-out free for all. Distorted and screaming guitar was mixed with electronic sounds and then thrashed out. It really got heads bobbing as the band  dug their claws into a sound that was heavy, scientific, and tight, yet could effortlessly return to a sound that was light, airy and loose. As keyboardist Matthew McDonald manipulated sounds from a synthesizer the whole band was hitting it hard. McDonald left PGroove in 2008, and his recent return has reunited the lineup that brought Perpetual Groove out of Savannah Georgia in 2001.
Perpetual Groove definitely has some funk built in, and the bass lines of Adam Perry led us right into Lipps Inc. "Funky Town." The crowd was singing along and everyone joined in on the dance party. PGroove's cover of this hit from 1980 was stretched out and filled with electronica heavy jams that would briefly return to the original structure of the song, and then take right off again.
My initial thoughts were that the sold-out Widespread Panic show up the street would rob PGroove of some of its crowd, but I was wrong. There was a great showing, and Butler himself said "we only get out to Colorado a couple of times a year, and this is a great turnout for us." No one I talked to at The Bluebird seemed to care that Panic was playing up the street, and I am sure the sentiment was returned from the Fillmore.
After the onslaught of "Speed Queen" into "Blue Orchid" and back into "Speed Queen," the first set wrapped up around midnight and I put some serious thought into why I was really digging what was in front of me. PGroove has never been a "top tier" Jamband, and a lot people have given me shit for liking them over the years, that said, I also get shit because I don't think Phish or Widespread Panic are as great as most people tell me they are. What's great about PGroove is that nothing gets to the point of too much before it is changed up. They combine a lot of sounds and genres, but have their own distinct sound that can only be described as a Perpetual Groove. I know it sounds cheesy, but they totally live up to that name!
The second set started out with a medley of Hip-Hop tracks and samples accompanied by drummer Albert Suttle. His natural flow and hard hitting groove seemed to have the tracks playing along to him instead of the other way around. Suttle worked his way into "Gone Round The Twist" before the rest of the band joined the stage and segued seamlessly into "Stealy Man." These guys don't just jam, but have more Jazz-like improvisational skills when they let loose. Butler masterfully uses different tones on his guitar to reflect the moods of the songs, and those moods changed throughout the night.
"All My Friends" chilled the crowd out for a while, but the night's closer "March of Gibbles Army" took the wheels right off the bus! They walked off stage for less than a minute, and put the nail in the coffin at 1:30 am with a cover of The Beastie Boys "Gratitude." I couldn't help but think that this band should have been on a bigger stage in front of a larger crowd, and I still don't get why they haven't gotten more recognition. Usually when I see a Jamband, I feel like I've had enough of whatever their particular sound is before the night is even over. When PGroove left the stage, I was still ready for more.
Setlist:
Set I: All This Everything pt. 1>All This Everything pt. 2, The Man With All The Answers, Holy Ship, Funkytown, Out Here> Echo> Out Here, Speed Queen>Blue Orchid>Speed Queen
Set II: Twist>Stealy Man, All My Friends, Robot Waltz, It Starts Where It Ends, The March of Gibbles Army
Encore: Gratitude
Energy: A
Sound: A
Musicianship: A-
Stage Presence: A-
Set/Light Show: A-
Overall: A-

Brian Turk grew up in the shadow of the Catskill Mountains, near Woodstock, NY. He comes from a family of music lovers, audiopliles, Dead Heads and avid concert goers.The musical magic that can only be created in the Catsklills, both past and present, is what Brian cosiders the epicenter of his music addiction. The music of The Band, and most recently The Levon Helm Band, is the soundtrack of home for him. Brian's mother took him to his first concert at 5years old...it was Johnny Cash and Roseanne Cash at Jones Beach Amphitheatre. For Brian, music is a family affair. He feels the same way about live music...we all convene to celebrate together. Brian's writing life started when he wrote his favorite author, southern fiction writer Clyde Edgerton, a fan letter at age 13. When most kids were idolizing baseball players and television, he was worshipping writers and musicians. The two became friends and Clyde shared his craft with Brian. The next year Brian attended Duke University's Young Writers Camp. This is the extent, of what Brian considers, his "formal" training in writing. From then on his goal was to capture snapshots of life through words. Brian has been involved with live music in various facets over the years, and combined with his enthusiasm and love for Denver's music scene, he creates a vivid description of what he sees and hears. If you see him out at a show, dancing with a notebook in hand, say hello.