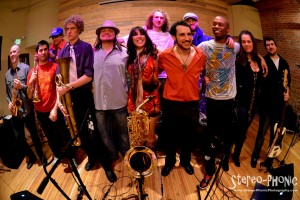 Photos by Johne Edge
Want to see Atomga with Juno What?! on Saturday Night at Cervantes'? All you have to do to enter is post "Juno What?! Are The Kings of Electro-Funk" on our Facebook Wall.
For those of you not on Facebook, shoot us an email at listenupdenver@gmail.com telling us "Juno What?! Are The Kings of Electro-Funk"  
PLEASE NOTE: Entry deadline is Noon MST  Thursday February 16th and the winner will be notified by email or Facebook no later than 5pm MST the same day.  Please be prepared to respond within quickly to confirm you can attend or we'll pick another winner.
Doors at 8:00, opener at 9:00, and headliner at around 10:30.  Some folks waltz in to a show right as the headliner is taking the stage, but not me.  I like to show up shortly after the doors open.  There are two reasons.  First, the lines to the bar are shorter, and second you get to catch some of the best up-and-coming bands in town.  Such was the case when I first heard Atomga as they opened up for See-I back in November.  The Denver based twelve piece filled the stage to overflowing with musicians, and filled the venue with a blend of Afrobeat, Jazz, and Funk to get the crowd warmed up.  Playing Afrobeat standards, and a few originals, these guys ripped through a set that no one would soon forget.  Recently, after opening for Pimps of Joytime, Atomga sat down with Listen Up Denver! to answer some questions and talk a little about a twelve-armed funktapus.
Listen Up Denver:  Let's start with the line-up of the band.  You're a twelve piece ensemble.  Tell me your names and roles in Atomga.
Atomga: Laura Marques – Female Vocals;  Devan Jones – Male Vocals; Jared "JBall" Fischer – Congas and Percussion; Casey Hrdlicka – Lead Guitar; Peter Mouser- Keys and Rhodes; Tim Lee – Trumpet; Frank Roddy – Alto and Tenor Saxophone; Alekzandor Palesh- Bass Trombone and Ophicleide; Leah Concialdi -Baritone Saxophone and flute; Cody Schluter – Timbales and Bongos; Jeffrey Donovan Reiss – Drums; Richie Schlozman – Bass Guitar.
LUD:  How did you come up with the band's name?
Atomga: (Frank) Atomga is a Nigerian word that means "the great oath"…it's Yoruban and it's an ancient warrior dance.  What we wanted to do was tie our band's name to Nigeria because that's where Fela Kuti came from and he's the one that started the genre Afrobeat.  So we just wanted to tie everything that we did to that region.  So that's where we came up with Atomga and then other people wanted to add more words to it so we came up with Atomga Groove Alliance. (Editor's note:  Shortly after this interview the band decided to drop the Groove Alliance from its title, sticking to a shorter, and easier to remember moniker).
LUD:  Describe your sound in one word.  You cannot repeat the same word twice.
Atomga: Funky…that's fonky.  We're storytellers…so I would say a book, or a story.  Afro-pop.  Groovy.  Juicy.  Slushy.  Yellow.  Real.  Groovegasm.  Intense.  Not dubstep…kidding…authentic.  A twelve-armed funktapus.  (Listen Up Denver would like to acknowledge that while a "twelve-armed funktapus" does not technically meet the one word requirement, it was just too good to reject).
LUD:  Who do you count as major influences on your band?
Atomga:  Mars Volta, Fela Kuti, Cymande, The Meters, The Budos Band, Bob Marley, and Antibalas.
LUD:  How long have you been together and how did you get started?
Atomga:  (Casey)  This band got started from an idea hatched in Frank Roddy's head.  I met Frank a couple years ago at an organization called Friends of Red Rocks.  We got to talking and decided to start a Fela Kuti tribute band in October of 2010.  And then a couple musicians and line ups later, here we are…the rest is history.  And Craigslist has a lot of do with finding a lot of our members too.
LUD:  This next question seems so obvious, but I don't know…maybe some of you were autodidactic.  I'm wondering how many of your members have had some sort of formal training.  In others words, by show of hands, how many of you were high school band geeks?
Atomga:  [All members of Atomga raise their hands proudly]
LUD:  Hooray for band!
Atomga:  (Leah)  I'm a band teacher.  I get to design my own music appreciation class and it's cool getting to expose kids to Afrobeat.  I work with grades 9-12 in Denver and Parker.  I've been doing it for two years.
LUD:  Sweet!  I hope the impending school budget cuts don't kill your program.
Atomga: (Leah)  Me too….I want to put together a my own Afrobeat ensemble with those kids!
LUD:  Where was your first gig and how did it go?
Atomga:  (Devon)  So my first gig with the band was at Cervantes', on the main stage.  This was September of 2011, and it was the first gig with everyone that's here tonight. I was terrified.  It was a huge crowd and I was nervous to move on stage.  But once we started rehearsing more together we really formed a bond…we're family and we're very supportive of one another.  This is about our 12th show, and we've been blessed to be able to do this as much as we are.  We enjoy our shows…they're like a reward for all of the hard work that we put in during our rehearsals.
LUD:  Tell our readers what your favorite memory of playing together is.
Atomga:  (Alekzandor)  I would say that every time that we've played together is my favorite time.  This is an amazing group of people, amazing musicians with great energy, and we work together well.  So every single time is my favorite time.
LUD:  Are there any other upcoming shows that you're excited about?
Atomga:  (Cody)  We're playing with Juno What?! and Sunsquabi at Cervantes on February 18th.
LUD:  Tell me more about your material.  Do you cover songs, or is most of your material original?
Atomga:  (Laura)  We have two originals that we are playing right now, and everything else is a cover.  My favorite cover is "Yellow Moon" by the Neville Brothers but we also cover a Brazilian song that I introduced to the band because it has a little bit of roots in Afrobeat, but it's a little bit slower tempo…with Ben Harper and Vanessa da Mata…and it's called "Boa Sorte."
LUD:  Have you ever had any requests?
Atomga:  (Cody)  Has anyone ever yelled "Freebird?"  But seriously, I want to rephrase my answer.  In Winter Park they yelled "play the set over,"  at us over and over again…until the bar lights came on and they shut the bar down.  They didn't care what song we played, but they wanted more Atomga.  That was the message.  They had to sweep them out with a broom.
LUD:  Do you have any material that's been released yet?  Anything we can purchase?
Atomga:  (Leah)  We haven't gone into the studio and recorded anything, but we have t-shirts and we are looking to release a promo of live shows that we've taken at Winter Park and Denver and probably material from tonight.  Watch our social networking sites…like Facebook and whatnot.  We'll be distributing sample CDs soon and hopefully we'll be able to get the word out to more people and expand the fanbase.  (Frank)  And we do have stuff posted on Soundcloud.
LUD:  In your wildest fantasies, if you could play on any stage in the world, where would that be?
Atomga:  (Devan)  My dream is to play at Red Rocks…it's on my bucket list.  Because Colorado is a hub for music and beauty and there's no place like Red Rocks.  Every person that's watching is going through an experience with nature and the music.
LUD:  Name your guilty pleasure music.  I'll go first.  My name is Crystal, and I love Journey.  Don't lie to me just to try to sound cool.
Atomga:  Laura, Beyonce.  This is Richie, and my guilty pleasure is Zap and Roger.  My name is Devan and my guilty pleasure is Robin Thicke.  My name is Jared, J-Ball Fischer and I love Men at Work.  My name is Casey Hrdlicka and my guilty pleasure is Huey Lewis and the News.  Pedro Mouser…Cock of the Hand, first name Herbie (Herbie Hancock).  Aw, Casey took mine.  This is Tim and he took my Huey Lewis and the News.  Ah….I love Toto, they're kinda awesome.  (Frank)  I'm gonna say Cannonball Adderley.  My name is  Alekzandor and my guilty pleasure is John Cage.  I'm Leah and I still pump the Spice Girls in my car…and I don't give a shit!  My name is Cody Schluter and I listen to Chocolate Rain on repeat at work.
LUD:  So when you get rich and famous, what is the most outlandish thing you'll request for your backstage rider?
Atomga:  Laura, a personal masseuse…a man with pecs the size of Everest….preferably oiled.  This is Devan Jones.  I would want awesome incense.  (Jared)  I would like a smoking and non-smoking section.  (Casey)  My ideal green room would have an unlimited supply of running water.  (Peter)  One of the features of my ideal green room would be an entire wall of insert dryers that we could climb into and have relay races.  (Editors note:  outlandish should not be confused with dangerous.  Kids, do not climb into dryers at home).  (Tim)  I didn't hear what we have so far…did we have a whole mountain of coke? [laughter]   (Frank)  In my ultimate green room I would want at least 500 to 1000 miniature pictures in miniature picture frames scattered around the room.  (Alekzandor)  I would want a miniaturized petting zoo, complete with Giraffes and Emus and Ligers….and Giraffe saddles, but not lassos.  (Leah)  I don't care what season it is, there would have to be at least one case of New Belgium Frambozen Ale.  It's my favorite beer in the world and so people would have to start stockpiling up in anticipation of my arrival.  (Cody)  I want unlimited Stellas, and Nintendo 64 with Super Smash Brothers and four controllers.
LUD:  Final Question, aside from Atomga, what other Colorado bands are you excited about?
Atomga:  Kinetix, Pocket Protectors, Abstract Collective, Lion Vibes, Trichrome.  (Casey)  Hamhock, the Funkadelic tribute band.  They are delicious and tasty and also Lo' Down on the Mothership-tons on talent and tons of people, they're from Boulder.  Also, James and The Devil.  (Devan)  My favorite Colorado band is Air Dubai.  (Laura)  I'd like to give a big shout out to Amanda Hawkins, local singer…she's a really talented vocalist here in Colorado.  (Frank)  The Governors  and Williams Ink.  (Richie)  I like the Motet, White Water Ramble, String Cheese Incident, and EOTO.