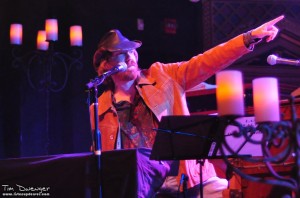 Photo by Tim Dwenger
2012 is in full swing, Mardi Gras is right around the corner, and there are some big shows coming to Colorado! The New Orleans Suspects are doing their first Colorado tour starting Mardi Gras Day. Polytoxic has two big Denver shows, a full-blown "Block Party and a Watkins Glen Revisited show!
His "new" band from New Orleans is the New Orleans Suspects, this is a powerhouse of seasoned veterans featuring Neville Brothers drummer "Mean" Willie Green, Radiators bass player Reggie Scanlan, Dirty Dozen guitarist and sax player Jake Eckert and Kevin Harris, respectively. They are doing a five night run of Colorado ski towns and Denver starting in Keystone on Mardi Gras Day.
Tue 2/21 – Keystone, Keystone Plaza, 5pm: click HERE
Tue 2/21 – Warren Station at Keystone, 8pm: click HERE
Wed 2/22 – Steamboat Springs, Old Town Pub, 10pm: click HERE
Thur 2/23 – Winter Park, Private Event
Fri 2/24 – Crested Butte, The Eldo 10pm: click HERE
Sat 2/25 – Denver, The Oriental Theater, 10pm: click HERE
Polytoxic is playing another reunion show, this time inviting ALL their musical friends to join them in a full night of music. Expect to see some of the best musicians in town sit in over the course of the night. This is going to be one special night of music! Shakedown Street is performing in the back room too!
FRI 3/09 – Polytoxic Block Party @ Quixotes 10PM click HERE
Polytoxic brings you Watkins Glen Revisited, a show modeled after the 1973 Watkins Glen Summer Jam with The Band, The Dead, and The Allman Brothers. Polytoxic featuring John Magnie (The Subdudes) and The Denver Horns will play all Band tunes. Shakedown Street will play The Dead, and Mountain Jam plays Allman Brothers tunes. It starts at 8pm and goes all night, culminating with a Monster All-Star Jam at the end!
SAT 3/10 – Watkins Glen Revisited @ Quixotest 8PM click HERE

8 – 9:30pm: "The Band" – Polytoxic with John Magnie and The Denver Horns
10 – 11:30: "The Dead" – Shakedown Street
12 – 1:30: "The Allman Brothers" – Mountain Jam
1:30 – ? : SUPER ALL-STAR JAM