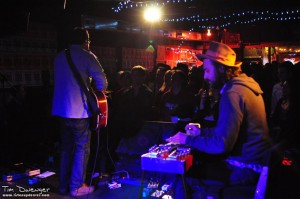 Photos by Tim Dwenger
The Scene: When I walked up to The Larimer Lounge on Monday night there was a sizable group of people outside eating street food from the truck parked by the curb or smoking cigarettes.  I headed inside, as it was clear the opener had already wrapped up their set, and was surprised to find the room so crowded on a Monday night.  Yes, Craig Finn (frontman of The Hold Steady for those of you who might not know) was on the bill, but it was also a Monday night and Monday's are notoriously tough nights to get up off the couch and out to a club for a 10pm show.  On top of that I was also a bit startled by the fact that the crowd was dotted with the grey hair and gleaming scalps of 40 or even 50-somethings.  Finn has been at it for nearly 20 years, having played with Lifter Puller and then with The Hold Steady, so maybe it shouldn't have surprised me, but on Monday night, at the Larimer, it did.
Craig Finn: Just a few minutes after 10 Craig Finn and his band Some Guns took the stage and to a roar from the tightly packed crowd.  He kicked off the show with the lead track to his recently released solo record Clear Heart Full Eyes, "Apollo Bay."  While Finn's trademark vocal delivery instantly conjured up images of The Hold Steady, "Apollo Bay" is consistent with the other tracks on the record in that it doesn't quite pack the same punch as The Hold Steady, and I mean that in a good way.  Clear Heart Full Eyes leans a little bit in the outlaw country direction at times and seems to focus more on the Finn's vocals and the lyrical content than it does on getting a packed barroom thrashing around to the music.
A few songs later, Finn introduced "Balcony" as "a song about being at a party and going out for a cig only to look up and catch your girlfriend making out with another guy on the balcony."  While images like these are common in much of Finn's catalog, the sweet lilting sound of a pedal steel guitar and mellow pacing steered this tune in a different direction but seemed to please the longtime fans that crowded the edge of the stage.  The pedal steel led the way on "Jackson" as well as Finn introduced us to Jackson and Stephanie, two new characters that fit right in alongside "Charlemagne," "Holly," and "Gideon" in the vast lyrical cannon that Finn has developed over the years.
Between songs Finn's banter was witty and endearing as he thanked us for coming out on a Monday night and then named checked bands like The Descendants, Major Threat, and The Monkees as groups that all have their own "theme songs."  When someone in the audience yelled out something about Underdog, Finn busted into an a capella version of the cartoons theme song that drew some loud laughter from the room. He went to say that he'd always wanted a theme song for his band before disclosing that he'd named his backing band "Some Guns" after the song he was about to play and figured that now he was part of a band that had a theme song, Craig Finn and Some Guns.
Finn poured himself into the performance as he strutted around the stage, engaged with the crowd, and took long pulls from a Corona bottle between songs.  Throughout the night he and his band covered every song on the new record and threw in several unreleased tunes as well. While I don't think I had actually heard any of the unreleased tracks, several of them seemed instantly familiar.  "Sarah, I'm Surrounded," and the solo acoustic "Going To A Show," stood out in particular.  The first because of the way the chorus wormed it's way into my brain and the second because of the brilliant line "I know some dudes that have dabbled in drugs and I know some that went pretty much pro," which is a prime example of Finn at his songwriting best.
As the clock wound past 11:30 and started up toward midnight, the boys cranked into the one song on Clear Heart that might find it's way into a Hold Steady set someday, "Honolulu Blues."  The raucous barroom rock feel of the song fit in perfectly in The Larimer and set the stage for the final act of the show which included one of the best tracks from the new record, and a highlight of the night, "Terrified Eyes."  As the Texas Country swing of the song came to a close Finn joked that the catchy riff tune is built around belongs in a Burt Reynolds movie, and I couldn't help but agree with him.
True to form Finn kept the religious imagery strong by choosing to close out the night with a cover of the Bobby Charles tune "Save Me Jesus."  He humbly said goodnight and that was it, no encore, no Hold Steady songs, just a very solid performance of solo material and one choice cover.  It was one of the better shows I've seen at the Larimer in a long time and reminded yet again why I love The Hold Steady, Lifter Puller, and just about anything else this guy touches.  He is a barroom poet of the highest order and he can work a room with the best of them.
Energy: B+
Sound: A-
Musicianship: A-
Stage Presence: A+
Set/Light Show: N/A
Overall: A-
Music has always been a part of my life. It probably all started listening to old Grateful Dead, Peter Paul & Mary, and Simon & Garfunkel records that my parents had, but it wasn't long before they were taking me to concerts like Starship, Crosby, Stills & Nash, and Huey Lewis & The News. I got the bug to write about music after reviewing an Eric Clapton concert for a creative writing project in high school but didn't really take it up seriously until 2002. Since then I have published countless articles in The Marquee Magazine and done some work for Jambase.com, SPIN Magazine, and various other outlets. I started Listen Up Denver! as a way to share the music information that is constantly spilling out of my head with people who care. Please enjoy!