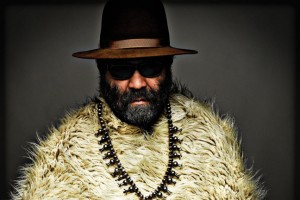 The music business is a fickle mistress. She's incredibly kind to some for a year or two before turning her back and slamming the door, she dotes on some who clearly don't deserve it, and often all but ignores some of the best and brightest talent out there. Sadly, Boulder's own bluesman Otis Taylor seems to fit into that last category.
Taylor has released twelve mesmerizing albums over the course of the last 15 years and the venerable Downbeat magazine recently called him "one of our greatest living blues artists," yet he has managed to stay mostly out of the public eye — with one notable exception.
Since 2009, when it was featured prominently in Michael Mann's film Public Enemies, Taylor's song "Ten Million Slaves" has sold more than 82,000 copies on iTunes. While the sales of that track are a bright spot for sure, the fact that he had the opportunity makes it a bit of a double edged sword. "I'm really good for movie directors because they want obscure artists so they can have their movies be different," he said during a recent, long and rambling interview with The Marquee from his home in Boulder. He went on to comment cynically on the critical acclaim that his work has gotten over the years, saying, "That's the kiss of death ain't it?"
Clearly, people who are clued in to Taylor's self-described "trance blues" sound are fascinated and enthralled by the depth and power behind his compositions, and it's a wonder that more listeners haven't caught on. "I've had to fight a hard battle," Taylor said. "I don't know what it is about me, I've had people say I'm bluer than blue, more like indigo. They would get upset with me back in the day because I was 'too dark for blues,' which was confusing for me. Then they would tell me 'you don't have any chord changes!' Well, neither did Howlin' Wolf or John Lee Hooker, but somehow I seem to piss people off because I want to be different, you know."
Though he lives in Boulder now, Taylor was raised in Denver and honed his unique sound in the '60s and '70s during the countless hours he spent at the Denver Folklore Center. "It was four blocks from the house where I was raised. I would walk by it on the way to junior high school and finally, the summer before I went to high school, I stopped in and never really came out," he admitted. "In the '60s, you could just hang out and sit there all day long and nobody said anything. You'd listen to records, play instruments, watch other people play, and get free lessons. It was a magical time for me, I don't really know how it happened."
Finish This Article Over At The Marquee Magazine Site . . .

Catch Otis Taylor Live:
Dazzle Jazz :: February 18 – 19 :: Two Shows a Night
The Marquee is an independent, Colorado-based, PRINT & ONLINE Free Music Magazine. The Marquee strives to be the Farmer's Almanac of the regional music scene — providing readers with facts, tid-bits, in-depth feature stories and a Calendar section that is unparalleled on Colorado's Front Range, covering every live music venue from large venues such as Red Rocks Amphitheatre to small clubs and coffee shops.