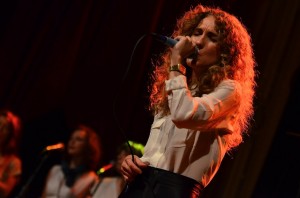 Photos by Ty Hyten
The Scene: As I navigated the still frozen sidewalks down Adams Street, I could see around the trees and parked cars that there was a small crowd standing outside the historic Bluebird Theatre. The night was a special occasion for the Denver music scene. It was a night where yet another local band, poised for the big time, would play new songs for the hometown crowd. Tennis, the Denver-based pop band, had released their second full length album, Young and Old, a couple days earlier. Comprised of husband wife duo Patrick Riley and Alaina Moore, as well as drummer James Barone, the band worked with The Black Keys drummer Patrick Carney on the new release. On Thursday they celebrated the release of Young & Old before hitting the road on a 26-stop tour that will zigzag the band across the country, ending May 8th in Austin, TX.
Once in the Bluebird, I found myself doing some serious people watching and wondering to myself "Did I miss the wardrobe memo?  I have never seen so many skinny jean-cardigan-black rimmed glasses wearers in one place, at one time."  It was quite impressive. There was also an interesting mix of young, old, hipster, and members of the Colorado staple—the Coors Light drinking "fleece crew." Along with the eclectic crowd, the night was a bit of a Denver-music scene "who's-who." I ran into local singer-songwriter Nathaniel Rateliff (of Nathaniel Rateliff and Fairchildren; and The Wheel) who told me that he had come to the show to see Tennis and opener Mike Marchant. On a side note, Nathaniel said he is working on a ton of new material and planning a follow-up to his critically acclaimed first album In Memory Loss. Nathaniel will be hitting the road soon, taking his band Fairchildren to SXSW, and then hooking up with British singer-songwriter Ben Howard for a brief tour. The lovely ladies from Paper Bird were also in the house and would join Tennis for the last five songs of the set.
Opener: Mike Marchant. If you are asking yourself, "who the hell is Mike Marchant?" you're probably not alone. In anticipation of this curious question, Mike decided to be helpful by providing fans with a bright yellow flier that posed the very same question and included some funny answers. My personal favorite was the quote from the drunk guy at Walgreens, "His (Marchant) songs is in my pod, My IPod."
On a more serious note, Merchant has attracted serious attention as a solo artist, as frontman for Widowers, former guitarist for Houses, and most notably as a prolific songwriter. Marchant's set mixed psychedelic with alternative and pop-rock with a bit of indie-folk to produce a unique blend of genre bending sounds. The highlight of the seven song set was "Mexico," a personal take on an all too familiar story about the wrong towns, wrong alleys, and wrong choices.
Tennis: I'll be honest, before the show on Thursday I hadn't listened to a lot of Tennis' music, let alone seen them live. I was a little leery of the "pop" label because the word evokes several stereotypes in my mind. The word brings back thoughts of spandex, roller skates, bubblegum, hyper color shirts, Cyndi Lauper—weird, I know—and music filled with uninspiring lyrics and worse composition. It had been my experience that pop music lacked diversity. However, regardless of my personal views I wanted to check out the hype behind Tennis and see the band for myself.
At 10:20 Tennis came on stage to a near capacity crowd and began playing "Deep in the Woods," a new track off Young and Old. As I watched Tennis from my balcony spot next to the bar I couldn't help but wonder about the "split-personality" that was the set list. The show technically included one set, but it was as though there were actually two different shows on the set list.
The first half of the show seemed to be choreographed as the band had little interaction with crowd, appeared to go through the motions, and did not venture away from the studio version of each song. However, the final seven songs of the set were a different story and saw a marked improvement in the band's delivery, crowd interaction, and energy.  This was especially obvious when the ladies from Paper Bird provided backing vocals, giving Tennis a fuller sound with their harmonies. The highlight of the set, and final song, was "Petition." With Paper Bird providing the backing vocals and the reverb laid on thick, Moore stepped out from behind the keyboard, started dancing and seemed to dig deep to deliver the R&B inspired song. Following that track, Tennis took a short break and returned to the stage for the encore, playing older favorites "Bimini Bay" and "Long Boat Pass."
As fans began to file out of the theatre they seemed satisfied with the performance. Standing next to the packed merch booth I heard one fan say, "They were amazing…wow!" I turned and asked the guy, "what about the show was amazing?" and he replied, "everything. No one out there right now sounds like them." I stood there for a second and thought…he was exactly right. There is no band in any genre that sounds like Tennis. They are pushing the pop genre limits to new heights and I, for one, find that refreshing.
I started walking back up Adams Street I thought about a night that began with my own stereotypes and biases about what defined "pop" music, and ended with a new appreciation for it.  It turns out, not surprisingly, that I was wrong. Tennis is proof that there is such thing as unique and authentic pop artists who are capable of writing great songs and delivering better than average live performances. Although there are areas where Tennis can improve, let's not forget they have been performing live for only the last year or so, and with the release of their newest album, Tennis is poised to only get better.
Energy: B
Sound: B
Musicianship: B+
Stage Presence: B+
Set/Light Show: A-
Overall: B+