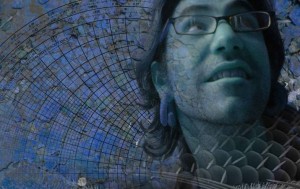 The Scene: Often shows of the electronic nature don't seem to fill up with people until later on in the evening. This last Saturday at the Summit Music Hall in Denver the venue was already rather packed at around 10pm and there was even a short line at the box office window. Being that Random Rab has gained much of his popularity due to his sunrise sets at Burning Man, it was no surprise to see a fair amount of folks who are referred to as "Burners." Females with fancy face paint and decked out in home-made outfits lined the dance floor, while hoopers and other artists spinning lighted balls hung out on the outskirts of the main floor so as not to knock out some spun kid with their flailing objects. I'm not sure if the event sold-out by the end of the night, but it's safe to say that it was a great turn out.
Opener: R/D. We walked in about halfway through R/D's set and I was immediately impressed with his up-beat, bass heavy sound. The dance floor was decently full and his beats had the crowd moving. While I'm not too hip on what exactly all the equipment used in this day and age is, I was impressed to seeing what looked like an MPC of sorts and a couple other Midi controllers. More and more these days people get away with using less and less; some perform with as little as a computer and a few knobs. Seeing R/D with that set up and watching him perform live with it as well definitely sparked my interest. After his set I asked him how he would describe his sound and he said "most people call it glitch hop, I just call it music." He stayed true to the Hip-Hop base with massive breaks as well as infusing indie vocals.
Opener: Heyoka. The bay area artist Heyoka has been gaining popularity on the Front Range electronic scene over the last couple of years with a lot of thanks to the people at Euphonic Conceptions. His sound is an amalgamation of heavy dub, hip-hop, both down and mid-tempo and almost everything else you could think of in the electronic genre. Although his sets have always been really hit or miss with me, I thoroughly enjoyed what he did Saturday night. While trying to think of ways to describe his sound I kept coming back to simply "otherworldly." It was almost alien at times but still groovy and danceable. His transitions through tempos were smooth as he created some of the most "out there" music I've ever heard. He is one of the most psychedelic sounding producers I've had the pleasure of hearing and he definitely catered a little bit to the state of mind many of the listeners were sure to be in. His sounds were both full bodied and glitchy but not ever reaching the realm of abrasive. I'm not sure how he does it, but I certainly hope he continues too. It's no wonder he has made it so far in only a few years.
Random Rab: The reason most of us were there on Saturday night was to see California based sound designer Random Rab. He has made a huge name for himself in the downtempo and underground electronic scenes over the past decade and he has found a lot of his followers, and the sound we hear from him today, while performing sunrise sets at Burning Man. Unlike a lot of electronic artists today, Rab is more than just a button pusher. He plays most of the sounds you hear on instruments in the studio then samples those tracks.  If the budget and stage setup allows he is even known for bringing entire bands with him on tour.
This was not the case on Saturday, but that didn't take away from the energy in the room. All of the opening acts had warmed the crowd up immensely. This was Rab's first time back in Colorado since last year and his first time here since the release of his newest album Visurreal.  From the first second he hit the stage the bass vibrated with immaculate force from the sound system.
He has a way of finding sounds so deep that they seem to radiate from within your chest cavity. Each sound is full and clearly done with an intense emotion. I noticed that I was doing more than just listening to the sounds he was making; I was feeling them with every molecule of my being. The genre of his music may fall into "down-tempo" but I think he did a wonderful job of hitting many different very danceable speeds as he maintained a solid groove throughout the night. His transitions were uplifting and jaw dropping all at the same time. He went from one song to another with brilliant display and understanding of how music works. 
I think there may have been projections on a screen behind him. The truth is I had a hard time keeping my eyes open. At one point I was taken back a couple of weeks ago to when I saw Ladysmith Black Mambazo. It may be a strange comparison to make but the emotions evoked by both Rab and Ladysmith's music was eerily similar.  It's not often that nothing else in the room matters and many times I find myself at concerts being completely distracted by the things happening around me. That was not the case on Saturday. I was fully engulfed in the sounds coming out of the speakers. Only taking my attention off of the vibrations for short intervals in which I could look up and see nothing but a giant smile on Rab's face as he danced around behind his computer. Above his head hung two pieces of fabric that eventually became the canvas for a girl I had met earlier in the night named Grace to hang from in breathtaking ways. If my mind wasn't already blown enough by the noise surrounding me, she went on to wow the entire crowd with her absolutely sublime routine high above the crowd. (That was the part when I decided to keep my eyes open.)
He ended his set with the track "For My Corpse," the song that had initially got me interested in Random Rab about 4 months ago.  By the end of the song it was just him on stage and all of the visual performers had vanished. Not only was he playing the music himself, he also sang the vocals while doing whatever it is he does to the machines in front of him. The entire performance left me standing in the middle of the dance floor unconcerned with anything at all. The performance can be described only as visceral. It was something I left the venue feeling deep within me. Euphonic Conceptions did an exceptional job and Grace's ribbon acrobatics were a perfect addition to the musical mastermind that is Random Rab. When it was all said and done I left the Summit Music Hall in pure bliss, more than excited for when I'll be able to do it all again.
Energy: A+
Sound: A
Musicianship: A
Stage Presence: A
Set/Lights: A
Overall:  A

I rode my skateboard from school in 7th grade to my buddy Vince's house where he put on the song "Perfect Government" by NOFX and I was hooked. The next day I bought the album Duh by Lagwagon. The next year I saw Against Me! at the Starlight Theater in Fort Collins, my mom dropped me off. I've since devoted every waking hour to anything done with passion. My speakerbox bumps everything from Lil' Wayne to Pablo Casals. I was never very good at making music, but I am damn good at listening to it. I've been filling up yellow notepads with random thoughts and misspelled words for as long as I can remember. I enjoy whiskey of all sorts, Newport cigarettes and the company of my family. I've got an addiction to run-on sentences that I'll probably never cure. A solid handshake with a stranger who has become a friend over a few beers means the world to me. You'll often find me wide eyed and wandering with an ear to ear grin. I live for funky break beats and spreading the love.