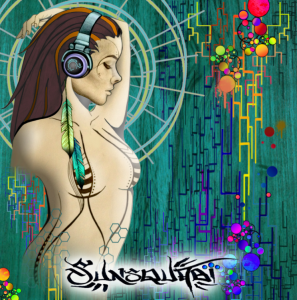 SunSquabi has been riding a rather impressive wave since their debut at the Global Dance Festival last summer. Their sound is a liquid-funk fusion of live instruments and electronica.  They are quickly establishing themselves as a force to be reckoned with in the local Colorado music scene and recently secured spots in the line-up at both the upcoming Snowball Festival as well as Wakarusa in May.
Along with both of those accomplishments, they have recently released a new EP entitled Catastrophic. SunSquabi consists of Kevin Donahue on guitar and production, Andrew Clymer on bass and production, and the newly added drummer Chris Anderson. Before actually pressing play I have to admit I wasn't sure how the band would be able to transfer the energy of their live performance to the studio setting.  I was pleasantly surprised
The album starts strong with live saxophone over a mysterious female vocal sample. The drumming is tight and the subtlety of the electronic undertones lend themselves perfectly to the progressive finish. The song that immediately got my attention, and was put on repeat before I could even finish the EP, was the title track "Catastrophic." Almost psychedelic in feel, it's laid back atmosphere proves that these guys know their way around not only their instruments, but are also very well versed when it comes to production. Each track showcases a different aspect of the band, but never in a convoluted or overbearing way. It was clear by the end that the roots of the band come from all over the world of music. Guitar riffs steeped in rock and roll, heavy bass lines, and a progressive sound found me moving from a simple head bob to busting out full on dance moves behind my desk.
Clocking in at right around 35 minutes, Catastrophic is a record that I can honestly say is worth a listen, if not four. At first I was skeptical as to what type of sound they were trying to achieve and by the end it was obvious that they do not need to try to recreate any sound at all, they have found one all their own and it's got a little something for everyone from ravers to progressive rockers. Do yourself a favor and download the album and keep your eye out for their next performance. Get on board with SunSquabi now, because I have a feeling they might just go on to do some pretty big things in the future.

I rode my skateboard from school in 7th grade to my buddy Vince's house where he put on the song "Perfect Government" by NOFX and I was hooked. The next day I bought the album Duh by Lagwagon. The next year I saw Against Me! at the Starlight Theater in Fort Collins, my mom dropped me off. I've since devoted every waking hour to anything done with passion. My speakerbox bumps everything from Lil' Wayne to Pablo Casals. I was never very good at making music, but I am damn good at listening to it. I've been filling up yellow notepads with random thoughts and misspelled words for as long as I can remember. I enjoy whiskey of all sorts, Newport cigarettes and the company of my family. I've got an addiction to run-on sentences that I'll probably never cure. A solid handshake with a stranger who has become a friend over a few beers means the world to me. You'll often find me wide eyed and wandering with an ear to ear grin. I live for funky break beats and spreading the love.