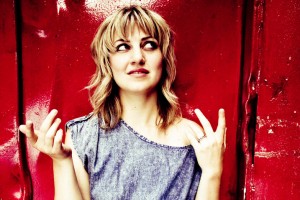 Photo by Jay Sansone
Last year, Colorado Folk music fans had the pleasure of becoming acquainted with Anais Mitchell's music. In April she opened up for Graham Nash and David Crosby at The Paramount Theatre, late summer brought her to the mainstage of The Rocky Mountain Folks Festival, and Swallow Hill Music Association presented her "Folk-Opera" Hadestown in October. Hadestown was originally performed on stages in the north east, but in 2010 Mitchell released her studio recording of the story, and the Orpheus myth set in "a post-apocalyptic American depression era" was then brought to stages across the United States and Europe.
Her new album, Young Man in America, will be released on February 28th, and Listen Up Denver! caught up with Mitchell while she was taking a break from rural Vermont farm life by spending a year or two in Brooklyn, NY.  "Compared to Hadestown, it is a super loose and abstract record. There are themes that recur, like the character of the young man, and he shows up in a bunch of songs. I think that is inevitable when you're writing a collection or a batch of songs; they end up kind of linking arms," she said.
Young Man in America may not be as conceptual as Hadestown, but it is definitely as creative, and it holds literary as well as musical weight. The songs seem to flow like chapters of a book, and her descriptive and emotive writing wants you to pay attention, rather than just let the music play in the background. "The title character of this album is a mythological character that has bits of a lot of people that I know, and bits of me, in him. He's this young, really hungry, desirous, reckless, restless character. He runs around the world hunting for treasure and satisfaction. He doesn't have anyone to answer too. He doesn't have someone telling him what he should be doing, and he kind of feels lost and sad. In the backdrop he's living in this world that is a version of America, where it is sort of everyman for himself.  It's kind of a frontier country," Mitchell said. "There's also another character, or theme on the record, who is equally obsessed, and equally as relentless in pursuing the thing. It's less of a reckless young approach, but more like an entrenched workaholism."
"The song 'Shepherd' was based on a book my dad wrote when he was a young man," she revealed. "The shepherd is trying to finish bringing in the harvest of their hay crop, and his wife is in labor. It's nobody's fault what happens, but she ends up dying in childbirth because he is so fixated on finishing his chores. That story to me was always just so sad. It really is no one's fault, but is just the reality of this death we are relentlessly pursuing."
The character of the young man is ever present throughout the album, and so is the non-time-specific setting of America he is placed in.  "The idea of America is very important to the record. It's less of a social commentary, but more of an emotional exorcism. The record is about how it feels to live in this culture. How it feels to grow up so hungry and lost. Not whether it's right or wrong per se, but just what it feels like when you wake up in the morning, and how it feels in your heart," she said.
Listening to Mitchell explain her work, you would think she was explaining a novel, rather than a collection of Indie-Folk songs. This could be because her upbringing gave equal importance to the written word and the power of music, and both were deeply revered. Her father is a retired college professor and a published author who also has a love for song. "My dad's collection was a lot of the singer songwriters. All the Bob Dylan, all the Joni Mitchell, all the Leonard Cohen," said Mitchell. "He was also into The Grateful Dead and the Velvet Underground.  I had the Rise Up Singing book when I was a kid, and I learned how to play guitar with that."
Although Mitchell had a writer for a father, and was raised in such a creative environment, she didn't see writing in her future until she discovered her own music to love. "When I started to find my own music, there were a lot of powerful female singer-songwriters. Ani DiFranco blew my world apart. Dar Williams. Tori Amos. When I heard those guys I thought 'Oh man, I want to do that too.'"
Mitchell started writing and performing songs of her own before enrolling in Middlebury College. "I took my time getting through school. I moved to Boston for a year, and then Austin for six months or so. Both of those times I was really focused on my music by playing open mic nights and stuff like that," she said. "The moment I realized that I might be able to have a life in music was when I was at the Keerville Folk Festival in Austin. They are so focused on the song there. The song is separate from the performance and the performer. I met so many folk singers that were just making enough money to get to the next town, and sleeping in their car. That was more inspiring to me than seeing some awesome artist on Letterman. Once I saw that I thought 'Can I have a career in music? I don't know. But can I move into my car? Yeah, I can do that!' So I did, and gradually it has been getting a little more comfortable," she chuckled.
Living in Brooklyn is a completely different environment than her 200 year old farmhouse in Vermont, where days can consist of nothing more than "keeping the fire going and putting some soup on." But the faster pace of a city isn't the only thing Brooklyn has to offer.  According to Mitchell, Brooklyn has a great traditional music scene, and she is immersing herself in it. While on her urban escapade, she has also revisited an instrument from her youth. "I got a little book of Irish Folk songs for Christmas," she said. "I try to take the violin out every day and play some of the Irish folk melodies." It seems that no matter if she is in a farmhouse in Vermont or an apartment in Brooklyn, Anais Mitchell is able to fully live the folk life.
Young Man in America will be available Feb.28, 2012.
http://anaismitchell.com/store/
Brian Turk grew up in the shadow of the Catskill Mountains, near Woodstock, NY. He comes from a family of music lovers, audiopliles, Dead Heads and avid concert goers.The musical magic that can only be created in the Catsklills, both past and present, is what Brian cosiders the epicenter of his music addiction. The music of The Band, and most recently The Levon Helm Band, is the soundtrack of home for him. Brian's mother took him to his first concert at 5years old...it was Johnny Cash and Roseanne Cash at Jones Beach Amphitheatre. For Brian, music is a family affair. He feels the same way about live music...we all convene to celebrate together. Brian's writing life started when he wrote his favorite author, southern fiction writer Clyde Edgerton, a fan letter at age 13. When most kids were idolizing baseball players and television, he was worshipping writers and musicians. The two became friends and Clyde shared his craft with Brian. The next year Brian attended Duke University's Young Writers Camp. This is the extent, of what Brian considers, his "formal" training in writing. From then on his goal was to capture snapshots of life through words. Brian has been involved with live music in various facets over the years, and combined with his enthusiasm and love for Denver's music scene, he creates a vivid description of what he sees and hears. If you see him out at a show, dancing with a notebook in hand, say hello.