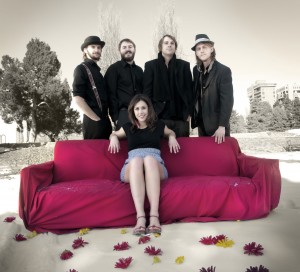 Listen Up Denver! has a pair of tickets to give away to see The Oak Creek Band at Cervantes' Masterpiece Ballroom this Saturday, March 3rd.  This is a dual venue event at Cervantes' Ballroom and The Other Side featuring 7 bands in total and your ticket for the night will get you into both venues. The Oak Creek Band is a six piece roots rock group, originally from Sedona, Arizona now based out of Denver, Colorado, known for their soaring harmonies, original melodic arrangements, and high-energy live performances.  Described as an eclectic mix of Soul and Folk influenced Indie-Rock, the band travels the country independently singing timeless, original songs in the do-it-yourself spirit if the new music industry.
The headliner on The Other Side, Hey Rosetta!, hails from the rocky and cold northeastern province of Newfoundland and Labrador, Canada. In 2005, Tim Baker arrived home from a road trip with a suitcase full of poems and melodies. Hey Rosetta! formed soon after with the addition of a string section (cellist Romesh Thavanathan and violinist Kinley Dowling) and rhythm section (bassist Josh Ward, drummer Phil Maloney and guitarist Adam Hogan). Since then, they've blossomed into a powerful group whose explosive live shows have earned them a devoted following.
This is a night you won't want to miss and we can send you there for free!!!
All you have to do to enter this contest is post "I want to party with Oak Creek" on our Facebook Wall.  For those of you not on Facebook, shoot us an email at listenupdenver@gmail.com telling us you want to party with Oak Creek!  
PLEASE NOTE: Entry deadline is Noon MST Friday March 3rd and the winner will be notified by email or Facebook no later than 5pm MST the same day.  Please be prepared to respond within quickly to confirm you can attend or we'll pick another winner.