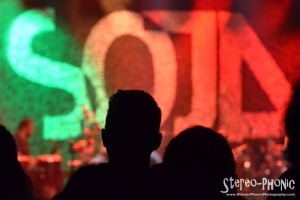 Photos by Johne Edge
The Scene:  Located in the heart of the dirty D, on one of my favorite strips of Colfax, sits The Ogden Theatre.  For as long as I can remember, this enchanting old theater has been housing music lovers and danceaholics alike as often as five nights a week.  With roots-rock-reggae all-stars SOJA in attendance, the great people of Denver knew this Saturday evening would be no different.  With familiar smiling faces lining the sidewalk, fellow LUD! contributor Johne Edge and I took our place among our people and there seemed to be no better place to be.  However, as the cold began to cut through my whiskey blanket I could tell Johne was thinking the same thing I was and we stepped out of line and into the Colfax gem that is Capitol Cigars.  With a humidor the size of my bedroom, Capitol Cigars insures that selection is the least of your worries.  Tack on brilliant floor managers like Lewis Lefevre, who will help you with everything from the humidor to the bar, and you've got a go to spot for those cold Denver nights that would otherwise find you standing outside and waiting for the doors to finally open next door.
Opener: Anuhea.  Hawaiian native Anuhea got the night started out right for everyone in attendance using the acoustics of her lovely voice and guitar to dull the roar of the already full theater.  While the spotlights shined on her beautiful face, Anuhea delivered an equally beautiful, love filled set that ended with a brilliant rendition of Bob Marley's "Redemption Song."
Opener: The Movement.  Next up was the Philadelphia quartet known as The Movement. Before starting the set, lead singer Jordan Miller said to the crowd: "we only have 30 minutes, so we aren't going to talk at all."  True to his word, Jordan and the boys delivered a high energy blend of reggae, rock, and hip-hop that had the whole building moving.  With a danceable sound that was as indefinable as it was recognizable and familiar, The Movement had everyone in the building ready for more.  Here's to hoping The Movement stops by again soon after their new album One More Night hits the street.
Opener: DubSkin.  Originating in Ft. Collins, CO in 2006, DubSkin has since become a prominent fixture in both the Colorado and American reggae scenes.  With the tone for the evening well set, and the energy building, DubSkin wasted no time jumping into their set which kept everyone in the theater moving.  Colorful Colorado's contribution to the rock-steady vibe of the night was not to be missed as DubSkin built the energy to the next level and set a high bar for headliners SOJA.
SOJA:  Knocking it out of the park on the first pitch of the game, SOJA kicked their set off with their new track "Mentality" and spent the rest of the night dancing between old and new songs.  With a sound all their own, yet all too familiar, SOJA is never one to disappoint…but then again neither is Denver.  This is probably why SOJA decided to shoot their first ever live DVD at The Ogden on Saturday, and what a recording  it should be. With a great set list and sound, and a room full of attractive, smiling Denverites in constant motion, the video should be a thing of beauty.
As musicians, SOJA are undeniably at their best while on tour with their brilliant horn section made-up of saxophonist Hellman Escorcia and Trumpet wielding Rafael Rodriguez.  Their ability to fill each song without taking over was the icing on the SOJA cake for many in attendance.  SOJA left the auditorium in a reflective place closing their set with "When We Were Younger" and returned for a two song encore to remind us that "Everything Changes."   SOJA vibes spilled out over Colfax as the SOJA faithful danced into the night.
Energy: A
Sound: A-
Musicianship: A
Stage Presence: B+
Set/Light Show: A
Overall: A
Voted most unique in high school, and attempting to keep that title strong ever since. I am a photographer, and a bit of a quirky artist who loves to photograph just about anything that excites me or makes me shake my booty. You can find me at just about any genre concert with a huge grin on my face. If you see my bright red hair, come say hi, hugs are always free.