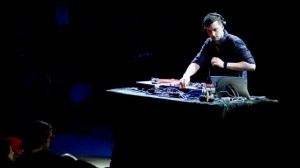 Photos by Andrew Hart of AndWhy Productions
The Scene: The show last Friday night at The Fox Theatre had sold out earlier in the day. Even with that being the case, a rather large line stretched from the box office window. A cold breeze had girls in miniskirts hopping around hoping the line would shorten faster than it was. Inside the crowd was a mix of minors with X'd hands, college kids not quite sure what to expect, and a large population of long time Bonobo fans. The floors were packed everywhere and finding a place to stand, let alone dance, proved to be far more difficult than it usually is at the Fox.
Opener: Human Agency. I really wanted to get there early enough to catch the entire Human Agency set. These guys are blowing up around here, and for good reason. Unfortunately the slow moving line caused me to only catch the last 15 minutes or so of their performance. It was a bummer freezing my ass off in line as all my friends inside constantly sent text messages to my phone saying "get in here, these guys are killing it!"
Once finally inside I understood why they were so eager for me to make it in. With a live drummer, and a large set up of laptops, controllers, and actual turn tables that spun real vinyl (I know, REAL vinyl!), they create a sound that spans many genres but remains organic. They recently added Jonas Otto on the drums, which bring an entirely fresh dynamic to the group. His tight rhythms matched with the vinyl scratching and hip-hop heavy beats, create a sound that is sure to become a mainstay in the electronic scene. Now, I just need to make sure to show up early enough to take long lines into account because I definitely do not want to miss another Human Agency set.
Bonobo: Simon Green, better known as Bonobo, has been huge on the underground electronic scene since the early 2000's. He is best known for his intricate down-tempo soundscapes and heavy beat driven studio albums. He's known as a pioneer of the genre and often tours with a live band, but on top of that he is also widely known for his DJ sets.
Going into the show I had heard mixed reviews of his DJ sets from a few more jaded fans who were only into his albums and don't fully understand what goes into being a successful DJ. If you went into the Fox last Friday hoping for a laid back downtempo sort of show, you weren't going to be necessarily disappointed, but you were certainly going to be in for a huge surprise. A lot of folks don't understand there is a large difference between simply pressing play and working through the songs you've made as a producer, and actually being a DJ. Bonobo clearly knows and fully understands the difference between these two things.
At first I had trouble finding my place and groove in the crowd. There was a lot more movement amongst people than I'm used to at the Fox, and perhaps that had to do with the massive crowd. After moving multiple times due to people chatting in my ear, standing like walls, and essentially just not feeling the vibe, I finally found a spot by a rail where I could see well and boogie hard. His set started around 11pm which gave him a good 2 plus hours to work the crowd. A large light rig was positioned behind him and a screen flashed the word "Bonobo" and a Gogo Dancer while he got situated.
Bonobo displayed the utmost mastery and understanding of his craft as he seamlessly blended together jungle rhythms with four on the floor dance beats. I often mention transitions, but can't on this one. Only because it was done so well that the transitions were hardly noticeable at all. An hour into his set all the talking and moving from place to place I mentioned earlier had completely died down. Everyone was taken away into the sounds of Bonobo. By the end of his set he had transformed the Fox from a music venue into a full blown dance club.  This tour is in support of his new release Black Sands Remixed, and he played everyone's favorite tracks off of Black Sands. The fact that he was able to do that, keep the crowd enthralled, and move from downtempo grooves into what I can only describe as "club bangers," with flawless ease speaks volumes to his talent. He finished his set right around 1 o'clock but no one was leaving. After a short break he came back out for one of the rowdiest encore's I think I've ever been a part of. I've honestly been kicking myself since last Friday for not taking note of the song he came out with. It was a massive reggae tune that set the entire party off, me included and I guess that's the reason I completely forgot to take note of it.
I walked away mentally shushing all of the naysayers. Soaked in sweat from dancing my ass off in an overly crowded room, the cold breeze was welcomed. If you ever have the opportunity to catch a Bonobo DJ set, by all means make it happen. It was more than just a concert at a venue. He was able to catch the vibe in wondrous ways. It was a full blown party in every sense of the word. The only problem is that the Fox has a curfew and we couldn't keep it rockin' until the sun came up. Lord knows many of us would have.
Energy: A
Sound: A-
Musicianship: A
Stage Presence: B
Set/Light Show: B+
Overall: A-
I rode my skateboard from school in 7th grade to my buddy Vince's house where he put on the song "Perfect Government" by NOFX and I was hooked. The next day I bought the album Duh by Lagwagon. The next year I saw Against Me! at the Starlight Theater in Fort Collins, my mom dropped me off. I've since devoted every waking hour to anything done with passion. My speakerbox bumps everything from Lil' Wayne to Pablo Casals. I was never very good at making music, but I am damn good at listening to it. I've been filling up yellow notepads with random thoughts and misspelled words for as long as I can remember. I enjoy whiskey of all sorts, Newport cigarettes and the company of my family. I've got an addiction to run-on sentences that I'll probably never cure. A solid handshake with a stranger who has become a friend over a few beers means the world to me. You'll often find me wide eyed and wandering with an ear to ear grin. I live for funky break beats and spreading the love.