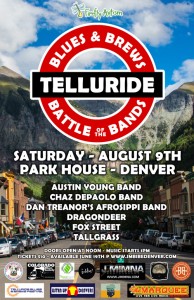 Together with the Telluride Blues & Brews Festival, Listen Up Denver! and Park House are hosting a "Battle of the Bands" event on August 9th that will benefit Firefly Autism and Autism Speaks and give some of the best bands in the Rocky Mountain region the opportunity to perform alongside some of the biggest musical names in the country at the 21st annual Telluride Blues & Brews Festival in September.
Firefly Autism is a Denver based 501c 3 ABA shop (Applied Behavior Analysis) that focuses on working with children with Autism to transform their lives through thoughtful, innovative, empirical learning treatment programs. Autism Speaks is the world's leading Autism science and advocacy organization, dedicated to funding research into the causes, prevention, treatments and a cure for Autism; increasing awareness of Autism spectrum disorders; and advocating for the needs of individuals with Autism and their families.
After combing through over 900 submissions from around the world, the six bands that have been chosen as finalists, and will play head-to-head on August 9th are: 18 year old blues guitar sensation Austin Young Band, New York Blues Hall of Famer Chaz DePaolo Band, International Blues Challenge 3rd place honorees Dan Traenor's Afrosippi Band featuring Erica Brown, rising psych-blues innovators Dragondeer, Westword Music Showcase "Best Traditional Rock Band" winners Fox Street, and the genre bending "blues with a banjo" trio Tallgrass.  For more information on the bands, please click here.  Each band will be judged by a panel of industry professionals on criteria including:  Talent, Musicianship, Production Value, Professionalism, Songwriting, Crowd Reaction & Stage Presence.
| | |
| --- | --- |
| Dragondeer | 6:25-7:05 |
| Chaz DePaolo Band | 5:20-6:00 |
| Tallgrass | 4:15-4:55 |
| Dan Treanor's Afrosippi Band | 3:10-3:50 |
| Fox Street | 2:05-2:45 |
| Austin Young Band | 1:00-1:40 |
The Winning Band Will Receive:
A performance slot at the Telluride Blues & Brews Festival
A complimentary "Jam In The Van" session
Two (2) nights lodging in Telluride or Mountain Village
Artist passes to the festival
Food vouchers
Website and program guide placement
The Runner-Up Will Receive:
One Day (10 hrs) of Studio Time in Grammy Nominated Producer John Macy's brand new recording studio
A full band portrait session with Denver music photographer Jim Mimna
Telluride Blues & Brews originated over 20 years ago as a festival focused on Blues and Craft Beer. The music has become more diverse over the years, and now Telluride Blues & Brews has become a destination festival attracting thousands of music lovers from all corners of the United States and abroad. This year the line-up features legendary acts like Peter Frampton, Buddy Guy, Violent Femmes, George Clinton & Parliament Funkadelic, Robert Cray Band, Anders Osborne, Charles Bradley and more along with more than 50 breweries who will showcase some of the best beers in America at the festival's Grand Tasting.
Tickets to the Firefly Autism Telluride Blues & Brews Battle of the Bands finals are $10 and are available through this page and through www.imbibedenver.com.  Doors will open at noon with music starting at 1pm on August 9th.  A portion of the proceeds from the event will benefit Firefly Autism and Autism Speaks.
Special Thanks To Our Sponsors!
Reiman Foundation –  The Reiman Foundation was founded in 1986 by Roy and Bobbi Reiman, and is now managed by Hexagon, Inc., a private investment company, and its president Scott Reiman. The Foundation provides significant support to hundreds of non-profit, charitable and civic initiatives in Denver, Milwaukee and across the United States.  From providing scholarships to students in need to supporting medical facilities and helping develop young leaders, they work with many extraordinary organizations that make a difference every day.
Breckenridge Brewery – Breckenridge Brewery works hard to satisfy the thirsts of discerning beer drinkers. The original recipes – and a handful of seasonal creations – are handcrafted at the three Breckenridge Brewery locations in Colorado. In 1992 the company opened a brewpub in downtown Denver, at 22nd and Blake Street. Just a block from Coors Field, home of the Colorado Rockies, the Denver pub is home to locals, baseball fans and Denver visitors who seek a quality meal and craft beer with character.
Colorado Blues Society – The Colorado Blues Society is dedicated to increasing awareness of and appreciation for the Blues as an indigenous American Art form (and the wellspring from which all contemporary popular American music originated).
Jam In The Van – Jam in the Van travels the country to find great music. They are a mobile production studio, running their equipment entirely on green energy generated by solar panels on top of the Jam Van. They are the worlds' only true music discovery vehicle.
Jim Mimna Photography – Capturing life in various forms is Jim's calling.  Considering himself an archivist by nature, Jim strives to freeze a moment in time with every frame, a moment that can retell its story with each viewing, forever. With a deep passion for music Jim has been photographing and recording live music for years.  Capturing the energy of a live performance in a photograph is simply magical.
Macy Sound Studios – "Sonic rightness in a world of wrong" – Steel Guitarist and Grammy Award Winning  music producer John Macy runs a recording studio full time and is a session steel guitar player. John has worked with Nitty Gritty Band, Gladys Knight & The Pips, Richie Furray, Los Lobos, Ricky Skaggs, and many more over the years.
Lagunitas Brewing Company –  Founded in 1993 in Lagunitas, California Lagunitas Brewing Company is known for iconoclastic interpretations of traditional beer styles. They are emerging as a battle-tested brewery capable of making great beer out of goat's milk, brambles, and asphalt on the surface of the Moon, if need be.
The Marquee Magazine – The Marquee is an independent, Colorado-based, Free Music Magazine. The Marquee strives to be the Farmer's Almanac of the regional music scene — providing readers with facts, tid-bits, in-depth feature stories and a Calendar section that is unparalleled on Colorado's Front Range, covering every live music venue from large venues such as Red Rocks Amphitheatre to small clubs and coffee shops.
The WeedStream – The WeedStream exists to engage cannabis enthusiasts worldwide with premier entertainment, content and events; and to network a social cannabis community through original audio and video broadcasting on a spectrum of digital platforms.