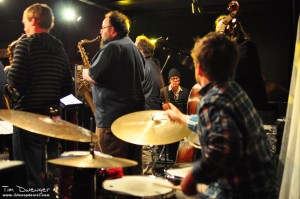 Photos by Jon Prins & Tim Dwenger
The Scene: Denver's Dazzle Jazz Club is one of the best venues to see great music in a very intimate setting. While Dazzle doesn't just host Jazz, seeing Jazz at a true jazz club is a whole different experience from being packed into a noisy bar. The mood at Dazzle this past weekend was mellow and most people were sitting at their respective table eating or just having a drink before the show. At Dazzle strangers can be seated next to each other if they come alone which brings the crowd together and promotes the kind of camaraderie that music naturally fosters. I for one was lucky enough to sit next to a huge Jazz lover and a member of Dazzle. On the tables are photos of Miles Davis telling everying "Shhh," as keeping the noise to a minimum is necessary in such a small setting. Aside from one table in the back of the room on Saturday who received some stares, most were very respectful during the performances.
Jacob Fred Jazz Odyssey:  Jacob Fred Jazz Odyssey has been a force in the Jazz scene for over ten years now. The have had the opportunity to play some of the biggest Jazz festivals around the world and legends of genre regularly sit in with them. This time around, JFJO was touring in support of their latest album, Race Riot Suite. Composed and arranged by Lap Steel Guitarist, Chris Combs, Race Riot Suite boasts an extraordinary horn section as it musically tells the story of the 1921 race riots that ravaged the bands home city of Tulsa, Oklahoma.
For the weekend's shows at Dazzle, JFJO assembled a horn section comprised of veterans from the albums recording sessions and local hired guns.  Well known in the Jazz world in their own right, both Peter Apfelbaum (Sax) and Mark Southerland (Sax and invented instruments) were involved with the original sessions while extremely talented Colorado musicians Josh Quinlan (Sax) and Brad Goode (Trumpet) were invited to round out the section for the four shows.  Together the four men stayed on stage for nearly every minute of the performance as their horns fleshed out this beautiful piece of music.
Musically, the suite takes you through a rollercoaster of emotions. The prelude consist of blaring horns that pack a punch that almost knocked me out of my seat. The horns were so powerful yet evoked so much grace as the players fingers danced on their respective instruments. Dazzling Bass solos from Jeff Harshbarger and Brian Hass's mindbending Piano riffs were held together by the complex rhythms of  Josh Raymer on the drums as Chris Combs lurked on the shadows with his Pedal Steel.
As the band progressed through the Suite in order, the band members seamlessly traded solos and danced around each other as their instruments almost seemed to voice different characters or emotions associated with the politically charged subject of the album.  At times there were dense layers of sound billowing from the stage and then, in the next moment, the music would be broken down into it's elemental pieces allowing the audience to stay connected without becoming overwhelmed.  Pausing only occasionally to speak to the audience or regroup between songs, the band charged through the Suite with fury, nailing the intricate songs with the precision associated with bands of the highest caliber.  It was a wonder to watch.
As I walked out onto Lincoln after the show, I could only think about how grateful I was to have seen such an amazing performance. Jacob Fred Jazz Odyssey has been one of my favorite bands for quite some time now and these performances can only help improve their standing as one of the premier Jazz groups on the scene. Do yourself a favor and pick up Race Riot Suite. It will take you on a fantastic musical journey that you will never forget.
Energy: A
Sound: A
Musicianship: A+
Stage Presence: A+
Set/Light show: N/A
Overall: A
I am a live music junkie, photographer, traveler and free spirit living in Boulder, CO. Going and seeing live music is my passion. Taking photos of various subjects has become a very enjoyable hobby for me over the years. Going out and capturing live music, scenic landscapes and candid shots of people are what I really like best.