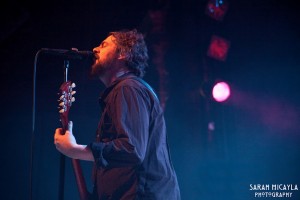 Photos by Sarah Henderson
The Scene:  Drive-By Truckers started their spring tour with a one night drive-by at the Ogden Theatre last Friday.  With Umphrey's McGee playing a sold-out show down the street at The Fillmore, I figured I would have a little extra dancing room. Fellow Listen Up Denver! contributor Sarah and I arrived to find the spacious room pretty empty around 8:00 but by the time the Truckers came on, it had filled up in a big way.  As bodies started to pile in next to one another, excitement and anticipation filled the room, and opener Robert Ellis walked onto stage grinning ear to ear.
Opener: Robert Ellis.  Austin based Robert Ellis took the stage with his band shortly after 9:00 and their unique blend of folky twang and country ballads enchanted the audience for his entire set.  Their sound was excellent, especially for a band that hadn't played together in over 2 months. The grateful Austin boys played a balanced set of songs from their new album Photographs including the title track, "Comin' Home," "Two Cans of Paint," and twangy, upbeat crowd favorite "No Fun." It was a great way to get started and Ellis humbly thanked the audience in between what felt like each song of the set.
Drive By Truckers:  Front-man Patterson Hood took the stage armed with a 750ml bottle of Patron Silver which he shared with a couple lucky ladies in the front row before trading his roadie for a guitar and slashing into "Fourth Night of Drinking."  As the three-guitar attack of Hood, Mike Cooley and John Neff kept people's bodies moving, new bassist Matt Patton kept the crowd smiling with his bobbing head and a massive grin that lasted pretty much the whole show.  The Truckers came crashing into their set early with crowd favorites "3 Dimes Down," "Used to be a Cop," and "Self-Destructive Zones" and showed no signs of letting up as the night went on.
The gritty rock-n-roll flowed like wine as the Truckers ran through tracks from numerous previous releases including their most recent effort Go-Go Boots.  Closing out their set with the whole audience singing along to "Hell No I Ain't Happy," the Truckers had the crowd wild and ready for more…and more is exactly what the Truckers would deliver, in the form of a 5 song encore that rivaled the rest of the evening.
"This is a song about how rock and roll saved my life when I was a teenager in small, little fucked Alabama town," Hood said in the beginning of "Let There Be Rock." "I want to send this out to anybody in the audience, or anybody up here on the stage, who grew up in a small, little, backwards, fucked up Alabama town, or Ohio town, or New York Town, or South Carolina town. Or whatever kind of fucked up little town you grew up in. Here's to making it out alive." The crowd erupted and the band kept things moving with "Zip City," and "Lookout Mountain," and then finally capped off the night with an epic take on Jim Carroll's "People Who Died." Before they themselves rode off into the night, the slow, psychedelic breakdown in the middle of the song featured Hood adding Jerry Wexler and Vic Chesnutt to the list of people who died.
When it was all over and the dust had cleared, the Truckers had yet again left their Colorado faithful fully satisfied.
Set List: Fourth Night of My Drinking, 3 Dimes Down, Used to be a Cop, Self-Destructive Zones, Sink Hole, Where the Devil Don't Stay, Buttholeville > State Trooper, Get Downtown, Everybody Needs Love, Cartoon Gold, Box of Spiders, A Ghost to Most, My Sweet Annette, Women Without Whiskey, Goode's Field Road, Birthday Boy, Girls Who Smoke,
Ronnie and Neil, Uncle Frank, Hell No I Ain't Happy
Encore: Marry Me, Let There Be Rock, Zip City, Lookout Mountain, People Who Died
Energy: A-
Sound: A
Musicianship: A-
Stage Presence: A-
Set/Light Show: A-
Overall: A-
In a day and age where music plays as big of a role in shaping who we are as our parents do, I have my parents to thank for how I turned out – musically inclined at least. Growing up in a house with music literally stacked to the ceiling, I remember swiping an array of albums from my parent's collection, only to be called out on it once they wanted to listen to one. As I grew so did my taste in music, which now encompasses everything but pop-country (I just can't do it). So whether its electro-funk or dub-step, punk rock or hip-hop, jam-grass or reggae, you can catch me there, loving life and the beautiful sounds that surround us in it.