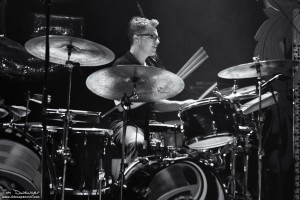 Photos by Tim Dwenger
The Scene: At a quarter after 6 PM on St. Patrick's Day, The Ogden tweeted that they were about to sell out of tickets to the evening's show. Sure enough, it sold out and well into the night people were crowded at the door in their finest (ok and tackiest) green attire trying to get into a venue that had already hit capacity. Inside The Ogden, Paddy Gras was in full swing. Unfortunately, I had arrived late enough that it ended up being impossible to find any of the friends I had intended to shout at while we danced our leprechaun butts off.  So, I shook out the green with some new friends while Galactic took our Queen City of the Plains on a trip around the funkiverse.
Opener: DJ Logic. DJ Logic got the party going early in the evening and kept it going between sets as he spun some of crowd's favorite funky number including the Jackon Five's "ABC," The Rolling Stones' "Miss You," and even Dr. John's "Right Place Wrong Time."  Logic wrapped up his first set of the night by getting the whole to jump up and down to "Jump Around."  It was an enjoyable, though slightly drawn out, way to start the evening.
Opener: The Aggrolites. LA's self proclaimed "Dirty Reggae" group, The Aggrolites, came on about 9:30 to a packed theatre of eager Funk fans.  Unfortunately, their sound didn't resonate too well with many around me though they did the crowd in front of the stage pretty pumped up and I think a most pit may have even broken out at one point.  Toward the end of their set, they did succeed in getting most of the room singing along with their cover of The Beatles "Don't Let Me Down" that pushed the energy in the room to a fever pitch before Galactic took the stage.
The band's new bassist, Jeff Roffredo, was handing out free download cards in the lobby after their set and I asked him about how Denver compared to LA and whether or not a young musician should invest in making a name here.  Unfortunately, he did not really have any conclusive advice for me.  Either he was being nice, or the internet-driven leveling off of the playing field has gone further than I realized.
Galactic: The New Orleans based band Galactic has been earning their reputation as masters of funk for eighteen years by playing progressively bigger shows and venues across the country. Saturday's "Paddy Gras" show at The Ogden was in support of Carnivale Electricos, the band's new Mardi Gras themed album. The core quintet of Jeff Raines (Guitar), Robert Mercurio (Bass), Richard Vogel (Keyboard), Ben Ellman (Saxophone, Harmonica), and Stanton Moore (Drums), was joined by Corey Henry, a trombonist on loan from Rebirth Brass Band, and Corey Glover, vocalist from Living Colour.
Galactic's drummer, Stanton Moore, very literally wrote the book on New Orleans Funk drumming (available locally in Denver here) and on Saturday night he wowed the crowd with a very unorthodox drum solo (see it for yourself here).  He stepped out from behind the drum kit with his snare drum in his hand, in order to continue his solo-organic-beats odyssey for several more minutes from the audience. From the looks on people's faces and the comments I heard around me, many fans were more excited about the drum solo than they were about the rest of the show.  The solo culminated in the center of the stage where Moore was surrounded by his bands mates who all held out drumheads, tambourines and even a guitar to create a makeshift drum kit which he played with masterful precision.  After a minute or so of this madness, Moore somehow magically made his way back to his throne amongst his skins, and cued in the rest of the band without dropping a beat.  It was a sight to behold.
The rest of the night continued in funky style and though the band ran through favorites ranging from "Night People" to "Heart of Steel," Moore's solo was still the highlight of the night. The crowd thinned as the clock pushed past midnight and the memory-making center of my brain grew less and less effective in the hazy atmosphere of the Ogden. By the time I got to work at 8 AM Sunday morning I was left only with vague remembrance of dancing with ladies-in-green until the lights came up. To get your own dose of New Orleans Space Funk, be sure and catch Galactic the next time they come up the hill to Denver!
Energy: A+
Sound: A
Musicianship: A+
Stage Presence: A
Set/Lights: B
Overall: A
Tim is a an avid lover of music and pursues this passion as a creator and audience member. Tim will give any organized noise made in some way by a human a fair listen. He likes to experience authenticity in a musician's work and share what he finds with his readers. Denver's diverse musical scene is a great playground for these pursuits. Tim's Denver University honed musical understanding and coal-mining mamma give him a unique and informed perspective on all music, from classical to hip hop. He performs with Stoned Wallabies, a horn section equipped rock band, and Orquesta La Brava, a popular salsa band.