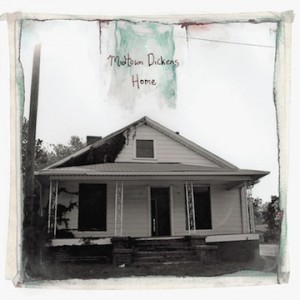 Midtown Dickens' third release, Home is well-crafted, and a shining example of modern day American Folk music. While the album captures the authenticity of acoustic instruments, which stand in the forefront, there are layers of sounds in each track. Simple? Yes. Stripped down? Maybe. Basic? Not a freakin' chance.
The history of Midtown Dickens is rooted in exploration. Two best friends began grabbing instruments from dumpsters, basements, and other locations where they were underappreciated. Breathing life back into battle scarred banjos, and teaching themselves how to make a slew of orphaned instruments sing, Midtown Dickens has created a sound that salvages the past, but is ripe with new found perspective.
Self-taught, self-aware and self-reliant, Midtown Dickens is the brainchild of Catherine Edgerton and Kym Register. Although their previous two albums were focused on the stripped down sound of the two friends, Home is much more textured. Multi-instrumentalists Will Hackney and Jonathan Henderson were added to the mix on this one, and the list of instruments played on the album is extensive. Banjo, guitar, drums, and mandolin will jump out at you, but spoons, musical saws, horns, and other interesting sounds still loom in the background.
"Home Always" starts the album off with melodic picking and haunting vocals, and "Elephant" showcases gentle harmonies that only two longtime friends could create. There is a certain darkness to the Midtown Dickens sound, but the darkness is stifled by bouts of positivity of which "No More Reason (To Pine)" is a great example.
The lyrics of these songs may not tell a clear story at first listen as they require you to ponder on them a bit, so think of this album is more a book of poetry than a novel. "Only Brother" is filled with allegory and descriptive lyrical imagery, an intelligent country twang, and some mysterious horn sounds. One of the more stripped down songs, "Apple Tree," is followed by the short and detailed instrumental "Resting."
Midtown Dickens can be frivolous without being silly, and "Crocodile Mile" is all about fun. An anthem to childhood days of slip and slides, the song will make you stomp your feet and smile at the sun. "Walk Don't You Run" reminds you take life slowly, while "Volcanoes (Covered in Snow)" dramatically changes pace over the course of the song, and has a world music inspired shuffle.
Although the words to the songs have the running theme of home, the instrumentation has no particular confines. The last two songs on the album are great examples of these varying musical themes. "Cross My Heart" has a dark medieval feel to it, while "This is my Home" is bouncy and upbeat.
Midtown Dickens is sure to step onto bigger stages as a result of this release, as it is there most accomplished to date.
Trekky Records will release Home, in their signature LP+CD+MP3 format, on April 3, 2012. 
Brian Turk grew up in the shadow of the Catskill Mountains, near Woodstock, NY. He comes from a family of music lovers, audiopliles, Dead Heads and avid concert goers.The musical magic that can only be created in the Catsklills, both past and present, is what Brian cosiders the epicenter of his music addiction. The music of The Band, and most recently The Levon Helm Band, is the soundtrack of home for him. Brian's mother took him to his first concert at 5years old...it was Johnny Cash and Roseanne Cash at Jones Beach Amphitheatre. For Brian, music is a family affair. He feels the same way about live music...we all convene to celebrate together. Brian's writing life started when he wrote his favorite author, southern fiction writer Clyde Edgerton, a fan letter at age 13. When most kids were idolizing baseball players and television, he was worshipping writers and musicians. The two became friends and Clyde shared his craft with Brian. The next year Brian attended Duke University's Young Writers Camp. This is the extent, of what Brian considers, his "formal" training in writing. From then on his goal was to capture snapshots of life through words. Brian has been involved with live music in various facets over the years, and combined with his enthusiasm and love for Denver's music scene, he creates a vivid description of what he sees and hears. If you see him out at a show, dancing with a notebook in hand, say hello.