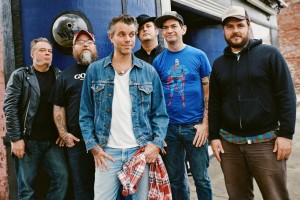 The Scene: Arriving on time to concerts seems to be an art I will never being able to fully perfect. If it wasn't for the muffled pedal steel guitar coming through the front doors, and the handful of folks out front smoking, you would have hardly even been able to tell that there was a show going on at The Bluebird Theatre last Saturday night. The occasion was the American Punk Rock and Country hybrid band, Lucero. The show had sold-out days before and apparently I was the only one that didn't get the memo to get there early.  Inside the venue clearly reflected the sold-out sign on the box office window. The bars and floor was packed with punk rockers, cowboy hats, and flannels. It was certainly an odd mix of people but it fit the band's sound perfectly.
Lucero: These guys have been evolving as a band for well over a decade now. They started out playing dives with Punk Rock ferocity and over time have adapted a Country infused Southern Rock sound. They bring a heavy hitting fast paced attitude and blend it with a down home feel by incorporating both keys and a Pedal Steel guitar into the mix. Saturday night we were even lucky enough to have a small horn section, consisting of a Trumpet and Sax, join the band on stage.  The horns added a subtlety to the sound that opened the sound up in many ways.
It seemed as if everyone in attendance had been long time fans as they sang along to every word of every song about heartbreak and Whiskey. Most of the numbers were on the slower side of things, which perhaps was part of the reason the crowd was hardly moving.  Aside from a few head bobs, universal two fingered signs for "rock & roll," and the occasional female wiggler, there really wasn't much movement from the audience at all which, in this narrator's humble opinion, really took away from the overall energy of the show.
Even with the undead sea of people, the band was still able to capture my attention and keep me entertained. Their songs emit a simple honesty that is easily relatable by everyone who's ever been head over heels, heartbroken, or drunk and thinking about those two things. Songs like "Wasted" and "Slow Dance" evoke emotions and thoughts that many of us would rather keep to our selves any other day of the week. That alone could have been the reason the crowd was so lackluster.
With all of that being said, it wasn't entirely a snooze fest of slowed down emotional ditties. The fellas can still Rock and Fuckin' Roll. Staying true to their Punk Rock roots, they dispersed heavier numbers throughout the set while their southern influence shined in many ways and added a down home twang to their songs. It was clear by the look on each member's face that they love what they do and have been doing it for a very long time together. Watching the ear to ear grin between the grey mutton chops of the keyboardist was proof in and of itself that he felt absolutely at home on that stage regardless of whether it was a sold-out crowd or just me standing in front of the stage.
After each ballad the theater erupted in applause, reassuring me that you don't need to dance in order to appreciate a band. Everyone does it in different ways and what really matters is that we are all there feeling the same things and singing along to the same songs that either help us forget the things we'd like to forget, or remember the things we may have forgotten. At first; I couldn't for the life of me figure out why you would pay nearly 30 dollars for a ticket to a show and simply stand around. By the time it was over I was planted firmly with a bud heavy in my hand, nothing but nodding my head with no urge to move but every intention to listen to the powerful tunes came from the stage.
Energy: C
Sound: A
Musicianship: A
Stage Presence: B-
Set/Light Show: C
Overall: B

I rode my skateboard from school in 7th grade to my buddy Vince's house where he put on the song "Perfect Government" by NOFX and I was hooked. The next day I bought the album Duh by Lagwagon. The next year I saw Against Me! at the Starlight Theater in Fort Collins, my mom dropped me off. I've since devoted every waking hour to anything done with passion. My speakerbox bumps everything from Lil' Wayne to Pablo Casals. I was never very good at making music, but I am damn good at listening to it. I've been filling up yellow notepads with random thoughts and misspelled words for as long as I can remember. I enjoy whiskey of all sorts, Newport cigarettes and the company of my family. I've got an addiction to run-on sentences that I'll probably never cure. A solid handshake with a stranger who has become a friend over a few beers means the world to me. You'll often find me wide eyed and wandering with an ear to ear grin. I live for funky break beats and spreading the love.