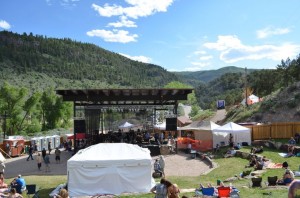 State Bridge is back for another season and they really seem to be picking up steam.  Last season showcased some great acts including Billy Kreutzmann's 7 Walkers, DeVotchKa, and of course, Vince Herman's Great American Taxi, and this year is shaping up to be just as good, if not better.  We'll just let owner Doug Moog tell you in his own words what this season has in store so far:
"I feel like Santa, except without having to deal with reindeer and chimneys.  OK, let's open all the gifts first and play with them after: Great American Taxi, EOTO, and Dark Star Orchestra!
Taxi bookended our inaugural 2011 season, and they're back for the opening weekend of 2012, on May 20. Led by the irrepressible Vince Herman (last seen in a Santa suit at Avon Elementary School), Taxi seems like a part of State Bridge, with rockin' bluegrass-flavored boogie roots and great humor.  Vince improvised a remarkably full song about State Bridge last year… if there are no surprises I will be surprised.
EOTO returns on June 9… get ready!  They drew our biggest crowd of last year, but we will be ready for the onslaught this year.  Well… let's just say you may want to make your plans in advance. Jason Hann and Michael Travis of String Cheese Incident create psychedelic dub beats before your dilated eyes, no programmed loops or purloined samples.  This approach unites everyone from Dubstep lovers to Cheese fans, which is what State Bridge is all about… integration.
And Dark Star Orchestra… whew… They blew a few circuits in my brain last year, and I was not alone. We have until July 1 to rebuild our gray matter enough to withstand something like that sick Viola Lee Blues they dizzied us with.  Spurred on by homeboy Rob Eaton, they play Grateful Dead sets that can be as awesome as the originals.  I saw the Dead 60-something times, so I'm allowed to say that."
Whitewater Ramble
Friday, May 18th
Whitewater Ramble opens the 2012 summer season. The band's debut studio album, All Night Drive features 12 genre-jumping original tracks, complimented by a who's who of guest artists that showcases this formula!
Whiskey Tango & Special Guest
Saturday, May 19th
Opening weekend at State Bridge welcomes the Whiskey Tango. They will play anything from a 100+ year old traditional bluegrass song to many different styles of originals varying from bluegrass to funk to rock!
Great American Taxi w/ with hardscrabble & bluegrass & bloody's
Sunday, May 20th
The mayor of State Bridge, Vince Herman from Leftover Salmon, returns! Come early and enjoy an afternoon of bluegrass & bloody's.
EOTO & Special Guests
Saturday, June 9th
EOTO returns after a stellar sold out performance last year at State Bridge!
Dark Star Orchestra
Sunday, July 1st
Dark Star Orchestra is coming through State Bridge for their Meet me at the Jubilee Summer Tour!