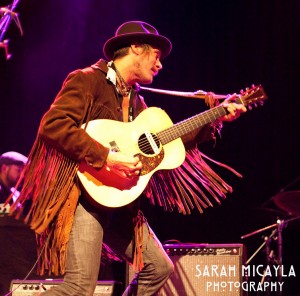 Photos by Sarah Henderson
The Scene: The Bluebird Theatre was peppered with a variety of happy, familiar faces for an evening with two singer-songwriters a few weeks back. Even though this was a Wednesday night show, the theater felt surprisingly empty.  This was after all, Jack Johnson's good friend and protégé in town to deliver optimistic tunes with danceable melodies all the way from Kauai, Hawaii.
Opener – Matt Grundy: Matt Grundy's soul-filled emotional melodies set the perfect mood for the evening. His similar musical style came as no surprise since Grundy has been playing bass for Donavon Frankenreiter for the past 10 years. Grundy played a set of songs from his recently recorded debut solo album before easing back into the shadows to play bass for the remainder of the evening.
Donavon Frankenreiter: Frankenreiter walked out on stage sporting his giant mustache, a brown leather/suede coat with 2 foot long tassels cascading down his arms, and what appeared to be yellow snake skin boots. As if his initial ensemble wasn't great enough, Donavon took his look to the next level when he ditched the tassels and performed the remainder of the night in a floral print island shirt.  In full island flavor, Donavon taught us how to "Move by Yourself" by allotting a few extra minutes of guitar shredding to ensure everyone had grasped the concept.
The lighthearted night would dance on with Donavon and his boys playing through a lengthy list of crowd favorites that everyone in attendance knew word for word, but the evening was more than just a best of Donavon Frankenreiter playlist.  The band took turns jumping into soaring solos and rhythmic funk jams to push numerous familiar tracks to another level that may never be reproduced.  After grooving our way through countless tracks from each of Donavon's albums including the recent single "Glow" the band took a bow and stepped off stage.
With the crowd in a carefree haze, Donavon stepped back on stage to play one last song and send us off into the night.  As he dropped into "It Don't Matter," the night fell right back in line as a chorus of voices sang along with Donavon to another classic and this may have been what inspired Donavon to begin pulling up guests to sing along with him and the band on stage.  More difficult than picking individual volunteers proved to be silencing the rest of the crowd who was ready to sing the chorus.  Two lovely volunteers did a beautiful job leading the crowd as we sang together one last time, 'If it don't matter to you, It don't matter to me'.
Set List: Your Heart, Bend in Road, Hold On, Call Me Papa, Lovely Day, Move by Yourself, Girl Like You, On my Mind, Life Love & Laughter, Heading Home, What'cha Know About, Wondering Where the Lions Are, Way it is, That's too Bad, Butterfly, Swing Down, Glow, Free
Encore: It Don't Matter
Energy: B
Sound: B+
Musicianship: A
Stage Presence: A-
Set/Light Show: B
Overall: B+
In a day and age where music plays as big of a role in shaping who we are as our parents do, I have my parents to thank for how I turned out – musically inclined at least. Growing up in a house with music literally stacked to the ceiling, I remember swiping an array of albums from my parent's collection, only to be called out on it once they wanted to listen to one. As I grew so did my taste in music, which now encompasses everything but pop-country (I just can't do it). So whether its electro-funk or dub-step, punk rock or hip-hop, jam-grass or reggae, you can catch me there, loving life and the beautiful sounds that surround us in it.