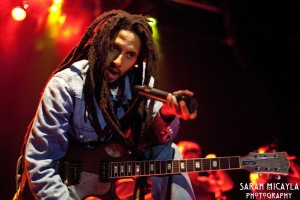 Photos by Sarah Henderson
The Scene:  Tie-dye t-shirts and dreadlocks lined 14th street as Marley faithful waited patiently for the doors to open to The Boulder Theater.  While these folks stood outside swapping stories of which Marley brothers they had seen where, I opted for a beer at the conveniently located (and connected) George's Food & Drink.  White Rascal, a familiar taste from the local taps of Avery, danced across my pallet as the anticipation for an evening with Julian Marley built up along 14th street.
Julian Marley and The Uprising:  By the time The Uprising made their way on stage the theatre had filled up nicely with a striking mix of roots-reggae rockers.   After an eccentric introduction from the token Marley herald of the evening, the six piece jam force that is The Uprising prepared the crowd for the evening with some fundamental reggae melodies.  Once the bodies started moving, the herald returned to announce the reggae prince we had all gathered for, "Ladies and gentlemen I present to you JULIAN MARLEY!!!!!"
Julian came dancing onto the stage decked out in Denim with his long, spongy dreadlocks bouncing along behind him.  Of course no Marley project is complete without a couple back-up dancers and support vocalists, so it was no surprise when Julian had two lovely ladies join him on stage to complete the ensemble for the evening.  Bursting with energy, Julian jumped into the performance covering tracks from each of his three releases and using every available inch left on stage as his own personal dance floor.  It was incredible watching the nine piece group jam harmoniously into the night while Julian switched from one guitar to the next.  It was a night filled with "Easy Skankin'."
The evening definitely hit a high when Julian broke into his 2009 hit "Boom Draw" and the theatre was engulfed by the cloudy atmosphere all too familiar at a Marley show.  Our minds cleared with the smoke and Julian took us through the rest of the evening balancing the remainder of the set with original works and his dad's classics.
Set List: Coming in from the Cold, Build Together, When the Sun, On the Floor, Heathen, Lion in the Morning, Little too Late, Harder Days, Systems, Easy Skankin', Couldn't Be, Boom Draw, Satisfy my Soul, Violence in the Street, Stir it Up, Jah Works, Exodus
Encore: Three Little Birds, Loving's Clear, Thanks Ain't Cool, Get Up Stand Up
Energy: A
Sound: B+
Muscianship: B+
Stage Presence: A
Set/Light Show: B+
Overall: A-
In a day and age where music plays as big of a role in shaping who we are as our parents do, I have my parents to thank for how I turned out – musically inclined at least. Growing up in a house with music literally stacked to the ceiling, I remember swiping an array of albums from my parent's collection, only to be called out on it once they wanted to listen to one. As I grew so did my taste in music, which now encompasses everything but pop-country (I just can't do it). So whether its electro-funk or dub-step, punk rock or hip-hop, jam-grass or reggae, you can catch me there, loving life and the beautiful sounds that surround us in it.