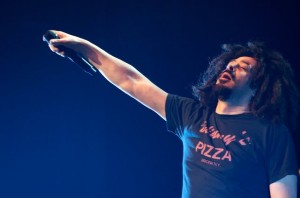 Photos by Ty Hyten
The Scene: The Paramount Theatre was packed with a wide range of folks for a Counting Crows show that did nothing but confuse me until the end. For most in the audience, the Counting Crows have been a big part of their lives since they first heard them, and watching fans sing every word to every song, just as passionately as Adam Duritz does, was proof of that. You could almost feel minds churning as each song evoked memories, and I am pretty sure a guy in front of me was on the verge of tears. I think the Counting Crows recorded some great albums, and those albums seem even better when you compare them to other songs on the radio during that time period, but they just never pulled me in, and this performance didn't help.
The Counting Crows: Once the lights went down, the entire crowd jumped to their feet. As "Lean On Me" pumped through the house system, the crowd rocked and sang along. I guess it was meant to build a sense of community, like turning and saying "peace be with you" at church service, but it just felt like it was an overly dramatic introduction. I guess it symbolized how the crowd has leaned on and built a relationship with this band, and that each party is always there for each other. I wouldn't have been surprised if a "Kumbaya" followed, or Boys II Men's "End of the Road."
After our ice breaking exercise, the band took the stage, and the crowd erupted like it was The Stones at Wembley Stadium. Opening with "Round Here," the drama continued. Holding his hand to his head and over his heart, Duritz seemed as if he was being drained of emotion, but it was only the first song, and the performance wasn't one that would induce exhaustion or an overwhelming surge of feeling.
"I Wish I Was A Girl" caused forty-five year olds to fist pump, and Duritz's hands were acting everything out. He sat down on the drum riser and held his head in his hands, and it looked like he was contemplating a bad relationship or dealing with some huge mental distraction. He just looked troubled and wiped out. From what? We are only three songs into the show. Hey, and why can't I sit down. I couldn't think of a better show to sit down for than the Counting Crows, but I was obviously in the minority! Everyone else was way into what was going down on stage.
So, I am at my second Counting Crows concert ever, and the crowd is reacting way too intensely for me to understand, and so was Duritz. Were we all seeing the same show? All I was seeing was a guy acting like his world was falling apart, and he wanted us all to ask him "Is everything Ok?" "Do you need to talk?" If this is a performance that earns cheering like this, I can see why I haven't really gotten into Counting Crows. Lights dotted the backdrop as they played "Daylight Fading" and my interest was doing the same. For a boat load of people this band is "it," but I just wasn't feeling it…and I was really trying!
Now, I remember Counting Crows as a subdued, radio friendly roots rock band, and I don't remember hearing the country influence in their music, but that's what was jumping out at me this time around. The musicians constantly traded one instrument for another throughout the night, and the stiff performance occasionally let some umph shine through.
The addition of Mandolin and Accordion for "Omaha" cranked up the energy a bit, and it was the best thing I had heard all night. I have to admit, I was happy to be standing for this one, and I half-danced along with everyone else. This is one of their songs that I have definitely under appreciated.
"A Long December" made me feel like it was a long show, and that the crowd was giving the best performance of the night. If a band moves people this much, they are surely doing something right, even if I don't connect to it. Closing with "Rain King," they returned for a three song encore, finally wrapping the show with "Holiday in Spain." This is when Duritz decided to let the crowd know that he was feeling horrible, and had been struggling through the set. Well, it was more than obvious something was up. I am just glad to hear he wasn't contemplating suicide or dealing with a recent break-up or death of a loved one. Seriously, this dude was so obviously drawing attention to his "condition," that not revealing the issue till the end was just lame. He wasn't trying to hide not feeling well, and he surely didn't choose to put his game face on. It just seemed like I was watching a child seek attention.
The only other time I saw Counting Crows was at Red Rocks with Augustana, and I thought Augastana stole the show. This time I saw a lack luster performance where the crowd stole the show. I was sorry to hear Duritz wasn't feeling well, but I don't think I will apply the "third time's a charm" concept to this band. I will say that the crowd made the night for me, because I just love to watch others swept away by music, even if it is barely moving me.
Energy: B-
Sound: B+
Musicianship: B
Stage Presence: B
Set/Light Show: B
Overall: B
Brian Turk grew up in the shadow of the Catskill Mountains, near Woodstock, NY. He comes from a family of music lovers, audiopliles, Dead Heads and avid concert goers.The musical magic that can only be created in the Catsklills, both past and present, is what Brian cosiders the epicenter of his music addiction. The music of The Band, and most recently The Levon Helm Band, is the soundtrack of home for him. Brian's mother took him to his first concert at 5years old...it was Johnny Cash and Roseanne Cash at Jones Beach Amphitheatre. For Brian, music is a family affair. He feels the same way about live music...we all convene to celebrate together. Brian's writing life started when he wrote his favorite author, southern fiction writer Clyde Edgerton, a fan letter at age 13. When most kids were idolizing baseball players and television, he was worshipping writers and musicians. The two became friends and Clyde shared his craft with Brian. The next year Brian attended Duke University's Young Writers Camp. This is the extent, of what Brian considers, his "formal" training in writing. From then on his goal was to capture snapshots of life through words. Brian has been involved with live music in various facets over the years, and combined with his enthusiasm and love for Denver's music scene, he creates a vivid description of what he sees and hears. If you see him out at a show, dancing with a notebook in hand, say hello.