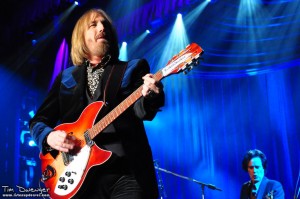 Photos by Tim Dwenger
The Scene: Ah, classic rock, it just has this way of bringing people together.  Last Thursday the 1stBank Center was a melting pot of Denver demographics as couples in their 50's jammed in next to guys in their 20's along the rail right in front of Tom Petty's mic stand.  It was a testament to the longevity of this 61 year old rocker and his band that even after all these years, he is bringing new fans to the party while he keeps the older ones coming back for more.
The Opener: Regina Spektor. The Russian born Indie-Pop songstress Regina Spektor took the stage at about 7:30 and opened with with the a cappella "Ain't No Cover."  While the volume wasn't too loud, and there were a lot of folks on the GA floor chatting with their friends, her voice immediately struck a chord with a good portion of the people in the rapidly filling venue.  By the time she was done and took a seat the piano for the first time, I'm sure she had won over more than a few new admirers and the generous applause suggested she already had quite a few among the Petty fans.
Though, to a lot of the people I talked to, Petty's choice to have Spektor open for him seemed a bit strange, she apparently is a big fan of the band who followed her.  Before she launched into "On The Radio" from her 2006 record Begin To Hope, she thanked Petty and his band and said "you guys are gonna love this, I danced my ass of last night!"  The rest of her 45 minute set featured at least three songs from her upcoming album, What We Saw from the Cheap Seats, including the record's first single "All The Rowboats."  While it wasn't quite the rock-n-roll party that Petty's set turned out to be, Spektor's set was an enjoyable way to start the evening.
Tom Petty & The Heartbreakers: Tom Petty & his longtime band The Heartbreakers, took the stage at 9pm to a deafening roar from the sold out arena.  Eager to please these rabid fans, the band fired off four songs that are sure to resonate with just about any Petty enthusiast.  Opening with "Listen To Your Heart" from their sophomore album You're Gonna Get It, the band then tore through "You Wreck Me," and slowed things up a bit for the Full Moon Fever classic "I Won't Back Down."  "Here Come's My Girl" closed out their opening salvo and then Petty revealed to the delight of the crowd that they were going to weave a few deep cuts into the setlist.
After a great version of The Travelling Wilburys' "Handle With Care" that made we want to dig out an old Wilbury's album, Petty took some time to honor Levon Helm of The Band who had passed away at the age of 71 that same day.  "I want to dedicate this song to one of the greatest human beings that there ever was," Petty said before playing a touching version of "The Best of Everything" from his 1985 album Southern Accents to which both Robbie Robertson and Garth Hudson of The Band contributed.   It was a poignant moment for those of in the crowd who love The Band, and Levon Helm, and Petty handled it with class.
At this point the set slowed a bit, and though the song selection was good, the pacing of the show was a bit off, and this is something I've noticed in the past with Petty's performances.  He starts off strong, and finishes strong but there just isn't enough punch in the middle of the set.  With the exception of "Free Fallin'" there was a six or seven song run mid-set that was almost completely devoid of sing-along rockers.  Now, don't get me wrong, I love "Spike" and JJ Cale's "Travellin' Light" as much, or more, than the next guy, but why not keep the crowd rockin' and singing along all night if possible and slide these tunes between the big ones rather than clump them all on their own.
"Learning to Fly" gave the crowd the opportunity to release a little pent up energy that accumulated when the set slowed down a bit, and a rocking version of "Yer So Bad" led us into the only two songs of the night from Petty's recent album Mojo.  Both "I Should Have Known It" and "Good Enough" were surprisingly well received and allowed Mike Campbell to stretch out on the guitar as The Heartbreakers proved why they are one of the best backing bands in the history of rock-n-roll.
Petty kept the energy in the room up with the one two punch of "Refugee" and "Runnin' Down A Dream" and I don't think I saw a single person head for the exits early when he waved good-bye and walked off the stage.  After a few minutes of rowdy cheering the band returned for a stellar encore of "Mary Jane's Last Dance" and "American Girl" that sent us all off into the parking lots believing in the healing power of rock-n-roll.
Setlist: Listen to Her Heart, You Wreck Me, I Won't Back Down, Here Comes My Girl, Handle With Care, The Best of Everything, Something Big, Have Love Will Travel, Free Fallin', Spike, Travelin' Light, Time to Move On, Learning to Fly, Yer So Bad, I Should Have Known It, Good Enough, Refugee, Running Down a Dream,
Encore: Mary Jane's Last Dance, American Girl
Energy: A-
Sound: A
Musicianship: A
Stage Presence: A-
Set/Light Show: A-
Overall: A-
Music has always been a part of my life. It probably all started listening to old Grateful Dead, Peter Paul & Mary, and Simon & Garfunkel records that my parents had, but it wasn't long before they were taking me to concerts like Starship, Crosby, Stills & Nash, and Huey Lewis & The News. I got the bug to write about music after reviewing an Eric Clapton concert for a creative writing project in high school but didn't really take it up seriously until 2002. Since then I have published countless articles in The Marquee Magazine and done some work for Jambase.com, SPIN Magazine, and various other outlets. I started Listen Up Denver! as a way to share the music information that is constantly spilling out of my head with people who care. Please enjoy!