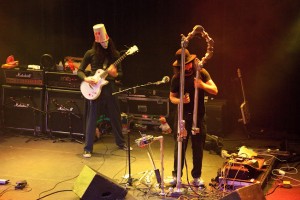 Photos by Sarah Henderson
Scene:  Tucked away down off South Broadway past the numerous dispensaries is what I like to call The Ogden's prettier little sister, The Gothic Theatre.  The Gothic simply is a little smaller and less run down than her sister venue, and while she may not reside as close to the city, at least you can find parking when you go to visit her.  What type of party could this little sister throw that could drag all of us out of the woodwork to Englewood?  How about one hosted by The Frankenstein Brothers – the love child of musical mad scientists That 1 Guy and Buckethead?
Opener: Wolff and Tuba.  After legitimizing my parking in the King Soopers lot by purchasing a $0.59 Powerade, I rushed up Broadway towards the lights like a moth rushing at a porch light.  I, however, am slightly smarter than a moth and know when to use the front door to get what I want, and what I want is live music.  Always pleased to please, the Gothic delivered just what I wanted; starting the second I entered the building.  I heard the looping bass wobbles and experimental sound that is Wolff and Tuba before I could even get eyes on him.
Brian Wolff (of the defunct Drums and Tuba) is a solo electronic-esque act who produces all the bands sounds through a tuba.  This includes, but is not limited to, singing, percussion, and of course Tuba.  With the mindset that any and all sound can, and will, be produced by his tuba, Brian commands a table full of effects pedals, looping devices, drum machines and a mix board to bring his tubacious vision to the public.  While I enjoyed his original works, in particularly "Kevin Essence," it was his uniquely warped cover of Twisted Sister's "Were Not Gonna Take It" that really drove home Wolff and Tuba's performance.  So Listen Up Denver!…the tuba is on a comeback and Brian Wolff is the team captain.
That 1 Guy:  Funky Bean, Buttmachine, Mustaches, and Laser beams. It reads like a page out of a Dr. Seuss book, but for Mike Silverman, better known as That 1 Guy, it is just the reality he was searching for.
I first discovered That 1 Guy and his "Magic Pipe" at Wakarusa Music Festival in 2010.  Since that fateful day in the Revival Tent, I have caught his act several times and That 1 Guy continues to amaze me and countless others with his homemade instrument.  Standing at seven-feet-tall, the collection of swiveling pipes, metal gears, bass strings, and electronic buttons form the shape of a harp, but is played like a futuristic gutbucket.  Creating limitless soundscapes with the help of bows, drumsticks, and his bare hands That 1 Guy commands a crowd unlike anyone else in the music scene today.
The howling echoed back from the crowd as That 1 Guy dazzled the theatre, and just as he had captured the audience, That 1 Guy stepped out of the spotlight, promising to return later that evening once his Frankenstein brother was ready.
Buckethead:  If he were a squid.  Luckily for us, in an age without guitar shredding Squidbillies, we still have a Buckethead.  A Buckethead who will draw a line down South Broadway and fill the Gothic theatre with guitar geeks and music lovers from all walks of life. A Buckethead who's sheer stage show alone could pull a crowd but luckily for those of us with ears he can also arguably play the meanest guitar ever.
Stumbling out onto stage like a true Frankenstein brother with his long dark hair framing his white masked face and his signature KFC bucket atop his head,  Buckethead promptly grabbed a guitar and began shredding faces like parmesan in one of those neat little hand crank cheese graters.  But wait, there's more!!!  When you order the Buckethead musical experience, you also get the Mr. Roboto robotic break-dance routine, the foam finger dance interlude, the 'don't fuck with Buckethead and his nunchuk skills' intermission, and a set ending gift exchange for free!
If you've never made it to a Buckethead show:
a)      That last bit may or may not have made sense, and
b)      Get your ass to one.
Frankenstein Brothers:  Finally, the moment we've all been waiting for, FRANKENSTEIN BROS!!!  I'm talking about the mad man behind the magic pipe and the man behind the mask harnessing the spirits of all the slain and martyred chickens through the chicken bucket on his head together on the same stage.  Remembering Bert the turtle's 'Duck and Cover' civil defense film, I ducked behind my beer as others around me were blown away by the atomic musical blast that is the Frankenstein Brothers.
Energy: A-
Sound: A
Musicianship: A+
Stage Presence: A
Set/Light Show: B
Overall: A
In a day and age where music plays as big of a role in shaping who we are as our parents do, I have my parents to thank for how I turned out – musically inclined at least. Growing up in a house with music literally stacked to the ceiling, I remember swiping an array of albums from my parent's collection, only to be called out on it once they wanted to listen to one. As I grew so did my taste in music, which now encompasses everything but pop-country (I just can't do it). So whether its electro-funk or dub-step, punk rock or hip-hop, jam-grass or reggae, you can catch me there, loving life and the beautiful sounds that surround us in it.