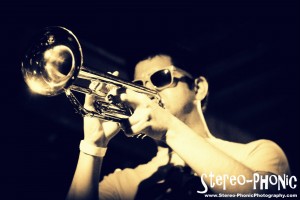 Photos by Johne Edge
The Scene: Cervantes' Other Side may not have been packed with people on Thursday night, but it sure was filled with funk! Local Afrobeat-Funk-Jazz 11 piece Atomga, joined up with Michigan based Funktion to get the weekend started early and keep the crowd moving 'till late in the night. Considering Atomga has only been around for a year or so, it was a great turnout, and I think they stole quite a few people from the Devon the Dude show over in Cervantes' Ballroom. Denver loves it's Funk, and Atomga will no doubt be a name that this town knows much better in the near future.
Opener: Funktion. The Funk that Funktion flaunted was smooth, soulful and upbeat. R&B lyrics were presented with a pop feel, and the groove was tight. A great opener for Atomga, Funktion's energy and stage presence got the crowd ready for some world inspired grooves.
Atomga: The band formerly known as "Atomga Groove Alliance" put on a great set and I wish more people were there to see it. Although Funk is a big part of Atomga's sound, there is so much more to this stage full of musicians. World music, jazz, and most noticeably, Afrobeat, are some of the other genres that this energetic band draws from.
Opening up with Antibalas Afrobeat Orchestra's "Dirt and Blood," I realized that my first exposure to Afrobeat was an Antibalas show in this same room in 2004, back when it was Quixote's. I immediately fell in love with the infectious rhythmic groove of Afrobeat when I first heard it, and Atomga made me fall in love with it all over again.
The songs that Atomga performed were intricate and detailed and the band's stage presence was loose and flowing. You cannot help but have fun when you see these 11 musicians energetically rock the stage. The Budos Band's "TIBWF" was one of the more "modern" covers of the night, but Atomga also paid tribute to Afrobeat's roots by covering Fela Kuti's "Gentleman" and "Water No Get Enemy," as well as Manu Dibango's "The Panther."
In addition to their choice selection of covers, the original songs Atomga has created show just how seriously this band takes their craft, and "Kapital" was my favorite of the originally penned numbers. All extremely talented musicians, the abilities of this band will make you think they have been together for way more than a year.
Energy: B+
Sound: A-
Musicianship: A
Stage Presence: A-
Set/Light Show: B+
Overall: B+
Brian Turk grew up in the shadow of the Catskill Mountains, near Woodstock, NY. He comes from a family of music lovers, audiopliles, Dead Heads and avid concert goers.The musical magic that can only be created in the Catsklills, both past and present, is what Brian cosiders the epicenter of his music addiction. The music of The Band, and most recently The Levon Helm Band, is the soundtrack of home for him. Brian's mother took him to his first concert at 5years old...it was Johnny Cash and Roseanne Cash at Jones Beach Amphitheatre. For Brian, music is a family affair. He feels the same way about live music...we all convene to celebrate together. Brian's writing life started when he wrote his favorite author, southern fiction writer Clyde Edgerton, a fan letter at age 13. When most kids were idolizing baseball players and television, he was worshipping writers and musicians. The two became friends and Clyde shared his craft with Brian. The next year Brian attended Duke University's Young Writers Camp. This is the extent, of what Brian considers, his "formal" training in writing. From then on his goal was to capture snapshots of life through words. Brian has been involved with live music in various facets over the years, and combined with his enthusiasm and love for Denver's music scene, he creates a vivid description of what he sees and hears. If you see him out at a show, dancing with a notebook in hand, say hello.