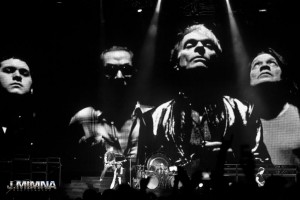 Photos by Jim Mimna
Supported by Kool & the Gang, a reunited Van Halen (featuring David Lee Roth) played The Pepsi Center last Thursday to a very excited audience.  They sounded as big as their massive LCD backdrop, and gave people exactly what they came to hear.   Here is the setlist & some images from that night; a glimpse of what the concert goers got to enjoy.
Kool & The Gang Setlist: Fresh, Tonight, Emergency, Misled, Too Hot, Hollywood Swingin', Jungle Boogie, Ladies' Night, Get Down On It, Celebration
Van Halen Setlist:  Unchained, Runnin' With The Devil, She's the Woman, Romeo Delight, Tattoo, Everybody Wants Some!!, Somebody Get Me a Doctor, China Town, Hear About It Later, (Oh) Pretty Woman, Drum Solo, You Really Got Me, The Trouble with Never, Dance the Night Away, I'll Wait, And the Cradle Will Rock…, Hot for Teacher, Women In Love, Beautiful Girls, Ice Cream Man, Panama, Guitar Solo, Ain't Talkin' 'Bout Love, Jump
Capturing life in various forms is what I do. I consider myself an archivist by nature. It is not a career choice that I consciously made, but it is something that has called me. I strive to freeze a moment in time with every frame, a moment that can retell its story with each viewing, forever. I also have a deep passion for music and have been photographing and recording live music for years. Capturing the energy and magic of a live performance in a photograph is one of my passions. In addition, I enjoy photographing in a wide variety of settings, from wildlife scenes to family portraits and everything in between. I am a lover of the earthscapes that we see all around us every day, both natural and manmade, and aim to make unique images that do justice to their beauty. Where others see darkness, I see streaks of light through long exposures. I shoot a very wide variety of subject matter including individual/family portraits, event coverage, landscapes, live concert/performance, HDR, product and commercial photography, architectural, weddings, food, and editorial photo journalism. With artistic expression, I aspire to create visual art that speaks volumes.