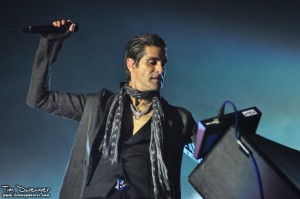 Photos by Tim Dwenger
The Scene:  Tuesday night featured Jane's Addiction's return to Denver and while there wasn't much hype or fanfare for the show, with tickets going for well under face on Craigslist in the days leading up to the main event, fans turned out in droves for what turned out to be a theatrical evening for the ages.  As we walked into The Fillmore we were greeted by stilt walkers, and inside circus style sideshow acts were spread out around the edges of the room.  Perry Farrell and company don't miss a beat when it comes to putting a concert together and the three-quarters full room was truly immersed in another world even before the band hit the stage.
Opener: The Duke Spirit.  English band The Duke Spirit had just kicked off their set with "Procession" when we walked into The Fillmore and men all over the room were gawking at Liela Moss as she danced around the stage bathed in fog.  The band's driving rhythms suggested a heavy shoegaze influence while Moss's vocals brought the band a more pop sensibility that wasn't lost on the rapidly filling room.  When all was said and done, their 35 minute set featured several tunes from their recent album Bruiser including "Everybody's Under Your Spell," "Surrender," and the album's opening track "Cherry Tree" and the crowd seemed energized for the headliner.
Jane's Addiction: At about a quarter after nine, the lights went down and the deeply psychedelic strains of Pink Floyd "Welcome To The Machine" filled the room.  After a couple of minutes that served to build the energy in the room up to a fever pitch, Perry Farrell, Dave Navarro, Stephen Perkins, and Chis Chaney took the stage and the room erupted.  Opening with "Underground," the lead track from their first album in eight years "The Great Escape Artist," Jane's Addiction proved they still have it more than 25 years into their career.  Farrell's voice sounded great, and Navarro shredded his way through the song as Perkins drums thundered in the background.  They commanded the attention of the room and the crowd was eating it up.  They followed the new tune up with the Nothing's Shocking hit "Mountain Song" and we were off.
The first real sing-along of the night came in the form of "Been Caught Stealing" and at this point Farrell had stripped off his jacket, shirt, and even thrown his scarf to some lucky lady who had held her spot in the front row since doors had opened two and half hours before.  I've got to say that while the 53 year old front-man has kept himself in damn fine shape, his axe man is simply ripped.  As they paraded around shirtless for the remainder of the evening, it was clear that both men were proud of their bodies and none too shy.
As the band ambled through a stretched out version of "Ted, Just Admit It" three screens showed softcore porn scenes in black and white as if to prove that in fact, "nothing's shocking" anymore.  Throughout the night Farrell was very chatty talking about everything from "titties," to his cock, and all the while there was eye candy left and right.  A pair of dancers on a platform about 10 feet in the air on the right hand side of the stage showed off their S&M tendencies even posed like the cover art from Nothing's Shocking for a while.  Every time you looked at the stage, there was something new to look at it.  It was mesmerizing.
A little over halfway through the show the band slowed things down a bit for Ritual de lo Habitual's "Classic Girl" and their mega-hit "Jane Says."  While both songs delivered, the band was at their best when raging through their heavier rockers like the set closer "Ocean Size," another track from their 1988 debut album.  After a relatively long encore break, Jane's returned to serve up two more Ritual de lo Habitual tunes in the form of the sprawling "Three Days" and a scorching take on "Stop" that put a fitting cap on an incredibly powerful night of music.
Prior to launching into "Stop" Farrell pointed out that earlier this year a reviewer had said "Jane's Addiction has no reason for existing; they should just stop."  I've got to say that I don't know what concert that guy saw because what I saw on Tuesday at The Fillmore was one of the better rock-n-roll shows I've seen in years.  Not only should they not "stop" but I think they have years left in them.  Personally, I'm looking forward to the next time they roll through Denver . . . and you should be too!
Energy: A
Sound: A
Musicianship: A
Stage Presence: A+
Set/Light show: A+
Overall: A  
Music has always been a part of my life. It probably all started listening to old Grateful Dead, Peter Paul & Mary, and Simon & Garfunkel records that my parents had, but it wasn't long before they were taking me to concerts like Starship, Crosby, Stills & Nash, and Huey Lewis & The News. I got the bug to write about music after reviewing an Eric Clapton concert for a creative writing project in high school but didn't really take it up seriously until 2002. Since then I have published countless articles in The Marquee Magazine and done some work for Jambase.com, SPIN Magazine, and various other outlets. I started Listen Up Denver! as a way to share the music information that is constantly spilling out of my head with people who care. Please enjoy!