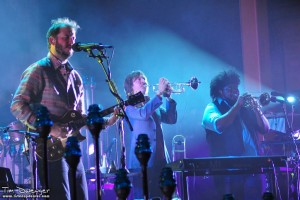 Photos by Tim Dwenger
The Scene: Well, first of all, it was a beautiful late Spring night on The Rocks.  There was a light chill in the air as the sun dipped out of sight and the moon lit up the Southern sky.  All 9,500 tickets had been sold for this magical evening and the diversity in the crowd was impressive.  There were kids in their teens who arrived late and proved they were not familiar with the ways of Red Rocks as they tried to claim seats in the reserved section above Row 25 only to be sent pouting up to the top of the amphitheater when the rightful ticket holder arrived moments before Feist hit the stage.  There were also seasoned vets in their 30's, 40's, and beyond, with picnics, Crazy Creek chairs, and everything else that made for their perfect night on the rocks.  The beauty of Red Rocks at a show like Bon Iver is that there is room for everyone and we were all there to be whisked away to the magic place that Justin Vernon's voice conjures up, and last Thursday proved that there may be no better venue than Red Rocks for him to work his magic.
Opener: Feist. Leslie Feist took the stage promptly at 7:30 and kicked-off her set with a tryptich of songs from her recent release Metals.  After leading with "Comfort Me," she invited the horn section from Bon Iver to the stage to run through "A Commotion" and "How Come You Never Go There."  I have to admit I'm not too familiar with Metals, and as I listened I was struck by how much Feist's live sound has evolved since her debut album Let It Die was released 8 years ago.  When she dropped a significantly reworked version of her break-out single "Mushaboom" that feeling was cemented.  Feist's 12 song set relied heavily on material from Metals and featured a seven piece band who played off each other very well especially during "My Moon My Man" and the set closer "The Bad In Each Other."  It's not that she didn't put on a good show, it's just that her sound last Thursday was so much bigger and more "rock-n-roll" than her albums that it was a little disorienting.  I understand it can be tough to translate delicate songs in such a vast environment but I saw Sam Beam of Iron & Wine do it a few years back with just his voice and guitar and he had that whole venue transfixed as he opened for the comedy duo Flight of The Conchords.
Bon Iver: Justin Vernon and the expansive group that currently makes up the touring version of Bon Iver arrived on stage at 9:15 and immediately plunged into the paired tracks that lead off his 2011 masterpiece Bon Iver, Bon Iver, "Perth" and "Minnesta, WI."  The crowd swooned as the unshaven Vernon's voice reverberated off the rocks that towered on each side of the amphitheater and the band fleshed out the sound with guitars, strings, horns, keys, and booming drums.  From the get go it was the kind of thing that everyone in attendance knew was going to be special.
The For Emma, Forever Ago track "Creature Fear" allowed the band to really stretch out into a great jam that dripped of psychedelic influence and made the moss like stage set seem even more eerie than it already was.  As Vernon led the band from the center of the stage, it became clear that this man is not only a great musician and songwriter himself, but that he surrounds himself with great young players as well.  With 9 players on stage for most of the show, songs like "Wash." and "Holocene" blossomed to their full potential with the latter punctuated by a magnificent and spacey Sax solo that haunted my mind as I faded off to sleep later in the night.
While a stunning show from beginning to end, the back-to-back-to-back attack of "Bloodbank," "Skinny Love," and "re: Stacks" proved to be a true highlight of the evening.  While the first featured a mesmerizing display of lights and an outstanding guitar solo that reminded me of The Godfather of Grunge, Mr. Neil Young himself, "Skinny Love" found almost every voice singing along in amazing unison, and the final song of this section allowed Vernon to hold the stage down himself with a stunning solo version of the track that closed out his debut record.
After closing the show with the three songs that wrap his recent album, Bon Iver left the stage and truly left us all wanting more.  They returned after a few minutes to deliver one of the most powerful encore songs I've seen in a long time in the form of "The Wolves."  Before the band kicked into the tune, Vernon talked about how he was "thankful as shit that we call came out" and that he thought the rocks on each of the crowd were spaceships that we could wake with our singing.  He then went on to teach us all how to sing the song's refrain and trust me when I tell you that those few seconds proved well spent as we joined our voices together to wake the spaceships and as the song built to a massive creshendo I swear I felt the earth move a little bit.  The rocks did not blast off into space as some were surely hoping they would, but one thing is for sure, no one who participated in that sing-along is going to forget it anytime soon.
At this point I have to admit that I think the band should have left the stage on an outrageously high note, but they really couldn't leave without playing "For Emma," so they did.  It was a bit of a let-down after the monstrous version of "The Wolves" but it was great music to usher us out and down the stairs to begin the journey home as we played moments from the night over and over in our heads.  It was truly a magical night on the rocks.
Energy: A-
Sound: A
Musicianship: A
Stage Presence: A-
Set/Light show: A
Overall: A  
Music has always been a part of my life. It probably all started listening to old Grateful Dead, Peter Paul & Mary, and Simon & Garfunkel records that my parents had, but it wasn't long before they were taking me to concerts like Starship, Crosby, Stills & Nash, and Huey Lewis & The News. I got the bug to write about music after reviewing an Eric Clapton concert for a creative writing project in high school but didn't really take it up seriously until 2002. Since then I have published countless articles in The Marquee Magazine and done some work for Jambase.com, SPIN Magazine, and various other outlets. I started Listen Up Denver! as a way to share the music information that is constantly spilling out of my head with people who care. Please enjoy!