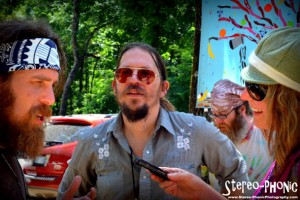 Photos by Johne Edge
There is nobody I would rather spend my Saturday morning at Wakarusa with than the best front porch, Whiskey swillin, foot stomping, Gypsy, Punk, Country, Grumble, Boogie band in the land, Dirtfoot.  Luckily for Listen Up Denver!, J Bratlie and Matt Hazelton took a  few minutes to talk about Chompdown, the recording of their new album, Live and In Prison, and their favorite Waka moments this year.
Listen Up Denver!: Let's start by talking a little about Chompdown.  You guys have been participants since the very beginning.  What can you tell our readers about it?
Dirtfoot:  Basically, we we're contacted by John Cabrera, everybody calls him Rabbit.  The original idea was to have a breakfast to get all the Waka forum members together to just meet.  All of these people are on the forum and they know each other by their handles, but not by their names so they thought it was a good excuse to get together and do it.  It quickly started to grow, with people saying, "well I'll bring this," or "I'll cook," or "I'll clean." And so, he saw us at the bottom of the Waka list…we were a Waka Winter Classic band, and he contacted us and said, "hey, you're acoustic…wanna do a breakfast jam?"  So we said "sure" and he said, "there'll probably be fifty people there."  We said "cool," and we showed up and it ended up being 300 kids  because everybody in the surrounding camps heard about it, showed up, and started donating food and cooking and cleaning.  Then they followed up the next one at Harvest Fest in the fall, and then it just kept going and going.  A few years ago we lost John to Cancer, so ever since then the Chomp has become a memorial to him as well.
LUD!:  I understand that his ashes were here today.
Dirtfoot:  Yep, right at the front of the stage.  First time we've had John here in a long time.  And we dedicated one of our songs to him…our song "Back of a Stranger" has this line, "Ain't my time to die," so he said that was his mantra and that's what was keeping him going in the hospital.  So ever since it's been a song that has a different meaning for us, and Chompdown is very special for that reason as well.  There's quite a few folks here that are old friends of Rabbit and it gives us a chance to get together and remember.  And this is a big family, that's what the Chomp is and anyone that wants to become part of that family is part of that family. It's a beautiful thing, and it's always been the same feel in it, but the only difference is that we're getting more and more people involved.  But everybody that came last year came this year and they brought their friends.  It just gets bigger every year….there must have been close to 2,000 people that walked through here today.
LUD!:  You recently recorded a live album, Live and in Prison, at Wade Correctional Facility.   What was it like to record in front of inmates?
Dirtfoot:  It was incredible.  We got to play in front of guys that are trapped inside a cell most of their day.  They don't have anything to do, and for a couple few hours they get to forget about everything and see what's going on outside.  It was intimidating at first…when we were walking in they were all working out with weights that are chained down, and everyone was just checking us out.  Plus we had some ladies with us in our organization, so there were a lot of looks and checking them out.  They moved the food and meds schedule back to accommodate us, so they were waiting on us, because we were shooting a video and the whole thing.  By the time we got to the first song there was a little tension.  But once we started playing, and we saw the look in their face, it was all good.  Also, we had the actor William Saddler come out for our video, and he played the part of the warden.  He was amazing working with the prisoners.  While we were getting set up he was talking with them and by the end of the night he was like, "y'all drive home safe…oh that's right!"  and you hear one of the prisoners say, "you ain't out of here yet, boy!"   But it was all playful and good.
LUD!:  You have a new studio album coming out soon.  What can our readers look forward to from that?
Dirtfoot:  Actually what we're going to do is a series of probably four albums….five song EPs.  We're going to put them out separately and each one is going to be produced by a different surprise person.  We'll release those details later, but the projects will feature different producers and different players. Lot of different people have expressed interest in working with us over the years, so we were like, "how can we get everybody in on one record?"  Someone that we were talking to suggested  doing different EPs with each person, and then in the end put them into one big box set.  Hopefully we'll start recording this summer and have some official announcements soon.
LUD!:  Any title ideas yet?
Dirtfoot:  I think that most of them will have the word sessions in them, but we've always toyed around with the name Tickle my Ass with a Badger.  But we thought it wouldn't translate well….
LUD!:  If Dirtfoot was the illegitimate love child of two bands, who do you think they would be?
Dirtfoot:  I'll answer that question by saying this: the thing is that everybody in the band comes from a completely different style of music….there's six members that come from completely different directions.  Coming together creates this sound…this grumble boogie thing that we do.  So, there's so many bands, and so many influences, and so many places that we grab from that it's hard to say.  I guess if all the musicians of the world got together and made love, Dirtfoot is what you would have.
LUD!:  Ah, the product of a giant musical orgy!
Dirtfoot:  It's been one of those things since day one, since putting these songs together…there's never been a, "I want to sound like this…."  He starts playing a guitar lick and I throw a banjo lick on it, then he starts throwing lyrics on it and Scotty starts blowing a horn and the bass comes in and then we at that point we might go, "oh, do this…" and the next thing you know, if it sounds gypsy, it sounds gypsy and if it sounds country, it sounds country and if it sounds punk, it sounds punk.
LUD!:  Last question, what have some of your favorite Waka moments from this year been?
Dirtfoot:  So far, I'm going to say that the Chompdown this year has been a great one.  It has been great having all the guests musicians up here this year and having a good PA to run was just incredible.   Plus having the original Chompdown skull that Rabbit brought and having Rabbit here.  My other favorite moment was when we were driving a van from the Outpost stage and there was a girl crying on the side of the road and she said, "I had to Dub with one shoe all night!"  It was pretty much one of my favorite moments ever.  That was the quote of the Waka so far this year.
Dirtfoot is right in the middle of touring around the country and performing at different summer music festivals.  Their brand of music is best caught live, so make sure you catch them at a theater near you.  Until then, their most recent release Live and In Prison does a great job capturing the high energy sound of one of their performances.  Check out the album now available on iTunes or at www.dirtfoot.com.