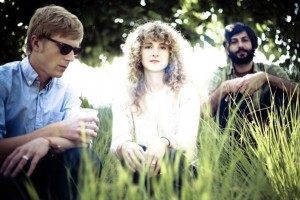 The Scene: A modest crowd gathered at Chautauqua in Boulder Saturday evening for the return of two young local bands. Both Paper Bird and Tennis hail from Colorado and this marked their first experience with the "musical theater" that is Chautauqua auditorium. It was certainly a beautiful evening and a wonderful reprieve from the smoke filled skies of Fort Collins where I sat and anticipated this concert for the last several days.  Although my visits to the Chautauqua have been few and far between in recent years, I'm always struck by the natural beauty and acoustic brilliance of this place.  Walking inside the hallowed auditorium immediately transports you to a different era. It is calm, quiet and played a brilliant host to the angelic vocal talents that Paper Bird and Tennis both possess.
Opener: Paper Bird.  Paper Bird opened the show to rousing applause. Although only about half the auditorium was full, the three female singers expressed their joy in playing Chautauqua for the first time and commented that they would be taking full advantage of the acoustics.  The uniqueness of Paper Bird lies in their ability to take three gorgeous female voices, (Sarah Anderson, Genevieve Patterson and Esme Patterson) blend them together, and throw good old school American music on top. The result is a near perfect mixture of singing, instrumentation and character. I was especially impressed by the young bands calmness on stage as they bantered effortlessly before launching into another song.
The highlight happened about halfway through the set as the band exited the stage, leaving the girls to perform "Somewhere Over The Rainbow" a cappella and with any amplification.  Despite a minor lyrical mistake in the middle, the girls belted it out with passion, and left the audience stunned in the process.  It was a clever way to take advantage of the acoustic splendor of the barn and although the mistake was obvious, I thought it was a perfect way to begin the last few songs of their set.   They embarked on several more tunes from their recent release Carry On, each one highlighting their instrumental prowess, specifically, the upright bass and banjo which were both subtle enough to let the strong female vocals shine through. Although I'm not terribly familiar with Paper Bird's recorded material, I know I will be seeing this extremely talented bunch down the road in the future.
Tennis: After a quick trip outside to check on the beautiful summer evening and converse with members of Paper Bird, Tennis took the stage to more applause and a an even sparser crowd.  The crowd didn't seem to affect them at all as they opened  with energy and stayed consistently powerful throughout the whole set.
Tennis is led by the husband and wife duo of Alaina Moore and Patrick Riley. Their chemistry on stage is undeniable and it's hard not to fall in love with Alaina whose voice seems to get more pure with every song they play. Joined by James Barone on drums, this trio, fresh off their first tour of Europe, treated the small Chautauqua crowd to a very special performance.  Running through favorites from their first album, Cape Dory as well as new additions off their recently released record Young & Old, Tennis showed why they have taken Denver and the world by storm. Their music is breezy yet edgy at the same time and soars on the strength of the lead vocal.
The highlight was a rousing rendition of "My Better Self" off their second album, which Patrick Carney of The Black Keys helped produce.  Although several older members of the audience decided to leave in the middle of the set, I sat wide-eyed as the beautiful Alaina Moore belted out track after track of gooey tween pop. It was fresh, bouncy, and provided the perfect ending to a Saturday evening.  Tennis brings you back to a simple era when music didn't have to be complicated to be enjoyable.
Tennis and Paper Bird once again reminded me why concerts at Chautauqua are so special. Although they don't host many shows in a given summer, it's worth your time to get to as many of them as you can.
Energy: A-
Sound: A+
Musicianship: A+
Stage Presence: A
Set/Light show: B
Overall:  A-

I've worked various positions in the music industry with Madison House, Rock The Earth and Bohemian Nights. My dream is to travel the world and seek out all the good tunes, beer and food that make life so special. I have a healthy obsession with live music and I'm thrilled to share the epic moments with you.