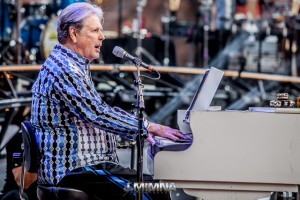 Photos by Jim Mimna
The Scene: Red Rocks Amphitheatre is an amazing sight for all to gaze upon and The Beach Boys' fans had plenty of time to do some looking around during the incredible traffic jam that preceded the show.  Despite the horrendous mess trying to enter the park, music fans were in good spirits and ready for a night of music.  The audience was a good mix of late 40-somethings and all the way up and they were a seasoned group who had been fans a long, long time.  I was amazed to find myself among a very small group of my peers who attended.  I was definitely one of the few young punks in group….how refreshing!
Right before the show started, giant grey clouds loomed overhead and the audience looked apprehensive given the washout shows the previous weekend, but no one dared to complain as we need the rain in Colorado!  As I stood beside the soundboard area, I noticed something I had never seen before, I was the only person standing in the entire place!  I guess this was your father's concert, so to speak.  The Beach Boys are as much a part of the fabric of our American quilt as apple pie, and you could see the proof on the faces of every single audience member.

The Beach Boys: The Beach Boys are currently touring in support of their new album, the bands 29th studio effort, That's Why God Made the Radio.  But this tour is bigger than that, bigger than just another record.  This tour is a reunion of all the living members of the original band!  Over the years the remaining members have had their struggles on legal fronts, but they have put all that behind them to celebrate 50 years.  It's fitting new chapter in the book of one of America's top musical acts of the 1960s, and an entry into the annals of American history, no matter what you think of the band.
The group took the stage in grand fashion with the backing band taking the stage first followed by a formal introduction of the original members.   The audience went nuts, and the band went right to work.   As they slowly worked their way through the long list of hits like "Surfer Girl" and "Wendy," I was very impressed with the vocal skills they still exhibited.  The harmonies were tight, on-time, and on-pitch, a feat even the youngest of performers struggle to pull off under the pressures of live performance.  They also played some lesser known songs that really spoke to the true blue fans, songs like "Please Let Me Wonder" and "Disney Girls."  I was surprised, given the size of their own catalog, to hear them cover a few songs as well like "Why Do Fools Fall In Love," which was sung better than I have ever heard, and the classic "Then I Kissed Her."   The first set was rounded out by a medley of car-themed hits that included "Little Deuce Coupe," "409," "Shut Down," and "I Get Around," which had the entire place on their feet and singing at top volume.
After a quick break, set two opened with "Pet Sounds," not only a great song but one of the most influential records in the history of popular music and one of the best albums of the 1960s.  They touched on the biggest hits of the record like "I Just Wasn't Made for These Times," "Sloop John B," and "Wouldn't It Be Nice."   Brian Wilson was in the spotlight for this portion of the show behind his big white baby grand piano, a sight fans haven't seen in many years.  Wilson's overall contribution to the show added a lot of texture to what would have been a greatest hits performance and he made the show more relevant on a historical and musical scale.  Unfortunately, of all the original members, his years showed the most, and his vocals were lacking in the conviction and volume that we have come to know on recordings.  Despite that, when his songs were front and center they were the ones I enjoyed the most.  What Wilson lacked in shine, he more than made up for in substance.
In conjunction with the reunion theme, and as tribute to the deceased members of the band, the group used prerecorded vocal tracks of both Dennis and Carl Wilson, allowing them each to sing lead on one song from a beach in the great beyond while all the members on stage turned to the giant LED screen behind them and watched their fallen brothers sing.  The mood was somber and respectful as the Wilson brothers sang one more time, but as any Beach Boy fan knows, that mood doesn't last long when the Boys are doing their thing, and one song later the whole place was tapping their toes and bobbing their heads with giant smiles.  The band rounded out the second set by playing a few off the new album including "That's Why God Made the Radio," and upbeat hits like "God Only Knows," "Good Vibrations," and "Surfin' USA," which had the crowd in a total frenzy as they left the stage.  The band obliged the audience's accolades and returned with a triple encore!
I don't know if the chance to see this line-up will come again, but if it does, don't miss it. Satisfaction is guaranteed.  I guess I can scratch one more musical titan off my bucket list of must-see acts!
Setlist:
Set 1: Do It Again, Catch a Wave, Hawaii, Don't Back Down, Surfin' Safari, Surfer Girl, Come Go with Me, Why Do Fools Fall in Love, When I Grow Up (to Be a Man), Please Let Me Wonder, Getcha Back, Wendy, This Whole World, Then I Kissed Her, Disney Girls, Good Timin', It's OK, Cotton Fields, Darlin', Kiss Me, Baby, Isn't It Time, California Saga: California, Be True to Your School, Ballad of Ole' Betsy, Don't Worry Baby, Little Deuce Coupe, 409, Shut Down, I Get Around
Set 2: Pet Sounds, Add Some Music to Your Day, Heroes and Villains, I Just Wasn't Made for These Times, Sloop John B, Wouldn't It Be Nice, In My Room, All This Is That, That's Why God Made the Radio, Sail on, Sailor, Forever, God Only Knows, Good Vibrations, California Girls, All Summer Long, Help Me, Rhonda, Rock and Roll Music, Barbara Ann, Surfin' USA
Encore: Kokomo, Do You Wanna Dance?, Fun, Fun, Fun
Energy: A-
Sound: A-
Musicianship: A-
Stage Presence: A
Set / Light show: A-
Overall: A-
Capturing life in various forms is what I do. I consider myself an archivist by nature. It is not a career choice that I consciously made, but it is something that has called me. I strive to freeze a moment in time with every frame, a moment that can retell its story with each viewing, forever. I also have a deep passion for music and have been photographing and recording live music for years. Capturing the energy and magic of a live performance in a photograph is one of my passions. In addition, I enjoy photographing in a wide variety of settings, from wildlife scenes to family portraits and everything in between. I am a lover of the earthscapes that we see all around us every day, both natural and manmade, and aim to make unique images that do justice to their beauty. Where others see darkness, I see streaks of light through long exposures. I shoot a very wide variety of subject matter including individual/family portraits, event coverage, landscapes, live concert/performance, HDR, product and commercial photography, architectural, weddings, food, and editorial photo journalism. With artistic expression, I aspire to create visual art that speaks volumes.